admin
This user hasn't shared any biographical information
Posts by admin

The long-established and respected online specialist parts supplier, Digital Speedos, has been acquired by Europa Global Holdings in its second acquisition in less than 12 months.
Jon Pullara the original owner of Digital Speedos & Vmaxbitz.com completed the transaction on June 6, 2022, in a move that will allow him to semi-retire after running the business since 2003. Jon commented: "It's a great move for everyone and will allow me to ride my motorbikes and do some fishing!"
Wayne Roper, who saw his own business, Europa Specialist Spares, acquired by the group in July 2021 and now sits on the Europa Global Holdings board More >

A couple of intriguing replicas that have been announced in recent months that definitely aren't going to be available in kit form come from Bentley Motors.
The luxury maker has announced twelve continuation versions of their Bentley Mulliner Blower Continuation and also the Bentley Mulliner Speed Six Continuation.
The Blower Series is a replica of the 4½-litre supercharged leviathan from 1929 with a version of the original four-cylinder Amherst Villiers Mk IV roots-type blower helping the engine to deliver 240bhp.
The car is based on an as-original pressed steel frame with half-elliptic leaf springs, copy Bentley Draper dampers and More >

New from the maestros at Car Builder Solutions is this Engine Start Push-Button with a black bezel.
The item features an illuminated red button with moulded black surround and 20-amp contacts. The switch fits in a 22mm hole and has a bezel diameter of 29mm and a rear projection of 40mm. The maximum panel thickness is 5mm.
The item costs £14.40 and wears part number #PBSWENGBK.
More information from www.carbuilder.com or call them on 01580 891 309 ENDS.

'Moments in Motorsport' is a collection of selected automotive images from the archive of Trevor Legate. While at art college in the late 1960s, he began attending race meetings at circuits such as Brands Hatch and Crystal Palace, armed with a medium-format Mamiya camera borrowed from his college.
In 1968 he was employed as an advertising and industrial photographer but continued to take photographs at a wide variety of motoring events as well as competing in rallies and autotests.
The photographs within the book, mostly unpublished, date from 1967 to modern-day historic races and include everything from Formula 1 to grass-roots competitions More >

We all know Kärcher for their variety of top-quality pressure washers and related machinery.
The company has just announced a range of car care products under 'The Wow' sub-brand made up of seven products including screen wash and insect remover plus Rim Cleaner, Glass Cleaner, Interior Cleaner, Cockpit Care and Polish & Wax. Prices start at £6.99 for the glass cleaner topping out at £11.99 for Polish & Wax with most of the range supplied in 500ml bottles.
Available now with more from https://www.kaercher.com/uk/home-garden/car-care.html ENDS.
This versatile magnetic tool and parts holder has eighteen strong magnets embedded into the 210 x 300mm nylon pad which are strong enough to hold tools and components, keeping them exactly where they are needed – no more tools falling out of reach right when they are needed most.
This magnetic pad ensures that whatever ferrous tool or part is placed on it, will stay there, even when used vertically or at an angle.
It keeps tools and small parts to hand and has a pad size of 210 x 300mm.
Priced at £57.77 inc VAT with more information from www.lasertools.co.uk ENDS.
More >

Those meisters of soft trim, Woolies have umpteen products to attract kit, classic and hot rod builders including expanded vinyl which now numbers twenty colours including three new ones recently added – Sandstone Grey, Ivory and Light Beige.
The range of expanded vinyl wears Woolies part number 25 with prices ranging from £11.51 per linear metre to £16.50 per linear metre.
Louise from Woolies says that if the colour doesn't look exact on-screen she'll happily send you out a sample that you can colour-match. You can always visit their shop at Woolies HQ in Market Deeping.
More information from www.woolies-trim.co.uk or call them on More >

Ring Automotive has expanded its range of inspection lamps with the launch of the hands-free RIL0265 Detachable Neck Light and RIL0115 Flexible Head Torch, offering complete versatility when shining a light in any environment.
The Detachable Neck Light offers up to a 265-lumen output for up to three hours of operation, or 135 lumens for six hours of continuous use.
The Flexible Head Torch offers a high output of 115 lumens for four and a half hours use or 50 lumens for five and a half hours' use.
Both products recharge via USB fully in just 90 minutes.
Henry Bisson, marketing director at Ring, More >

The latest edition of Sealey's Tool Promotion, valid until September 30, 2022, sees the launch of over 140 new lines, including the AP22 range of American Pro® tool chests.
Choose the all-black, mid-sized combo or select bold, contrasting drawers with the other five colour options available. A new hi-vis green version of their best-selling mechanic's tool kit, is also available.
There are savings to be had on several new additions to their ever-growing 20V 'One-Battery' range. As well as the new brushless reciprocating saw and rotary polisher, the promotion introduces a 3-in-1 gardening tool and a 15L garden backpack sprayer.
All models are More >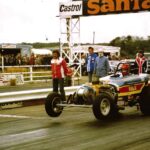 THE OUTLAW, FAST EDDIE AND MISTER ED – THE EDDIE WIMBLE STORY
[standfirst] Eddie Wimble is rightly regarded as one of the UK's greatest exponents of hot rod building. He is deservedly in the UK's National Street Rod Association's Hall of Fame, but unless you are into the hot rod scene or were reading Filby's mags back in the late seventies, the name of Eddie Wimble won't be known to you. I thought it was time to pay a little tribute to Eddie and highlight the great work he did. I hope you enjoy reading it …
A bit of a cliché More >