admin
This user hasn't shared any biographical information
Posts by admin

Chris Welch of Tribute Automotive has been busy lately with no fewer than four new kits on the chocks.
The first pair are the new Z3 GT, which as the name suggests is BMW Z3-based. It will be available in hardtop form with kits priced at £5994 inc VAT with a convertible version at £4394 inc VAT.
Also available now at Tribute Automotive are a pair of classic TVR models both based around Triumph Spitfire mechanicals. The Grantura Mk1 and classic Griffith 200/400 kits both cost £3240 inc VAT.
More information from www.www.tributeautomotive.co.uk or 07901 544 214 ENDS.
More >

Equilibrium Kit Cars is going along quite nicely and their Sonic7 must be one of the most under-rated sportscars around. If you fancy an affordable, not to mention hugely capable kitcar then you'd do a lot worse than considering this one.
A new development this week is that the company is bringing back the roof set-up for the Sonic7 originally created by the car's designer, Stuart 'Stiggy' Mills but not hitherto offered by Equilibrium's Angus Weijers.
Having received an order for one, however, Angus decided to investigate the idea further.
Prices have yet to be announced and they'll also be coming up with More >

GT40 replica manufacturer's, Tornado Sportscars, has been busy releasing some great new parts lately, some of which don't just fit their cars.
If you've got a Ford 302 V8, particularly one fitted to a GT40 replica, then you might be interested in these Gurney Weslake Rocker Covers.
The covers are cast in aluminium and are a direct replacement for the standard Ford 302 rocker covers. They are supplied fully-machined and ready-to-fit but do require painting.
Available now they cost £355 per pair inc VAT.
For more information contact www.tornadosportscars.com or 01562 820 372 ENDS.
More >

Autoglym's long-established Rapid Detailer has been created with a simple mission in mind; to rid the world of dusty, streaky, watermarked and mildly dirty paint with the minimum amount of fuss. It also adds a layer of polymeric protection for the ultimate in sealed gloss and instant shine whenever your bodywork requires it. To be fair, Autoglym's Rapid Detailer is a certified greatest hit already. Revered amongst the detailing masses as the go-to quick detailer, with the whiff of Mr Kipling's finest Cherry Bakewells, this remains the instant answer to refreshing shine on all external surfaces. It can also act More >

Webcon has announced the reintroduction of the legendary metal 'Weber Equipped' badge.
The badge has been out of production for over 25 years, but a recent surge in demand has resulted in Webcon producing all-new tooling so as to make this iconic badge available once again.
The 'Weber Equipped' badge is completely manufactured in England to the very highest standards and is the finest way to assert the fact that your car is fitted with genuine Weber Carburettors or equipment.
The 'Weber Equipped' badge is available as part number 9990148000 at just £12.94 inc VAT.
For further details contact Webcon UK on 01932 787 More >

New to their range and developed in-house by Sealey is this Suspension Strut Support, which is intended to be used in conjunction with Model No. 600TR or other transmission jacks with a minimum base size of 560mm x 570mm.
It is designed to support suspension struts during repair operations.  Sealey's VS3847 is only for use with a ram size of 30mm diameter.
For further details or to view Sealey's complete range, visit their new website, or their 01284 757 500 or even visit www.sealey.co.uk ENDS.

A warm welcome to totalkitcar online …I've really been enjoying the Discovery UK TV Programme 'Salvage Hunters: Classic Cars', which stars salvage and antiques expert, Drew Pritchard and 'Turbo Pickers' star, Paul Cowland.
Each episode sees the duo seek out a pair of real-world classics to buy, restore and sell with subjects including BMW 2002 Touring, Fiat 500, Porsche 944 and Volvo Amazon. They tend to restore the cars sympathetically although a couple have gently been 'reto-modded'.
It's the sort of show that kitcar enthusiasts will really get something out of More >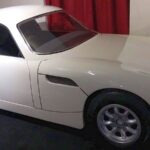 I was having a rough tally-up the other afternoon, and I suspect that Dundee-based ADO might be only the 25th kitcar manufacturer to hail from north of the border.
The Austin Healey Sprite was introduced in 1958 and offered a winning formula – a strong monocoque structure, a robust and tuneable engine and easily modified brakes and suspension.
It brought sportscar performance within the reach of many car enthusiasts. In the early days, Speedwell pioneered the 'performance kit' and today Frontline Developments and many others continue in the same spirit of development.
Apart from the ability to improve the mechanical basis of the More >

Devonian kitcar manufacturers, ANC Sportscars and Quantum Sportscars are collaborating jointly on a new replica.
It's called the ANC GT and uses the existing (ex-MEV) Replicar chassis as well as the Mazda MX-5 donor parts. A Jaguar V6 engine conversion such as that offered by Rocketeer will be an option.
Quantum boss, Rob Hancock, a gifted GRP laminator is currently working on the moulds for the new car. Plans for a Maserati A6 GCS Monofaro-inspired model are also underway and that one will use a revised version of the Quantum Xtreme's proven stainless steel monocoque.
More from www.ancsportscars.co.uk or www.quantumcars.eu ENDS.
More >

Meguiar's has launched another addition to their Hybrid Ceramic line of products, Meguiar's® Hybrid Ceramic Detailer.
This advanced formula puts a whole new twist on what a spray detailer can deliver by gently and quickly removing light dust and contaminants while leaving behind a layer of hybrid, Si02 ceramic protection that beads water.
As you would expect from a traditional detailer, it contains lubricants that help to buffer the surface when removing light contaminants between regular washings and wax applications.
However, their chemists have figured out a way to infuse this with Si02 technology to leave behind Hybrid Ceramic protection by just spraying More >