admin
This user hasn't shared any biographical information
Posts by admin

 LOTUS' JUNIOR SQUAD – RON HARRIS TEAM LOTUS
[standfirst] During the sixties, one of the characters involved in Britain's motorsport scene was a chap called Ron Harris, running his own teams and also on behalf of Lotus and Lola in Formula Junior, Formula 3 and Formula 2. A total of 84 races with seven victories. STEVE HOLE charts the racing history of one of the paddock's best-turned-out teams.
There have been a few famous Ron Harris' over the years. There was Ron 'Chopper' Harris who played More >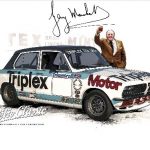 One of my all-time motorsport heroes was the late Gerry Marshall and I was delighted to hear about RetroClassic's new 'Gerry-flavoured' t-shirt range. An ideal Christmas present.
RetroClassic Clothing has created an official range of t-shirts celebrating motorsport hero Gerry Marshall. The larger-than-life Marshall began his career in 1963 at the wheel of a Classic Mini and went on to become one of the UK's most popular drivers.
In a career that lasted over forty years, he contested more than 1400 races in all manner of cars and won 625 of them, while his flamboyant driving style – as well as his More >

Saddle clamps are an interesting and very useful product and are ideal for securing items such as brake lines.
Car Builder Solutions unsurprisingly offer a range of them including the one pictured here.
Heavy duty, made from 2mm thick stainless-steel it has a 5.2mm mounting hole and is supplied with an M5 x 12mm stainless steel button-head screw.
The overall size 23mm x 13mm and these 3/16in stainless-steel saddle clamp packs come in packs of 12 and wear part number #SAD316 with more information from www.carbuilder.com or by calling 01580 891 309 ENDS.
Just in time for the colder weather, this Multi-function Jump Starter from Laser Tools (part number 7405) is an efficient and extremely compact emergency engine starting power pack. Surprisingly small but packs a powerful punch! Packed full of features, it also features a bright LED to illuminate the work area, (flashing mode can be used as an emergency beacon), two USB outputs (for charging mobile phones, etc), a Type-C input/output port and a digital voltage display on the cable clamp adaptor. The unit and accessories are supplied in a convenient and protective case.
The unit is charged from a suitable USB More >
Here's a way to extract some extra performance from the five-bearing 'B' Series 1800cc engine as used in the 1968-1980 MGB without making any modifications to the engine internals.
A Fidanza lightweight flywheel can easily be installed when you replace the clutch and will bring the following benefits:
Faster throttle response and quicker acceleration • Additional horsepower to the wheels (reduced parasitic losses) • Smoother, faster shifting • Easier braking, better slowing (due to reduced rotational mass) • Reduced clutch wear and improved efficiency (from better heat dissipation) • Cost savings and longevity (thanks to Fidanza's replaceable green friction plate – no More >

In response to customer demand, leading suspension specialists GAZ has now produced a double adjustable coil-over race damper specifically for Hillman Imps used in competition or for serious track day use where extra damper adjusting parameters are required.
The body of the dampers sport two multi-point adjustable control knobs, a blue one for the bump and a red one for the rebound adjustment.
Although these are brand-new dampers, they include all the popular GAZ features. They are manufactured from high tensile alloy with induction hardened piston rods, are filled with high viscosity index fluid to help prevent fade and have an internal More >

Sealants are pretty important products. Once you've prepped and washed your car, an application of sealant literally seals the surface helps and is a great base for a wax topper.
This product from Duel Auto Care looks a bit intimidating at first glance as it comes in a bag with a syringe, which is nothing to worry about it just ensures that you don't use too much product.
Simply add just 5ml (a teaspoonful) to your foam cannon and spray it onto your car. The lance helps activate the polymers in the product. Flex gave me a deep, glossy finish with a More >

ONE PRIMARILY FOR OUR AMERICAN READERS ALTHOUGH COME ONE; COME ALL
The Lincoln Electric Weld-Pak 180i MP DV Welder is easy to set up for gasless flux-cored welding (deep penetration on thicker steel), gas-shielded MIG welding (thin gauge steel, stainless or aluminium), stick welding, or DC TIG welding. The smooth, forgiving weld arc starts with little spatter and makes dialling in your specific setting easier.
The Weld-Pak 180i MP DV Welder can use 120- or 230-volt household power and weighs around 16kg (34½lbs), making it ideal for use almost anywhere that has electrical service. It has a fully adjustable drive system to More >
Superb trigger gives great coverage of the product, which has a nice smell but needed some elbow grease to get it to 'flash' although, overall, it gave a good result.
A 500ml spray bottle costs a bargain £7.49 with more information from www.kaercher.co.uk ENDS.

Looking for a lightweight, handy but powerful worklight that is ideal for carrying around the garage or workshop? Look no further than the NEW Clarke PL5R Slim LED Work Light!
The small compact design makes it perfect for comfortably fitting in your pocket whilst the super bright LED light is ideal for a vehicle inspection or general illumination of hard-to-reach areas, at work or around the home.
The PL5R has two work modes; a dimmable floodlight mode which offers up to 400Lm, or the LED torch mode at 80Lm.
What makes this little unit such an essential piece of kit though is its More >