admin
This user hasn't shared any biographical information
Posts by admin

New from Kit Spares is this Seat Belt Finishing Kit, which replaces the standard hex head bolt that you have to cover with a nut cover for the IVA Test.
The new finishing kit uses a countersunk 7/16 UNF bolt that has an aluminium cup with a radius that both complies with IVA and also enhances the appearance of your car.
They are available in Silver, Black and Orange at £22.20 each.
https://www.kitspares.co.uk/index.php?route=product/product&product_id=1357 ENDS.

Tilton has been designing and manufacturing brake components for over 40 years and Merlin Motorsport stocks their full range, which includes Tilton's own Master Cylinders and Kits, Pedal Assemblies and Pedal Assembly Bulkhead, Chamber Brake Fluid Reservoirs, Brake Proportioning Valves and Service Repair Kit, Standard Brake Bias Adjuster cable and Throttle Linkage.
Merlin Tilton range can be viewed – go to – TILTON BRAKE PARTS
Merlin boss, Steven Roberts told me: "We've had quite a few customers asking for advice about how the Tilton throttle linkage actually fits and works with the floor-mounted pedal assembly.
"Having been slightly perplexed about this ourselves we decided to fit the More >

Traditionally, adjusting the fuel pressure on an EFI system using an in-rail regulator has involved replacing the original fixed rate pressure unit with a higher pressure fixed unit.
Finding the optimum pressure meant having to experiment with different units, but now Webcon has a better answer.
Webcon part WFR060 is a quality, in-rail, 0-5 bar adjustable regulator that simply replaces the existing fixed pressure unit and allows the user to accurately set the pressure to the most suitable level with just one unit.
Webcon part WFR060 is available from stock priced at £83.08 inc VAT.
Further details at the other end of 01932 787 More >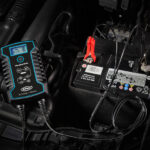 With 286 million passenger cars across the EU, all with a battery, the company has developed the RSC804, RSC806 and RSC808 Smart Battery Chargers and Maintainers to keep drivers safer on the roads and able to easily restore power to their motorcycles, cars, 4x4s, vans and trucks.
Although batteries are supposed to last four years, testing from the dedicated on-site quality control facility at Ring Automotive suggests this is more likely to be between two to three. As such, its Charger and Maintainers have a selection of features, making them robust and fit for purpose.
The RSC804 (RRP £29.99) Smart Battery Charger More >

DEI, America's leading heat protection specialist, now has spark plug and wire protection kits to provide everything you need to protect the spark plugs and leads on a four-cylinder engine from harmful heat, cross-firing and moisture penetration while also creating a professional finished look.
The Four-Cylinder kits contain 13ft (3.96m) of line sleeving, twelve Hi-Temp Shrink Tubes, (to provide a water-tight seal), and four double-wall constructed Protect-A-Boots for the spark plugs.
The standard kit is ideal for engines that have their spark plugs close to either the exhaust system or turbocharger as the sleeving and boots will protect against heat of up More >

Here's a great product from a superb UK car care brand, Auto Finesse called Lavish a ceramic-based snow foam.
I like Auto Finesse as they are a boutique company that has grown quite large with its products now stocked on the shelves of Halfords. However, they still retain their enthusiast-led drive and passion and among their growing range lurk some outstanding products.
First off, Lavish has a wonderful scent which my nose tells me is either watermelon or a fruit salad chew. If I had to pick one, I'd say it was the latter.
The idea is not only does it help protect More >
Following the successful launch of MeacoCool in 2019, leading UK air treatment manufacturer Meaco is pleased to announce the launch of a new even quieter, more energy-efficient range of portable air conditioners for summer 2020.
The new series is Meaco's most energy-efficient range of air conditioners yet, with an Energy Rating of A. By incorporating the new R290 refrigerant, which improves efficiency with better thermodynamics, these air conditioners are also more environmentally friendly. A window kit suitable for sash windows and sliding doors is included to vent hot air and a 1.8m long duct allows any excess heat to be expelled via a window.
The More >
If you're a classic kitcar owner (or a classic CAR owner) this could be what you're after – Gunson has just introduced a genuine leather, traditionally designed tool roll (part number 77168) that is both practical and stylish – and will look great in the boot of your classic car, or on your workbench.
This is a sturdy tool roll, with strong stitching, reinforced with metal rivets and a buckled strap. It features twelve slots for spanners or screwdrivers (tools not included), plus three useful press-stud secured pockets for small items like screws or fuses.
The tool roll is made from pre-distressed, More >

Oxfordshire-based Krystal Kleen Detail makes some cool car care products and I'd been hearing good things about their Choccy Wash Hi-Foaming Shampoo so I decided to give it a try. Faced with a sand-covered car (how?) the other day I decided to break out the buckets and the Worx Hydroshot and put it to work.
The 'Choccy' part of the name gives the clue that there could be chocolate afoot! When you take the cap off the bottle be prepared for the most lovely aroma of finest Belgian milk chocolate. Don't leave a chocolate milkshake around while using the product as More >

Another new and exciting product from Sealey! Their Solar Panel Range, SSP01, SSP02 & SSP03 are currently on special offer in their Spring 2020 Promotion and with the daylight hours getting longer these are the perfect products.
Each model differs in output, SPP01 – 1.5W, SPP02 – 2.4W and SPP03 – 4.8W. Their amorphous solar panels convert daylight directly into 12V electricity. The advanced technology used means that solar panels require only daylight to generate power.
They are suitable for maintaining the charge in a wide range of batteries and power packs, but their ideal purpose is for batteries stored in boats More >