admin
This user hasn't shared any biographical information
Posts by admin

My good friends at RPS Ltd, Garry and Julie Hutton are always busy supplying orders and somehow managing to find the time to develop new parts of an MG-related flavour.
Their latest arrival are some GRP quarter bumpers for the MGB. These were designed to go with their front valance but will also suit other MGB valances. The price is £75 per pair plus P&P.
They come in a grey gelcoat for a sprayed finish. More information from www.rps-ltd.info or 07900 431 244 ENDS.

I was delighted to learn that a special-order model sitting on the price list of Race Car Replicas is a Porsche 962 replica.
Of course, the 962 is a race car, through and through. With a small cockpit, it's not really very comfortable. Plus, it's noisy and you don't have very good rear vision. On the other hand, none of that stopped the brave souls who drove them from setting the sportscar world on fire when it debuted.
The originals are pretty much unobtainable for the normal person. But the RCR 962 is available now, with an aluminium monocoque centre section and tube frame More >

Lightweight and comfortable, this new USB-rechargeable headlight from Laser Tools (part number 8330) is packed pull of features. The rubber-coated, shock-resistant main body is waterproof and includes an LED spotlight as well as the main COB (chip-on-board) strip light. Each of the lights has a high and a low setting, with the spotlight also featuring a strobe function for emergencies. A nice touch is the infrared auto-sensor function allowing the light to be turned on and off with a simple wave of the hand.
It is fitted with an adjustable elasticated headband, and the 1200mAh lithium battery is conveniently charged via More >

I am a big fan of drying towels and use them as part of my detailing schedule.
Once you've rinsed the shampoo of your car's bodywork you need to move fast or else you could end up with a streaky, blotchy finish, which kind of puts a dampener on the hard work you will have put in.
You can use a standalone electric dryer or even one of the little blowers that poodle parlours use for dogs once they've been pampered. However, I prefer to use a quality drying towel.
As with most things these days though there are drying towels and drying More >
Does your Type 1 motor need a new camshaft to keep the valves in check? If the standard specification is the thing for you, and you hold no desire to tinker or tune, this four-rivet camshaft by FORST is just the ticket.
Supplied with the gear bolted in place it is offered for sale by Heritage Parts Centre for a modest £83.95. They can be found online at HeritagePartsCentre.com by searching for part number 113-109-021/GR and handily qualifies for free UK delivery.
While you're at it, order up a new set of cam followers and an appropriate four rivet oil pump. FORST produce a More >

Repairing a windscreen washer system can be problematic at times; you may need to replace degraded, kinked or rodent-nibbled washer hose, or even stuck one-way valves and leaking connectors. This windscreen washer pipe repair kit from Connect Workshop Consumables (part number 36757), has been brought together as a one-stop box, offering the most common components found in the windscreen, headlamp and rear-window washer systems, allowing the technician or owner to quickly get the system working again. Also ideal for one-off, historic and kit-car windscreen-washer system manufacture. The kit even includes a pipe-cutting tool to ensure straight, clean cuts every time.
Included More >

Mirka UK is helping to organise workshop floors across the UK with the addition of a new modular trolley to its accessories portfolio. Available with two set-ups, the trolley provides technicians with a place to store all their machines and consumables and the option to modify them based on the job they are performing.
The base trolley comes with either drawers or shelves and a new hose arm with two machine hooks. The machine hooks are easy to attach and adjust depending on the tool hanging from them and the hose arm has been developed to fit two 27mm hoses and More >

Ring Automotive has launched a new bulb stand, delivered with 174 of the most popular 24V bulbs, for quick availability at the point of installation.
The eye-catching BU274 24V Bulb Stand is fully stocked with 174 24V vehicle bulbs and can be wall mounted so technicians can access the right bulb quickly for every job. It also helps workshop engineers keep control of their bulb stock, providing a quick visual of what needs to be replenished.
Ring's BU274 contains 16 of the top 20 sales Pareto bulb types across headlamp bulbs and the smaller auxiliary bulbs; all are designed to original equipment More >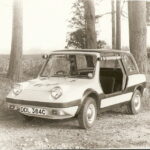 A real lightweight that became too heavy. Then the balloon went up. CAROL HARDY explains why the 'Stables' door was bolted
Clever little concept created by Peter Bohanna and Robin Stables, who had previously designed the car that became the AC ME3000, the Austin Maxi-powered Diablo.
This four-seat Hillman Imp-based utility called the Nymph appeared in 1976 as a kit after a proposed deal for 20,000 units with Chrysler fell through. They'd seen it as a rival to the Mini Moke but the deal foundered when Chrysler UK ditched the Imp! It claimed to be the world's lightest production four-seater, incidentally.
Bohanna Stables would More >
New from Laser Tools is this cordless power-tool storage rack (part number 8378) which hooks over the edge of tool cabinets or other metal storage units and features a strong rubber-coated magnet on the lower support to both keep the holder in place and to protect the paintwork. It holds up to three power tools, keeping them safe and accessible and saving storage space inside the tool cabinet.
Manufactured from steel, this robust tool holder has a durable black powder-coat finish. It will latch onto any standard toolbox or storage unit that has a raised lip and is secured by an More >