admin
This user hasn't shared any biographical information
Posts by admin

GAZ Shocks can now offer coil-over kits for both the Mk1 and Mk2 Porsche Boxsters. The kits offer adjustable ride height and adjustable damper rates and include lowered, uprated, suspension springs.
Ride height is adjustable all around through 60mm of adjustment; the struts and damper units feature the new GAZ black zinc protective finish as well as sporting the new white GAZ logo.
The height adjustable platforms are anodised for long life. They also have a coarse acme form thread for ease of adjustment and to ensure that they remain in good order – even after considerable service. Damper rates are variable More >
Whether you are tidying up previous repairs or tackling corrosion that has gone too far, this complete boot floor panel from SSP is going to add some much-needed structural integrity to the steelwork of your classic VW Beetle or kitcar that uses substantial parts of the Beetle.
A top quality, a carbon copy of a late VW Beetle boot floor panel, produced in the same gauge steel as the original, this will fit all models, but the pressings may differ slightly to some early vehicles.
Stocked by Heritage Parts Centre you can pick one up for £344.95. Head over to their website HeritagePartsCentre.com and search 113-813-111/BH More >

Here's a seat that might well appeal to kitcar enthusiasts. It hails from Atech and is called the North Race Seat. At 930mm it is designed for taller occupants and is fully FIA-legal weighing in at just 8.6kg and features a pre-formed gelcoat GRP shell with what's called an anatomic shell system exterior with side and head protection, a high-density sponge and a velour covering.
The HANS compatible costs £642 and is available from www.westwalesrallyspares.co.uk or call 01559 363 731 ENDS.

One primarily for our North American-based readers.
Summit Racing's Quick-Release Steering Wheel Disconnects are CNC-machined from aluminium to provide a zero-play connection between the steering wheel and the column.
The release mechanism is pinless – just pull the wheel to release.
These disconnects are available for five-bolt Grant or six-bolt MOMO style aftermarket wheel mounting patterns and fit most steering wheel hub adapters.
 Summit Racing™ Quick-Release Steering Wheel Disconnects ENDS.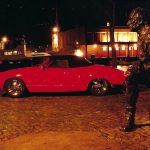 A very underrated kitcar that I always felt should have done better was the Evergreen Roadster, marketed by a Cornish classic car restoration company called Evergreen Motor Company. They were run by Peter Murphy and I think the 'Evergreen' name came from his Irish heritage.
The car was a very close replica of the Volkswagen Typ 14 Karmann Ghia, devised by German kitcar manufacturer, Rudolph Perfect Roadsters GmbH based in Mechernich in Germany's 'west midlands.'
They were founded in 1992 by Ralf Rudolph and brought its factory shutters down for the last time in January 2018.
The company was one of Germany's leading More >

More news on the resurrection of the Westfield and Chesil brands this week.
After Westfield Chesil boss, Dr Nigel Trilk announced that the company will be moving from Kingswinford to Bicester, Oxfordshire more details have emerged this week.
Nigel has entered into an arrangement with classic car restoration company, 'Project Shop' of Bicester who will be acting as build agents and as the sales outlet for both marques.
Project Shop, Simeon Cattle said: "We are delighted to announce that we have entered into a partnership with Westfield Chesil to help them with their relocation to Bicester, help rebuild the brands and build their More >
This super-flexible magnetic pick-up tool from Laser Tools (part number 7026) has a useful 300 mm length but features a very narrow shaft diameter of just 4mm, which makes it ideal for retrieving those metal nuts, bolts, screws and other metal pieces that have found their way into areas otherwise inaccessible.
If you've had to drill out a seized glow plug, this pick-up tool is narrow enough to be inserted into the aperture to retrieve any metal swarf or broken glow-plug debris.
The soft grip handle provides comfort and control over the movement of the pick-up tool. The flexible shaft can be More >

Are you struggling to come up with gift ideas for the car enthusiast who claims to already have everything? Look no further, because Castrol Classic Oils has curated a wide range of high-quality, retro-style merchandise that could solve your seasonal searching.
Whether destined for the home, workshop, a club meet or indoor display, these products combine Castrol's distinctive post-war iconography with no-nonsense practicality. And by happy coincidence most of them also happen to match the seasonal colourway, which means that in no time you'll be singing: "It's beginning to look a lot like… Castrol, everywhere you go …"
With dozens of items to choose from, More >

Martin Wheatley's tiny boutique Squid Ink (isn't that just the best name!) Detailing brand sure punches above its weight with some outstanding products.
Blue Lagoon wheel cleaner is the most pleasant-smelling wheel cleaner I've ever used.
Some of these wheel cleaners smell like a peroxide explosion in a hairdresser's salon, while others smell like oven cleaners. Worse still are the ones that try and conceal the pong with flowery smells, which normally fail dismally. Lavender-tinged egss? No thanks!
Anyway, Blue Lagoon has a lovely bilberry meets cola cube scent, is safe on sensible wheel finishes and is also PH-neutral.
I used it neat, but More >

Machine Mart stocks a range of durable Clarke Trolley Jacks designed to assist you in the garage or workshop when working on a variety of vehicles.
The best-selling Clarke CTJ3000GB Three Tonne Trolley Jack is specifically designed for the professional workspace and offers a lifting capacity of three tonnes. It features a super-strong chassis with heavy-duty wheels and castors, as well as a wide footprint for stable use. The CTJ3000GB also features a long two-piece handle and comes with automatic overload protection. Weight: 28.3kg
Another best-selling product is the Clarke CTJ2250LP 2.25 Tonne Low Profile Trolley Jack with Sockets. The CTJ2250LP features More >