admin
This user hasn't shared any biographical information
Posts by admin

The Vital Spark Group (www.vital-spark.io), the progressive Cotswolds electric car business that recently purchased the Sebring International marque has recently completed an agreement with The Speedster Clinic (www.speedsterclinic.com), manufacturers of speedster bodyshells and parts, which is a partnership to build turnkey electric 356 Speedster replicas.
Located in Warwickshire, The Speedster Clinic has been building and maintaining 356 Speedsters for over 20 years and has unrivalled experience with them.
Vital Spark More >

Developed for targeted use on all types of gloss paintwork, Eliminator Scratch Remover is the quick and easy solution to removing paint defects without the use of a machine polisher.
Designed to break down quickly and work through easily – making this product suitable for fast, efficient hand correction – this advanced abrasive formula effectively eliminates localised paint and clearcoat imperfections such as swirl marks and fine scratches with a minimum of effort.
Eliminator Scratch Remover is priced at £13.00 (250ml) and is available from appointed stockists such as slimsdetailing.co.uk or www.autofinesse.com. You can also order by calling 0208 191 9491 ENDS.
More >

Sealey's innovative, patent-pending, AK7500 Wheel Alignment Tool is designed to easily lift road wheels and locate them onto the vehicle hub. The tool relieves the strain of traditional wheel-changing methods, which pose a high level of manual handling risk.
The AK7500 significantly reduces lifting effort and noticeably improves body posture. This simple-to-use device speeds up wheel fitting while providing additional health and safety benefits.
The alignment tool is manufactured from high-quality stainless steel, can be used on alloy or steel wheels up to 35kg and is backed up by Sealey's Lifetime Guarantee*. Supplied with four CNC machined stainless steel adaptor pegs, this More >

With some imported performance air filters now retailing at over £100 Mini Spares has teamed up with British company, Ramair to bring you a range of filter kits for the Mini – and Mini-based kitcars – at a sensible price.
The filters come with an alloy baseplate designed to bolt directly to the carburettor body. The filters are suitable for both competition and street applications.
The element is of sturdy construction, supported by a stainless-steel cage and provides a maximum surface area to optimise the airflow for induction ramming.
The range of baseplates are cut for a variety of well-known carburettor types and More >

Sold in the UK for over 36 years, the Airmaster range of air compressors are great value highly reliable machines.
These air compressors are ideal for use in DIY and semi-professional garages or home workshops, and for any job involving spraying, nailing stapling, inflating and more.
This superb range of high spec belt-driven compressors feature single-stage, two-cylinder pumps and overload protection.
All units also include fully automatic stop/start control, twin outlets with on/off tap, outlet pressure regulator with gauge and tank pressure gauge.
With several brand-new models being added to the range soon, the Airmaster range offers either 8- or 10-bar, air displacement up More >

I don't think you can beat a good paste wax for giving your car the final blingy finish. There are some truly horrific ones out there but shop around don't be fooled by all the hype surrounding some products – not to mention vicious pricing – and your car will have an unrivalled depth of shine.
This Ceramic and Graphene Past Wax, part of Turtle Wax's Hybrid Solutions range is a combination of graphene particles and ceramic paste that together create a tough barrier against scratches, fading, oxidation and paint transfer. The green wax smells nice, too.
This is combined with Si02 More >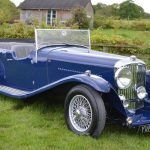 The Silurian story by Steve Hole
PHOTOS COURTESY OF BRIGHTWELLS
The men behind the remarkable Silurian project were Mike Phillips and his business partner, Jack Orwin. They ran a classic car restoration business called MGP Restorations and were based in the wonderfully-named 'Brassknocker Street' in Magor, Gwent.
The company specialised in the restoration of Bentleys, Bugattis and pre-war limousines. Phillips and Orwin had intended to build a high-quality petrol-powered children's car and came up with detailed drawings and plans. Sadly, when they costed the project it was clear that it would be more cost-effective to build a full-size vehicle.
Phillips was a very keen More >

If you are looking to upgrade a Ford Kent Crossflow engine to EFi, Webcon has the ideal manifold for you.
The Webcon MW4230 manifold will allow a Webcon Retroject throttle body to be bolted directly onto a Kent cylinder head.
The manifold can also be used to fit Webcon 32/36 DGV/DGAV, 38 DGAS/DGMS and DCD carburettors to a Kent engine. It comes with mounting points and a water jacket 'hot spot' for this purpose, although these won't be needed for an EFI conversion as the ECU will handle the temperature and the Webcon Retroject uses the original Ford throttle linkage.
A ¼in BSPF More >

I always enjoy talking to Vortex Automotive boss Chris Greville-Smith and finding out about tales from his previous life as a designer for a variety of leading mainstream manufacturers including Jaguar. He also created the best wheel design used on the MGF (you will know the ones!).
He's still busy with his Vortex GT and V2 kits and Chris is busy readying a new electric version called the GT-EV.
The car will feature a revised chassis, new interior, mirrors and new LED light lenses, with anti-dive geometry at the rear.
This will use a reconditioned version of the latest Tesla Model 3 battery More >

The original factory plastic oil filler cap was never one of Ford's finest achievements. It often leaked oil through the breather and it frequently came apart while removing it to top up the oil. It could be difficult to reassemble due to the plastic becoming brittle and inflexible.
Burton Power now has its own version of the engine oil cap which is made from polished alloy. It incorporates a filter mesh and is breathable, just like the OE cap, but without the leaks and tendency to fall apart! The Burton oil cap not only fulfils a function it also adds a More >