admin
This user hasn't shared any biographical information
Posts by admin

Keeping your turbo or supercharger system's air intake temperatures low is the key to reducing the impact of heat soak and detonation and consistent power output. Air-to-water intercoolers like the ones made by Mishimoto are the way to do that.
Water can absorb and dissipate heat more effectively than air, so a smaller air-to-water intercooler is just as effective as a much larger air-to-air system. Having fresh water cycling through the core means more consistent intake temperatures, too.
Since air-to-water intercoolers don't have to be directly exposed to an air source, you can put one anywhere in the engine bay. That helps More >

I've been speaking to a couple of readers who have recently placed orders for the latest model from Ultima Sports, the RS Coupe, this week. Very excited boys, both of them!
Billed by the factory as the culmination of all the things that they've learnt over the years – the Marlows have been custodians of the marque since 1992 – and as such features the very best of everything it's possible for them to produce.
The RS model uses either GM LS (LS3, LS7 or LSA) series or the recommended current LT generation, which feature LT1 (480bhp), LT4 (650bhp) or the brand More >

If you enjoy a proper bit of car detailing then this new product from car care giant, Meguiar's may well be of interest. M27 Pro Hybrid Ceramic Sealant is out now.
I think the poor old sealant often gets overlooked. We all use snowfoam, car shampoo, polish and wax, in my view the sealant stage is one that shouldn't be overlooked, and I like to apply it to my cars at least twice a year.
It should be used after you've cleaned and decontaminated your car's body and it acts as a great base layer for a coat or two of wax. More >
New to Sealey's Premier Hand Tool range and currently on special offer in Sealey's Hand Tool 2021 Promotion are the AK21902 and AK21901.
AK21902 is a 28pc 3/8in & 1/2in Sq Drive Impact TRX-Star*/Hex/Spline Bit Set and AK21901 is a 42pc 3/8in & 1/2in Sq Drive Impact TRX-Star*/Hex/Spline Bit Set.
These sets are suitable for daily professional use and are easily portable as both come supplied in a storage case. Both sets have specially heat-treated CNC-machined tips to reduce stress and to prevent cam-out under load.
They are colour-coded for fast identification and hardened (58-62 HRC) and tempered for added strength.
View the full More >

Machine Mart stocks a huge range of heating equipment for a variety of applications, including gas-fired and paraffin fired space heaters for workshops, and electric heaters for use in the home or office. They have a range of workshop heaters suitable for all types of spaces.
If you need focused heat in areas where it is difficult to heat the entire space, then a halogen heater is the perfect option. Their oil-filled radiators retain the heat for a long time so are great for saving money.
DIESEL/PARAFFIN FIRED SPACE HEATERS:
The XR80 provides a heat output of up to 20.5kW with other models More >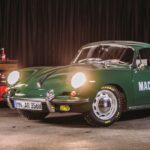 MOTUL and the Lancaster Insurance Classic Motor Show, with discovery+, are delighted to announce a new co-operation agreement that sees Motul appointed as the Official Lubricant Partner of the UK's leading classic car expo.
The partnership is announced in time for the 2021 event, which takes place at the NEC over the weekend of November 12-14 and is the first of a new three-year minimum deal to further cement Motul's presence in the UK's historic vehicle community, coming hard on the heels of the announcement of Motul's recent partnership with the Federation of British Historic Vehicle Clubs (FBHVC) – the umbrella organisation for a vast number of the UK's historic vehicle clubs and associations.
Motul is a core part of transport history, having been founded in 1853 in the More >
Users of dehumidifiers often worry about how their machine will be emptied when the water tank is full and there is no one around to empty it. This is particularly the case when used in a garage, basement or second home, which can be left vacant or unattended for long periods.
Leading British air treatment specialist Meaco has solved this problem with a unique pump accessory designed to work with its new 20L and 25L MeacoDry Arete® dehumidifiers.
The pump is a gamechanger for the user, requiring no expertise to set up and install, and removing the worry and bother of having to empty the water More >

I've been very impressed by the products of Wasabi Car Care (brilliant name!), part of the highly regarded Marells Detailing, a company based locally to TKC Towers in Buxted, East Sussex.
A petit and bijou range of products (about eight in all) includes their excellent Last Touch quick detailer, which has a lovely smell of berries. A clear liquid, it applies well (nice triggers help) and requires a very basic amount of spreading out one panel at a time and then it's very simple to buff to a high shine.
A true 'easy-on-easy-off' detailer if ever there was one. The best part More >

Here's one for our readers in North America, primarily.
A FuelTech PowerFit Engine Management System gives you complete tuning control over just about any internal combustion engine, carburetted or fuel injected. These are standalone systems that let you do real-time tuning without the need for a PC. You get tonnes of tuning options including
Sequential injection and ignition • Individual fuel and ignition trim • 2D and 3D fuel and ignition maps • Idle control • Progressive boost control • Active traction control • Progressive nitrous control and two-step rev limiter • Closed-loop oxygen sensor • Crank trigger input • Internal datalogger
The PowerFit More >

Here's a cracking product from Squire Padlocks called GA4 Garage Defender. A two-part product it features a base plate that attaches to the ground, in front of your garage door that a larger steel piece slots on top before being locked into place. It will take a padlock for optimal security.
It provides a cost-effective physical barrier to chancers forcing open an up-and-over garage door. The product has gained a Sold Secure Bronze Classification. A bargain at £103.18 inc VAT from www.squirepadlocks.co.uk ENDS.