admin
This user hasn't shared any biographical information
Posts by admin

Mini Spares has just introduced a new competition valve cotter with a large single groove for early Mini heads.
The cotters are precision CNC-machined from 4340 steel and heat-treated to a higher specification than EN24T to resist fatigue and make them more durable under race conditions.
The large single groove design provides a better location around the valves and makes it easier to control spring heights.
The cotters are designed to be used with the original top caps (88G616). They can be used with small single groove top caps (88G617), but the cotters will sit about 20 thou higher; this will be fine More >

I really like the Furore F1 project, and I always enjoy speaking with the project's creator, Russ Bost.
He's recently updated the model to bring the styling more in line with latest Formula One car styling with areas such as front wing, engine cover, side panels, faux airbox and rear wing. Quite considerable amendments really!
Russ has also cleverly revised the lighting making them brighter but less visible and the part I like the most he's also given it an F1 car style bad weather rear light. When it rains, F1 drivers are required to turn on the single rear red light.
Current More >

Colourful gift ideas from J40 Motor Company this Christmas with three new J40-inspired t-shirt designs by Stefan Marjoram priced from £15 each.
There are also white enamel pins and keyrings from £6, while a new version of David Whyley's definitive history of the Austin J40 is currently under production by Porter Press.
More information from www.j40motorco.com ENDS.

The increasing levels of ethanol in fuel have led to a rise in the number of heat soak problems.
This occurs when the heat rises up through the intake manifold thereby warming a downdraft carburettor body to the extent that fuel in the float chamber expands, or in some cases, actually boils; the result is neat fuel in the manifold but an empty float chamber.
Downdraft carburettors, such as the Weber 32/36 DGV and DGAV, have always been supplied with a 6mm insulator block in an attempt to prevent this from happening. However, in some cases, that is no longer sufficient and More >

Machine Mart is constantly adding to their extensive range of tools and machinery and as we head into the New Year, they have a few temptations for you to upgrade your garage.
The Clarke CCO14D Abrasive Cut-Off Saw includes a 14in/355mm cutting disc and a powerful 2200W 230V motor. A quick clamp helps to securely hold the material that is being cut while the unit has a spindle lock for fast and easy replacement of the cutting disc.
It is able to slice quickly and cleanly through ferrous metal bar and tube only while also featuring a quick release vice assembly. It More >

Now you can install heat and soundproofing material, as well as carpet and headlining, without the mess or masking associated with spray adhesive.
DEI's Adhesive Transfer Tape is a very aggressive, pressure-sensitive, double-sided tape designed to bond materials whilst maintaining a high-tack level.
The tape is also heat resistant which means that when the sun is shining your headlining won't end up falling on your head! In fact, DEi's Adhesive Transfer Tape will cope with temperatures from -30 to 120 degrees celsius.
The tape is available in single (#50205 – £10.94) or dual-roll packs (#50207 – £20.99). The tape measures 3in wide and More >
Do you sometimes get a bit cold in the garage during colder months? This new mug from Ember might be the answer. A premium product fitted with a heating element it keeps hot drinks hot at any temperature between 50-deg-62.5-deg C for up to 1.5-hours or indefinitely if you keep it on its charging dock.
An LED warning light tells you when the drink is up to the required temperature and you can even control the mug via an app on your mobile phone. A range of colours are available and it is priced at £99.95 – visit www.ember.com ENDS.
More >
Here's a cool product that might well be of interest to kitcar owners. Classic cars and kitcars are often placed in perilous positions if they break down on dual carriageways and motorways (particularly so-called smart motorways) so the Be Seen Screen is placed at the rear of the vehicle and in case of a breakdown enables the stranded vehicle to be more visible.
It also saves the need to traipse along the carriageway placing a warning triangle. Sized at 750mm x 800mm and supplied with a sucker in each corner
Produced from 50mm, two-ply black PVC mesh it has a reflectivity of More >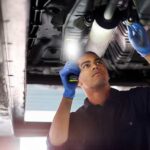 The latest automotive product from Philips lighting follows the launch of Lumileds – who are the global manufacturers for Philips automotive products – is the Philips Xperion 6000 series of workshop lights.
Instantly distinguishable from previous models with the new Philips high visibility green colourscheme, the Xperion 6000 range initially launches with five workshop light products: The 6000 UV Pillar, the 6000 Pillar, the 6000 Pocket, the 6000 Slim, and the 6000 Line as well as a Multi Dock station and a handy 'Find My Device' accessory.
All of the lights have features in common – the customary durability and resistance to workshop hazards, More >
Yokohama has announced its new ultra-high-performance ADVAN Sport V107 as its new global flagship tyre from Spring 2022. Sales will be launched successively in major markets around the world. The company plans to introduce thirty replacement tyre sizes, ranging from 305/35R23 111Y XL to 225/40ZR18 92Y XL, in Spring 2022, increasing the ADVAN Sport V107 size line-up, including original equipment (OE) sizes for new cars, to 43 sizes.
ADVAN is the Yokohama tyre global flagship brand and the Sport V107 will succeed the Sport V105 as Yokohama's global flagship ultra-high-performance tyre. The ADVAN Sport V107 applies the cutting-edge matrix body-ply structure used in its More >