admin
This user hasn't shared any biographical information
Posts by admin
Does your Type 1 motor need a new camshaft to keep the valves in check? If the standard specification is the thing for you, and you hold no desire to tinker or tune, this four-rivet camshaft by FORST is just the ticket.
Supplied with the gear bolted in place it is offered for sale by Heritage Parts Centre for a modest £83.95. They can be found online at HeritagePartsCentre.com by searching for part number 113-109-021/GR and handily qualifies for free UK delivery.
While you're at it, order up a new set of cam followers and an appropriate four rivet oil pump. FORST produce a More >

Repairing a windscreen washer system can be problematic at times; you may need to replace degraded, kinked or rodent-nibbled washer hose, or even stuck one-way valves and leaking connectors. This windscreen washer pipe repair kit from Connect Workshop Consumables (part number 36757), has been brought together as a one-stop box, offering the most common components found in the windscreen, headlamp and rear-window washer systems, allowing the technician or owner to quickly get the system working again. Also ideal for one-off, historic and kit-car windscreen-washer system manufacture. The kit even includes a pipe-cutting tool to ensure straight, clean cuts every time.
Included More >

Mirka UK is helping to organise workshop floors across the UK with the addition of a new modular trolley to its accessories portfolio. Available with two set-ups, the trolley provides technicians with a place to store all their machines and consumables and the option to modify them based on the job they are performing.
The base trolley comes with either drawers or shelves and a new hose arm with two machine hooks. The machine hooks are easy to attach and adjust depending on the tool hanging from them and the hose arm has been developed to fit two 27mm hoses and More >

Ring Automotive has launched a new bulb stand, delivered with 174 of the most popular 24V bulbs, for quick availability at the point of installation.
The eye-catching BU274 24V Bulb Stand is fully stocked with 174 24V vehicle bulbs and can be wall mounted so technicians can access the right bulb quickly for every job. It also helps workshop engineers keep control of their bulb stock, providing a quick visual of what needs to be replenished.
Ring's BU274 contains 16 of the top 20 sales Pareto bulb types across headlamp bulbs and the smaller auxiliary bulbs; all are designed to original equipment More >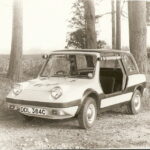 A real lightweight that became too heavy. Then the balloon went up. CAROL HARDY explains why the 'Stables' door was bolted
Clever little concept created by Peter Bohanna and Robin Stables, who had previously designed the car that became the AC ME3000, the Austin Maxi-powered Diablo.
This four-seat Hillman Imp-based utility called the Nymph appeared in 1976 as a kit after a proposed deal for 20,000 units with Chrysler fell through. They'd seen it as a rival to the Mini Moke but the deal foundered when Chrysler UK ditched the Imp! It claimed to be the world's lightest production four-seater, incidentally.
Bohanna Stables would More >
New from Laser Tools is this cordless power-tool storage rack (part number 8378) which hooks over the edge of tool cabinets or other metal storage units and features a strong rubber-coated magnet on the lower support to both keep the holder in place and to protect the paintwork. It holds up to three power tools, keeping them safe and accessible and saving storage space inside the tool cabinet.
Manufactured from steel, this robust tool holder has a durable black powder-coat finish. It will latch onto any standard toolbox or storage unit that has a raised lip and is secured by an More >

Some years ago Merlin Motorsport designed their own simple supplementary silencer/muffler. It's a round box that has a 4in diameter, is 8in long, with a 2in perforation in the bore and is packed with E-Glass.
Merlin's technicians weld a short length of exhaust tube at one end and slip it over the exhaust. The end cap on the opposite side is tacked on with four welds so it's possible to grind out the weld and repack the E-Glass. See their MERLIN MUFFLER here.
The muffler can fit over the exhaust, in which case they'd advise a slot which allows it to slide over the More >

You might find yourself fitting J tubes to your Type 1 engine for a number of reasons: to allow fitment of a performance exhaust, to bypass the heater system or to save money over purchasing replacement heat exchangers.
Up until recently, J Tubes were typically produced in mild steel, which as we all know, corrodes and rusts away. Fortunately, SSP saw an opportunity to help and has produced these J tubes in stainless steel. Now, not only will they remain looking shiny under your air-cooled engine, but you also won't have to worry about their longevity from a maintenance point of More >

New from Car Builder Solutions is this Dash-Mounted (or panel-mounted) 15mm (5/8in) Brass Heater Valve with mounting bracket.
This item is a great quality quarter-turn valve produced from brass with a plated-steel mounting bracket with two M5 mounting holes at 64mm centres.
The valve has a rear projection of 42mm. a front projection of 25mm and a push-on knob diameter of 36mm.
Available now the item wears part number #BHTVD2 and costs £28.80 – more information from www.carbuilder.com or 01580 891 309 ENDS.

The brand new Connect Workshop Consumables catalogue has now arrived, and it features over 6000 products suitable for businesses and tradesmen of all disciplines covering: Electrical, Fasteners & Fixings, Trim Clips, Hose & Tubing, Abrasives & Cutting, Storage & Protection, Tyre Components & Bodyshop, plus assorted boxes.
The team of industry professionals at Connect Workshop Consumables work tirelessly to provide a complete and inclusive one-stop-shop, constantly sourcing new products that will enhance the range and offer the tradesman and technician the UK's most comprehensive solution for workshop consumables. Cables, connectors, washers, fasteners and fixings, anaerobic and adhesives, trim clips, O-rings, trade displays and carousels, the More >