admin
This user hasn't shared any biographical information
Posts by admin

New to their range and developed in-house by Sealey is this Suspension Strut Support, which is intended to be used in conjunction with Model No. 600TR or other transmission jacks with a minimum base size of 560mm x 570mm.
It is designed to support suspension struts during repair operations.  Sealey's VS3847 is only for use with a ram size of 30mm diameter.
For further details or to view Sealey's complete range, visit their new website, or their 01284 757 500 or even visit www.sealey.co.uk ENDS.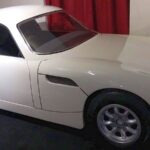 I was having a rough tally-up the other afternoon, and I suspect that Dundee-based ADO might be only the 25th kitcar manufacturer to hail from north of the border.
The Austin Healey Sprite was introduced in 1958 and offered a winning formula – a strong monocoque structure, a robust and tuneable engine and easily modified brakes and suspension.
It brought sportscar performance within the reach of many car enthusiasts. In the early days, Speedwell pioneered the 'performance kit' and today Frontline Developments and many others continue in the same spirit of development.
Apart from the ability to improve the mechanical basis of the More >

Devonian kitcar manufacturers, ANC Sportscars and Quantum Sportscars are collaborating jointly on a new replica.
It's called the ANC GT and uses the existing (ex-MEV) Replicar chassis as well as the Mazda MX-5 donor parts. A Jaguar V6 engine conversion such as that offered by Rocketeer will be an option.
Quantum boss, Rob Hancock, a gifted GRP laminator is currently working on the moulds for the new car. Plans for a Maserati A6 GCS Monofaro-inspired model are also underway and that one will use a revised version of the Quantum Xtreme's proven stainless steel monocoque.
More from www.ancsportscars.co.uk or www.quantumcars.eu ENDS.
More >

Meguiar's has launched another addition to their Hybrid Ceramic line of products, Meguiar's® Hybrid Ceramic Detailer.
This advanced formula puts a whole new twist on what a spray detailer can deliver by gently and quickly removing light dust and contaminants while leaving behind a layer of hybrid, Si02 ceramic protection that beads water.
As you would expect from a traditional detailer, it contains lubricants that help to buffer the surface when removing light contaminants between regular washings and wax applications.
However, their chemists have figured out a way to infuse this with Si02 technology to leave behind Hybrid Ceramic protection by just spraying More >
The new Machine Mart catalogue is packed full of all the tools and equipment you need whether it is for a hobbyist, DIY enthusiast or professional. Featuring over 500 price cuts and new products, the new 508-page Spring/Summer catalogue is a 'must-have' for anyone seeking a huge choice of tools and equipment at unbeatable value.
With over 6,000 items of tools and machinery in the new catalogue and over 15,000 extra products online, you'll be sure to find the tools you need!
To order your catalogue simply go online to www.machinemart.co.uk visit your local store or call 0844 880 1265 ENDS.
More >
Here's a superb new car drying blower called BIGBOI BLOWR PRO, which is arguably one of the finest machines of its type. Not the cheapest by any means at £329, it is worth the outlay in our view.
If you like taking care of your cars, you'll know that carelessness when washing and drying a car with a chamois or even a drying towel can leave the odd scratch or blemish on your car's bodywork.
The BlowR is powered by not one but two 1600-watt motors, each with two power settings. If you like details of such things this means that you More >
Due for launch at Reis Race Retro 2020 taking place on February 21-23, is a brand new V12 engine called the tera®. Inspired by the legendary Jaguar V12 unit it hails from Neville Swales' Building The Legend XJ13 project and is described as an evolution of the special version of the Jaguar V12 designed by Claude Baily and intended for the ill-fated XJ13.
The original was an engine designed to race – itself developed from Harry Mundy and Walter Hassan's XJ12 unit – but never raced.
The tera® is normally-aspirated and distributor-less with a choice of mechanical or electronic fuel injection and More >

Cracks or damage to your engine radiator and heater hoses can cause coolant leakages, engine overheating and engine damage, so it's important that any faults are fixed quickly if you need to continue your journey. On modern vehicles, damaged moulded rubber hoses are a real problem and if an exact replacement part is not immediately available, then the vehicle is going nowhere.
New from Connect Workshop Consumables is this professional hose repair kit (part number 33200), that features a comprehensive selection of straight hoses, right-angled hoses, pipe connectors and hose clips. A heavy-duty pipe cutter is also included so that the hoses More >
The latest release from MOMO is the Ultra Gear Knob; which features a fully machined aluminium body with a microfibre grip composed of material similar to that used on MOMO competition steering wheels.
The MOMO Ultra Gear Knob is ideal for either racing or as a stylish upgrade on roadcars. It is available in a choice of either black, blue or red with a 'sticker-bomb' effect of the MOMO logo around the collar and the iconic MOMO arrow logo on the top as proof of pedigree.
Stock due March 2020, pre-order now priced at £119.99 inc VAT each.
For more details call 01268 More >
Latest Tenzi UK product to impress me is their Bleeding Rims, which is an iron fallout-type product.
The products are produced in Poland, where the company (motto 'advantage through quality') is one of the market-leaders.
Bleeding Rims is designed for cleaning wheels of stubborn metallic dirt, rust and dust from brake discs. Its name derives from the red colour that appears on contact with the wheel surface.
The amount it 'bleeds' shows how much dirt and crud has accumulated on the wheel rim. The product has a gel consistency and the product may also be used for cleaning aluminium, chrome and enamelled wheel More >