admin
This user hasn't shared any biographical information
Posts by admin
Heatshrink tubing is a professional way to insulate wires and connectors but usually needs a mains-powered heat gun, which can be inconvenient sometimes, especially if working under the dash of a customer's car out in the car park. This handy little butane-powered, hot-air blower from Laser Tools (part number 6848) is just the job – it's small, fits in a pocket and gives instant heat just when you need it.
Easy to use, a thumb press on/off switch provides comfortable handheld use. Adjusted by a slide regulator, you can adjust the temperature to deliver the right level of heat for the More >

Create your ideal workshop from the wide range of storage systems available from Sealey Tools.
The modular design means their systems are truly customisable; while the choice of units available provides you with the perfect storage solution, no matter what size or style you are after. Each range allows you to purchase a simple base unit or create a complete storage system.
Using the handy new design tool, developed by Sealey, you can bring your workspace to life by creating the perfect combination of drawers, cabinets and back panels. The Superline Pro® and Premier™ ranges can be customised further by adding your More >
New in at Slim's Detailing is the Soft 99 range of car care products. We've just sampled one of them.
Glaco Glass Compound Roll On which is the perfect preparation before applying a coating to your vehicle's glass.
This convenient, handheld glass polish tool uses two types of abrasive to easily remove stains, traffic film and even old Glaco Ultra glass sealant. This all-in-one tool and compound features a felt pad, meaning there is no need for extra applicators or cloths to apply it.
Quite simple to apply to apply you just need to ensure that the glass is clean and dry. Then give the product a More >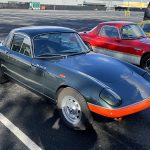 ELAN-BRM by Steve Hole Photos by Carol Hardy
There have been a large number of special variants of the Lotus Elan over the years including the IWR Elan, Willment Elan, Shapecraft Elan, Starley Sprite (the second was Elan-based) and a pre-knighted Sir Stirling Moss's S.M.A.R.T Elan.
However, my favourite of them all is the Elan-BRM. At first glance, it might appear strange that Lotus and BRM, rivals in F1 back in the day, would collaborate on anything but collaborate they did.
In any case, BRM had already supplied tuned engines for the competition Elan, the 26R and also for Type 47 Europa.
The men More >

Caterham® has reintroduced its heritage range following the launch of two new models: Super Seven 600 and Super Seven 2000.
Ahead of the brand's 50th anniversary next year, the latest editions take inspiration from Caterham's early 'Super Sevens' introduced in the 1970s and popularised through the 1980s; a classic, British, lightweight, two-seater sports car with the perfect blend of style and performance, yet re-imagined for the 21st century.
While these models may look similar, they offer two very different driving experiences.
Super Seven 600 is an accessible, pure, simple, driving experience but at a lower speed. It is a car for those More >

These two products were new to me until recently having been recommended to me by a couple of readers.
One picked up on my comments about the filthy Alcantara steering wheel in the Caterham Seven 420R in the last issue and reckoned this product was a surefire way of bringing it back to health.
While he also praised the Nano Fabric Protector, too and he wondered whether it would help keep Alcantara-type products from getting dirty in the first place. Good shout.
My VW Golf came with seats with Alcantara centre panels and although nice and comfy I know that these suede-style fabrics More >
New in the Laser Tools range is this set of six combined drill-tap bits designed to drill and tap a hole in a single pass (part number 8405). Each bit has been manufactured from high-speed steel (HSS4241) and coated with a super-hard, ceramic titanium-nitride coating for edge retention and corrosion resistance.
The 1/4in hex drive drill-tap bits feature a drill section at the forward end of each bit that forms the perfect-sized tap hole in the material. The following tap section then cuts the threads. The bits include spiral flutes to clear the swarf created plus a deburring shoulder to ensure More >
Are your tools safely stored, organised and easy to find? If not, it's maybe time for a storage upgrade to transform your space and give you a garage to be proud of. BUNKER by Draper Tools is the popular modular storage collection that's built to protect – and now includes a stunning range of roller tool cabinets.
Meet the ultimate range of roller tool cabinets. Built to perfection, these extraordinary workspaces offer flexibility and quality in equal measures. Choose from blue, green or grey cabinets to move around your space, so you always have what you need when you need it. As with the More >

It's a nightmare getting stuck with a drained battery, that's why Machine Mart stocks a range of car battery chargers, jump starts, and engine starters to get you moving again quickly. They stock robust and reliable battery chargers from Clarke, whose products have been helping people to get back on the road for over 30 years.
The size of a mobile phone with a soft touch casing, the Clarke JSM180 is an amazingly small and lightweight portable lithium-polymer power bank. Weighing only 260gm and small enough to comfortably fit into a glove box, the JSM180 is perfect for emergency situations.
It can More >

Discover 70 new lines inside the latest edition of Sealey's Tool Promotion, valid from October 1 until December 31, 2022.
The mammoth 180-page issue, includes over 1760 deals, including offers on many seasonal items such as battery chargers, lighting, and heating.
There are savings to be had on their new range of 12V RoadStart® Lithium Jump Starter Power Packs. Available in three different capacities, the 1200A model is suitable for starting 8-litre petrol or 6-litre diesel engines. Each model includes a USB outlet for powering or charging a variety of small electronic devices.
You can also take inspiration from their festive gift guide More >