admin
This user hasn't shared any biographical information
Posts by admin

It's rare that a product like the Pioneer SPH-EVO620DAB UNI shakes the in-car entertainment world like King Kong on a New York skyscraper, but when it does Pioneer likes the impression of an A-list movie star.
Thanks to the flexible installation options afforded by the modular display and detachable control box setup, this 6.8in head unit redefines the notion of single and double DIN stereos. Not only that, it benefits from Pioneer's long-held audiophile reputation for high-end, high-resolution audio quality.
Waze, Spotify, Bluetoothâconnectivity and the trusted duo of Apple CarPlay and Android Auto make things, even more, smartphone-friendly for those with busy social More >

The highly popular Machine Mart MIG 135TE welder is ideal for use involving automotive repair and many other DIY jobs.
It is very easy to set up and use, with features such as turbo-fan cooling for prolonged full power welding, coupled with professional style, non-live torches which are distinct advantages to the more inexperienced welder.
This model has power settings from 30-130amps and can weld mild steel up to 5mm thick. It comes in a stylish case with a hinged side door for easy access to the wire reel, which can hold wire sizes of 0.6-0.8mm. The gas bottle is stored at More >

Webcon has announced that it is now stocking the superb quality Blue Thunder quad Weber IDA intake manifold for the classic Chevy small block V8 engine.
The manifold can be ordered as part number 9900890100 and is perfect for both Weber carburettors and IDA style throttle bodies.
The Webcon 9900890100 manifold is priced at £1000.02 (don't forget the all-important 2p!) inc VAT.
Webcon also recommends their Webcon 9900790000 linkage set, priced at £187.89 inc VAT, for use with this manifold.
Both items are available now from 01932 787 100 or visit www.webcon.co.uk ENDS.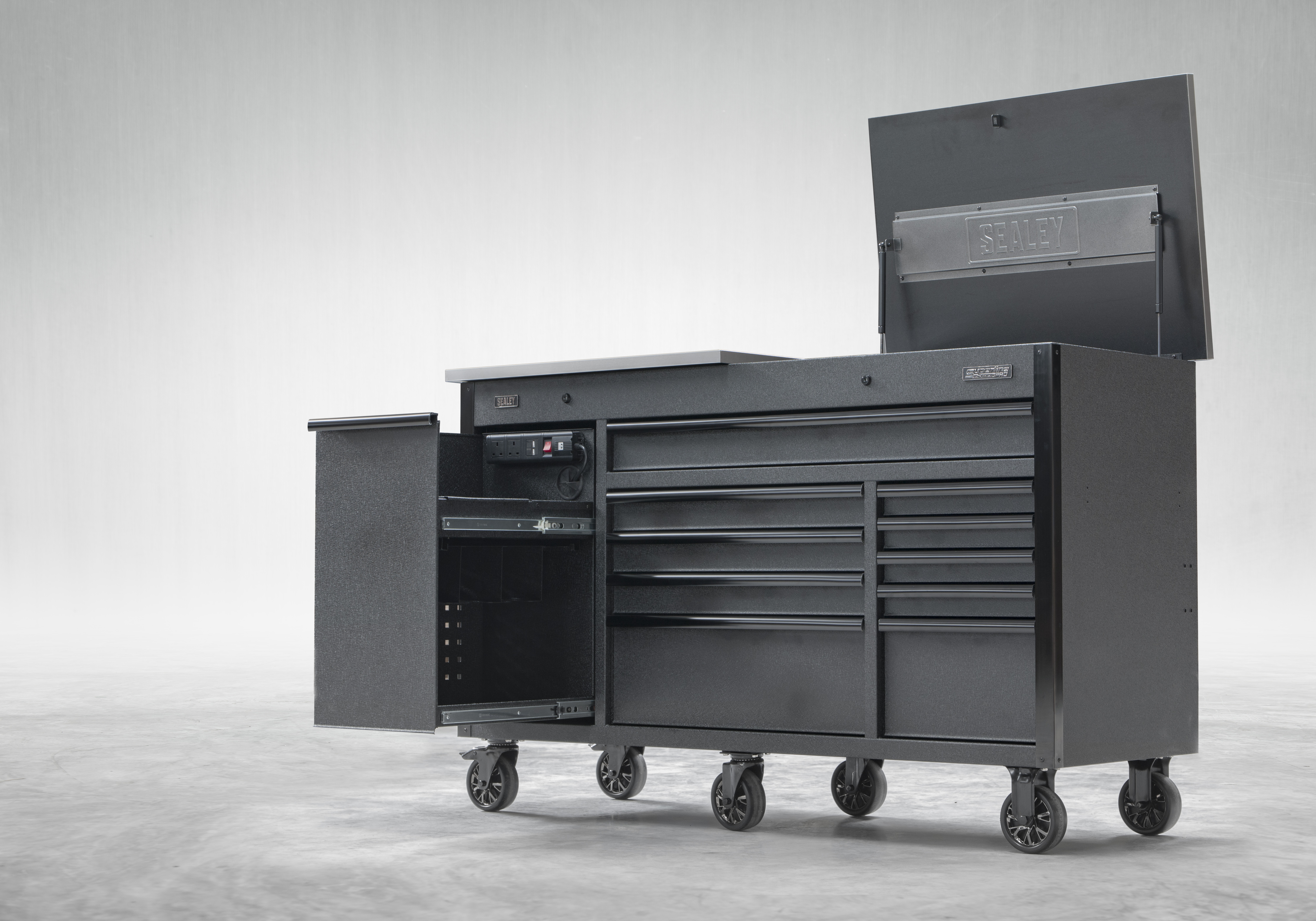 Sealey's new 1600mm mobile tool cabinet with a power tool charging drawer has a host of brilliant features.
This monster is all heavy-duty steel construction with steel inner walls and 45mm ball-bearing drawer slides provide superior performance, which is suitable for heavier loads and have been manufactured to provide extra strength and durability.
Finished in a rust and solvent-resistant black crinkle effect, each drawer features stylish black anodized heavy-duty drawer pulls and pre-cut non-slip liners. It is fitted with six Ø125mm PP wheels with black chrome effect alloys, two are fixed, two swivel and two swivel with brakes.
The full height rear locking More >

More starting torque without the bulk – Tuff Stuff Performance High Torque Gear Reduction Starters deliver enough torque to turn over engines with compression ratios of up to 15:1, but are compact and lightweight to make the most of limited engine space.
They're smaller than OE starters but feature a 3bhp motor that draws half the amps of a full sized starter motor. The adjustable mounting block gives you the extra room you need to clear headers, oil pans, and chassis components, and the clocked billet aluminium drive end lets you reposition your starter as you add upgrades. Ball-bearing construction makes More >

One for VW Beetle lovers. Not every enthusiast wants to relocate their coil in the engine bay, but if you do, the frustration of the cable not being long enough is all too familiar. Fortunately, help is on hand from the good guys at Heritage Parts Centre.
As part of their, UK made FORST range Heritage now offer sets of OE quality leads in 7mm black copper cored silicone, and 8mm Ferroflex cable with a choice of yellow, black, blue and red as a performance option.
The high-performance Ferroflex core cables are engineered to last longer with better flexibility, minimum voltage loss, More >
Burton Power has announced that FT1059 camshaft oil spray bars for the Ford SOHC Pinto engine are once again available and back in stock.
These spray bars have been reproduced exclusively for Burton Power to high original Ford equipment standards and are suitable for Ford SOHC Pinto applications:
Order as part number FT1059 at £24 inc VAT each with further details from 0208 554 2281 or via www.burtonpower.com ENDS.

B-G Racing is well known for its classic Ford racing cars – such as their famous Mk1 Escort – and now the company has produced an engine stand that will safely store and transport classic Ford engines when removed from your vehicle.
The pair of stands simply bolts straight onto the engine block to support the engine in its natural position
The B-G Classic Ford Engine Stand is suitable for most four-cylinder Ford engines: Pinto, CrossFlow, Lotus Twin Cam, BDA, BDG etc. and is naturally sold as a pair at £49.99 inc VAT.
For more details call 01268 764 411 or visit www.bg-racing.co.uk ENDS.
More >

We'll be featuring the RS Retro RS200 replica in a forthcoming issue of TKC Mag, but the debut-making Essex-based company impressed many people with their take on this classic Ford theme at last weekend's Stoneleigh show.
There have been a good number of RS200 replica produced over the years, some bad and some really good ones amongst them. However, I'm not sure if I've seen one so beautifully executed as this.
Panel fit, finish and general feel of the car were exemplary.
Find out more from www.rsretro.smugmug.com ENDS.
Well-known for their fine range of bodykits – Avalanche GT and Evolution GT – Turismo UK came to Stoneleigh with a great display of their wares. The Nottinghamshire-based company work closely with Rob at Total Custom while they launched a very innovative piece of kit at the show.
It's a universal fit Air Cup Lift System for cars equipped with coil-over dampers. We've all been there, scraping a front splitter on the ground while trying to load your car on a trailer (that scrunching sound is truly sickening) or on More >