admin
This user hasn't shared any biographical information
Posts by admin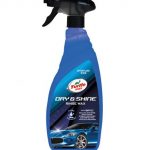 Regular readers will know that I follow the car care and detailing scenes very closely. Indeed, we feature products we think you'll like here on the website and we also devote at least three pages per issue of TKC Mag.
About a year ago, some detailing YouTubers in the USA started to make really, positive noises about the Turtle Wax Ice range of hybrid products.
The Turtle Wax brand is still the number one in the USA where their 'green bottle' products were joined in recent years by the Turtle Wax Ice range. Actually, the brand can trace its history back to More >

The orders for the recently announced Donkervoort D8 GTO-JD70 have surpassed those of its predecessor. So, in an innovative move, Donkervoort Automobielen has come up with a new concept, the Seasonal Lease.
With a Seasonal Lease, new owners can lease a Donkervoort D8 GTO as an 'interim car' and get down to the business of enjoying it straight away.
Here's how it works
Fundamentally, the Seasonal Lease works just like any other type of lease. However, there are some differences. The duration of the lease is linked to the Donkervoort season, and the number of D8 GTOs in stock is not unlimited.
Another exceptional aspect More >
The genuine feeling of dread you experience as you realise your vehicle has a puncture is an all-too-familiar one for many motorists. Thankfully, Road Hero has stepped up with a simple, tailored spare wheel solution to make sure that your next puncture is an inconvenience, rather than a show-stopper.
Punctures are nothing new, of course, but what is new is that the vast majority of cars sold in the UK since 2012 DO NOT have a spare wheel fitted. On some cars, it's a costly option, but on many, you're left with a can of foam and a great deal of More >

Sealey's new patented design Benchclaw™ is the latest product you never knew you needed, until now. This innovative product enables power tools fitted with Benchclaw™ to be quickly and easily mounted to conventional workbenches with a maximum platform thickness of 20mm.
Benchclaw™ is fitted with foldaway claws with auto-retract enabling use on the ground or flat-work surfaces without needing to disconnect Benchclaw™ from your chosen tool. It is suitable for a variety of tools including mitre saws and bench grinders with mounting hole centres between 100mm to 375mm so you can simply fit a pair to each of your tools for More >

Rally Design has just released a Blackline Group 4 specification radiator with large header tank to suit vehicles requiring the ultimate in cooling.
Ideally suited to BDA, Cosworth and Duratec-engined applications, the radiator includes fan brackets to fit 'push' or 'pull' SPAL or Revotec slimline fans
Manufactured to works OEM quality levels and fully pressure tested, it is competitively-priced at £239.52 inc VAT, wearing part number 'BRAD013'.
For more information contact Rally Design at the other end of 01227 792 792 or www.rallydesign.co.uk ENDS.
This new combined brake disc and tyre tread depth gauge from Laser Tools (part number 7635) is worth a look. It's a lightweight Vernier-style measuring tool that offers quick and accurate readings and its compact size allows for access in tight spaces.
The tool is designed to measure the ridge that forms on the outer edge of the disc. Position the tool onto the disc then close it up to both outer faces. Tighten the locking screw, and you have completed the measurement. Now simply press the jaw release mechanism to remove the tool away from the ridge on the disc More >

New from watch-maker Christopher Ward, is the vintage-themed C65 Black Gold dive watch references a nickname given to the striking black and gold livery of the John Player Special Formula One cars of the 1970s.  It offers an attractive variation on the two-tone, bi-metal theme currently having an unexpected resurgence in the fine watch world.
The C65 Black Gold builds upon the foundation of the C65 Trident Collection and its best-selling C65 Trident Diver. The dial is replicated from the Diver, with large Arabic numerals at 12 and 6 o'clock, along with rectangular indexes and hands, which have been filled with Old Radium Super-LumiNova. Printed white More >
Car Builder Solutions is well-known for the vast array of components for kit, classic and modified car owners they supply. I do wonder sometimes if there's a kitcar with at least one of their components on it anywhere in the UK!
Their latest new launch is a range of quality corporate wear bearing the Car Builder logo – you can choose from t-shirts, sweatshirts, polo shirts and hoodies. Various sizes from small to not quite so small (!) and all points in-between are available.
This stylish hoodie grabbed my attention and it's available in three colours – Heather Grey, Deep Navy or More >

MeacoHeat Motion Heaters use safe PTC ceramic technology to offer fast start-up time. A thermal cut out and tilt safety switch ensures that, if they are accidentally knocked over, they switch off.
A fan option means they can be used all year round. The smaller model, 1.8kW has two outputs levels to save energy, a 1-7 hour 'off' timer and a fan only mode for summer use. The larger 2.0Kw adds oscillation to the specification to distribute the heat evenly through a 70° arc. A three-level thermostat replaces the off timer to provide another level of control.
There are two models, available More >
PRW Industries makes lots of performance parts, but we think the company's rocker arms are worth a closer look. From stamped steel roller tip rockers to full-bore shaft rockers.
Pro Series Stainless Steel Rocker Arms
These rocker arms are manufactured from strong, lightweight stainless steel for excellent fatigue resistance and won't deflect so valve timing stays rock-solid. Other features include full-cage needle bearings for reduced friction; extra-large trunnions to spread out load and reduce wear; heat-treated steel roller tips and shafts and minimise valve stem scrubbing; CNC-machined pushrod cups; and RockerLoc locking nuts.
Available for small and big block Chevy; Chevy 348-409; GM More >