admin
This user hasn't shared any biographical information
Posts by admin

Webcon has announced that its own production manifolds for 2 x Weber IDF on the Ford Pinto engine are now available.
100 per cent cast and machined in the UK, MM2351 can be fitted with twin 40, 44 or 48IDF and is essential for anyone wishing to recreate a Group 1 Escort, or for general Pinto tuning where space is too restricted to allow fitment of twin Weber DCOE.
MM2351 is available at £390.29 inc VAT. Available directly from Webcon via 01932 787 100 or visit www.webcon.co.uk ENDS.
Changing engine oil can be a messy job! And different engines have different oil neck configurations. When using a traditional funnel, one hand has to be used to keep the funnel steady, and if the filler neck has a baffle, the oil has to be poured in very slowly and carefully, or else the oil will overflow and spill.
These two oil funnel sets from Laser Tools solve these problems: part number 8301 comprises a two-piece funnel supplied with three adaptor caps sized to fit various vehicles from the Volkswagen Audi Group and part number 8302 is the same two-piece funnel but supplied with two More >
Following the resourcing of a suitable supplier, British Motor Heritage (BMH) is pleased to report that replacement thermostat housings for models of the MGB roadster and GT from 1976 onwards (ie those equipped with factory-fitted electric fans) are now back in stock.
The housings, part number CAM1577, are priced at £43.20 inc VAT and are available for purchase from BMH Approved Specialists nationwide, a full list of which can be found at www.bmh-ltd.com.
The complete inventory of British Motor Heritage's ever-increasing range of replacement bodyshells, individual panels and countless other parts for classic MGs and Minis, Triumphs and Morris Minors etc is contained More >

Discover 100 new lines inside the latest edition of Sealey's Tool Promotion, valid from January 1 and running until March 23, 2023.
The 148-page edition offers you over 1450 deals. With discounts of up to 80 per cent off the list price, the biggest savings can be found in their clearance section.
There are savings to be had on the recent additions to their vehicle service range, including the VS0216 Brake Disc Lip Remover Set; designed to provide a smooth and easy method of removing the lip and corrosion build-up on brake discs.
Check out their impressive new storage range including the fifteen More >

Merlin Motorsport stock a wide range of gauges and senders from leading manufacturers such as – VDO, Stack, Racetech, Smiths, Telemetrix, Mocal and SPA Design. They also have instrument pods, fittings and accessories.
Click the link to visit the company's range of INSTRUMENTS AND GAUGES ENDS.

Bleeding hydraulic brakes and clutches have traditionally been a two-person job. MityVac Vacuum Brake and Clutch Bleeder Kits use your garage's compressed air system to draw air and fluid out of hydraulic brake and clutch systems, turning a messy chore into a quick, clean, one-person job.
Features include:
Capable of extracting used brake fluid while refilling with new • Isolated flow and pressure/vacuum valves for simple functionality and control • Automatic shutoff to prevent overfill • Universal bleed screw adapter conforms to most common bleed screw sizes • Integrated muffler for quiet operation • Redundant pressure control systems maintain peak output pressure below More >
Looking to organise your garage, shed or workshop? Machine Mart has you covered with their vast range of Clarke Tool Chests & Cabinets!
A new tool chest in the range is the Clarke CBB205C HD Plus 5 Drawer Tool Chest with lift-out tote tray. The CBB205C provides four drawers measuring 575×261×49mm with the fifth at 575×261×64mm. All drawers have a capacity of 35kg.
Another new addition is the Clarke CBB312C 12 Drawer Tool Chest. The CBB312C also comes with a tote tray. It features nine smaller drawers measuring 170×361×49mm, two drawers at 575×361×49mm and then finally one larger drawer which measures at More >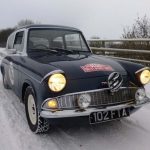 Many specialist car enthusiasts have high regard for Clapham-based Allard Cars founded and run by Sydney Allard. The company was active between 1945-1966 although the last 'proper' Allard was built in 1958.
Sydney enjoyed being an underdog and one of his favourite sayings was 'high performance through ingenuity' and it summed him and his company up rather beautifully, I think. He first started driving his own 'specials' in trials and was a very accomplished exponent.
Allard Motor Company was a subsidiary of Ford dealership Adlards Garage, which had been founded by Albert Brisco and Sydney Allard in the thirties. The company had More >
Laser Tools has just added this master socket set of extra-deep metric sockets (part number 8420) to their extensive range.  The sockets feature a single hex (6pt) profile, with a 120mm depth designed to reach heavily recessed fixings, including those found on bumper, rear lamp and door hinge fittings.
The set includes 3/8in drive sockets from 6mm to 18mm and 1/2in drive sockets from 19mm to 21mm. Also in the set is a 3/8in drive to 1/2in drive adaptor and a 1/4in drive to 3/8in drive adaptor to ensure full compatibility with existing tools. All are manufactured from chrome vanadium steel More >