admin
This user hasn't shared any biographical information
Posts by admin

Over the years, tightening emissions regulations have forced changes within the petrol industry and altered the formula of standard fuel. Leaded petrol disappeared from UK forecourts at the turn of the millennium, E5 biofuel was standardised in 2019 and in September 2021 the recipe of standard-grade unleaded petrol changed to double the content of renewable, non-fossil ethanol. This petrol is identified by the code E10.
While these changes are welcomed in order to help cut carbon monoxide emissions, ethanol-blended petrol can have a negative effect on a vehicle's fuel system. How is that the case?
Ethanol is soluble in petrol but it More >

Installing an E or C-type can be fiddly and awkward sometimes, especially if access is difficult. Wouldn't it be good to have a tool that would hold the clip securely for you while you place it is position and push it into place? Laser Tools to the rescue! Their new E-clip installation tool (part number 8438) is designed for just that.
Suitable for use with 'E' and 'C' type clips, it includes a magnetic clip holder together with an ergonomic handle which features a pound-through design allowing for the end of the tool to be struck with a small hammer to More >

One for our North American readers – Summit Racing™ Ultimate Rivets are perfect for racecar construction, car bodywork, metal fabrication, or any other job you can dream up.
Available with a small or large dome head, the aluminium body/steel nail rivets swell during assembly to hold materials tightly together. Plus, their sealed finish means they won't collect dirt or slice unsuspecting fingers.
Summit Racing™ Ultimate Rivets are recommended for use with aluminium, composites, glassfibre, Lexan, steel, paper, rubber, plastic and more.
They are sold in packs of 250 in a variety of sizes in natural or black finishes.
Follow this link to find out More >

The late Cyril Malem was one of those engineers, fabricators and designers, who was incredibly popular and always in demand for his skills but never got the credit he deserved, but those in the know, 'knew'! Time to pay tribute I think.
Cyril hailed from North London and trained as a toolmaker. He was one of the first employees at Bob Robinson's Arch Motor and Manufacturing Co Ltd in Tottenham, very close to Spurs' White Hart Lane stadium.
He would have been involved with Colin Chapman who turned up one day enquiring about fabrication work. Arch started by making throttle pedals for More >
I was really pleased to get a chance to visit the 'new' Westfield Chesil operation in Bicester, Oxfordshire. General manager, Simeon Cattle was my guide for the day.
We have a full feature upcoming very soon in TKC MAG but suffice it to say the new 8000sq/ft workshop will house all things Westfield and Chesil with turnkeys being built at Simeon's Project Shop operation around the corner.
A classic car enthusiast, Simeon founded Project Shop in 2010 and specialises in restoration, historic car race prep and much more. Any classic car built between 1950-1990 is fair game and they work on all More >

I was very impressed with a couple of products from Squid Ink Detailing last weekend. My cars were looking very dirty and grime laden. The weather, be it wet or icy, in recent weeks means I haven't been able to clean them as I would like.
The products in question were Froth Snow Foam and their Pro-Seal Snow Foam Sealant.
I liked the snow foam as it dwelt on my car for about eight minutes and removed the crud before my very eyes.
I then followed this up with the sealant. At no time, incidentally, did I have More >

The Clarke JET9500B Pressure Washer has a powerful and efficient 2400W induction motor, a large 1400ml detergent tank and 8m high-pressure hose. The adjustable spray nozzle includes High/Low & Pencil Jet/Fan settings, meaning it can be adjusted to suit the user's needs.
Large 160mm wheels and a pull handle allow for easy handling whilst the integrated hose reel and lance storage means the unit can be neatly packed away and stored between uses.
Volts: 230V
Watts: 2400W
Pump Pressure: 2900 psi
Max Flow Rate: 420 L/hour
High-Pressure Hose Length: 8m
Wheels: Yes
View the product online here: https://www.machinemart.co.uk/p/clarke-je9500b-2400w-pressure-washer/
The tough and rugged Clarke PLS195B Heavy Duty Petrol Driven Pressure More >

New to the Laser Tools' range is this neat, multi-function rechargeable aluminium pen light (part number 8597) that combines a 2W COB work lamp together with a 2W LED torch. The pen light body is manufactured from durable anodised aluminium and features a magnetic base and a pocket clip, making it easy to get the light where it's needed.
The LED is a bright 150 lumens while the COB work lamp has two settings: high (170 lumens) or low (80 lumens) — working time 2 to 4 hours, charging time 2.5 to 3 hours. Powered by the built-in 3.7V 750mAh Li-ion More >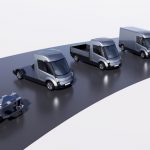 Designed for production of up to 5000 vehicles per annum, the innovative and highly flexible 3.5-tonne cab and chassis unit, codenamed WATT eCV1, enables a wide range of electric commercial vehicle designs, facilitating mission-specific models which meet customers' particular fleet requirements.
The first of multiple commercial vehicle offerings to come from WEVC, the eCV1 uses the company's breakthrough, proprietary PACES architecture, a sophisticated yet cost-effective modular electric vehicle platform. Developed to support commercial vehicle manufacturers, specialist vehicle converters and fleet operators in the transition to an electric future, PACES complies with ISO regulations and exceeds stringent European Small Series Type Approval safety standards.
It's 'cell-to-chassis' system means batteries More >

Running a small block Chevy camshaft with a GM LS engine's 1-8-7-2-6-5-4-3 firing order improves combustion chamber cooling for reduced detonation and air/fuel mixture distribution. It also reduces vibration and bearing wear, all of which mean horsepower and torque gains.
Summit Racing™ Pro SBC LS Firing Order Hydraulic Roller Retrofit Camshafts are precision ground from USA-made premium billet cores. They are available in seven profiles ranging from a smooth-idling towing cam to a big duration stomper that's ready to tear up the track in your race car.
More information from www.summitracing.com ENDS.