admin
This user hasn't shared any biographical information
Posts by admin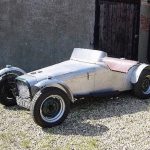 THE MIKE CANNON STORY – words by Steve Hole
Michael 'Mike' Richard Blackburn Cannon was a very interesting and talented chap. Born in Tasmania in 1928 to a farming family, he emigrated to England and settled into sheep farming at Oxen Hoath Farm in West Peckham (near Tonbridge), Kent. They farmed 2000 acres and lived in a fifty-room mansion.
When his father died in 1952, Cannon and his brother acquired the farm but were forced to sell 1980 acres of it, living on the remaining 20 acres, where Mike built his own bungalow called Crooked Chimneys.
His great uncle was Blackburn Cannon who More >

Burton Power has once again teamed up with Quaife and the result is a new Quickshift Conversion for the Type E 4-speed Rocket Gearbox (also referred to as a 'Type B' gearbox in some workshop manuals).
The Quickshift will shorten the path between gears making for faster and more precise gear shifting.
The Quickshift is intended for competition use and is manufactured completely from steel for ultimate strength under race conditions. It can also be used on road cars, but noise can be transmitted through the lever at certain revs and this should be considered if road use is intended.
Order as part number More >

Webcon has announced that it now offers a complete service kit for a pair of Weber 38/40/45 DCOE carburettors.
The kit contains gaskets, seals, 'O' rings and needle valves to overhaul a pair of DCOE carburettors and comes complete with a full part identification guide to ensure you correctly locate and service all of the numerous replaceable parts in your carburettors.
Product Code: 9300150502 Price is £81 inc VAT.
Available from 01932 787 100 or by visiting www.webcon.co.uk ENDS.

Now have a look at this nifty new wheel nut socket from Laser Tools — one socket that actually fits four wheel-nut sizes! It's a half-inch-drive, double-ended wheel-nut socket (part number 8458), that features a spring-loaded insert at each end that enables it to accommodate four different-sized wheel nuts in total: 17, 19, 21 and 22mm. This innovative space-saving design cuts down on the number of tools needed to be carried and is ideal where storage space is limited.
Each end includes an internal sliding socket insert that moves out of the way when the larger size is required, provided two More >

It's important to keep a Mini-based kitcar's steering and suspension gaiters in good condition to prevent road grit and debris from damaging the joint within. That's why they should be replaced at the first sign of a split or suggestion of perishing.
Diligence is needed as, unfortunately, original rubber gaiters are prone to splitting and if subject to oil contamination can quickly perish.
Thankfully, Mini Spares has come up with polyurethane upgraded gaiters for all knuckle joints and many track-rod ends. These greatly reduce the chances of splitting and eliminate the problem of perishing.
It should be noted that this gaiter may not More >

Premium oils and lubricants brand ROWE will launch its high-end and sustainably manufactured product range into the UK market at the Autosport International Show, offering a new opportunity for stockists, garages, and end users.
The German oil brand will be distributed in the UK exclusively by Deutschesol, a newly formed company with ambitious plans including an eye-catching launch display at the Autosport International Show, at stand 2464.
ROWE will make its UK debut at the show, taking place at Birmingham's NEC from 12th-15th January 2023, which complements the oil brand's 'racetrack to the road' circuit-based research and development programme, where its motorsport More >

E3 Lithium Race Batteries are the most powerful and compact batteries on the market. For example, the SuperLite 800 is an 840-amp battery one third the size of a typical Group 34 battery and weighs just over 2kg.
Its diminutive size allows you to mount it virtually anywhere – like closer to the starter to shorten the battery cables – for even greater weight savings.
The SuperLite 1200 features 1200 cranking amps and weighs in at just over 4kg. It's ideal for racecars not running alternators.
Additional features of E3 Lithium Race Batteries include: • Three times longer life than traditional batteries • Charges More >

Words by STEVE HOLE
Geoffrey Dastle was a very clever engineer. He was actually trained as a heating and air conditioning engineer based around the Leatherhead area of Surrey.
He also enjoyed motorsport in general. He built his first racing car, a 'special' in 1959 for 500cc F3 and did a few races in it himself.
He built another car called the Mk2 under the 'DASTLE' name which came from 'Geoffrey DAvid STanley RumbLE' (obviously!) and had become interested in the then very popular GP Midget racing that was sweeping the UK at the time.
The cars looked like scaled-down F1 cars and often More >

Mention Burton Power and most people will think of tuning and racing parts for Fords, but they can also supply standard replacement spares.
A case in point is this standard 215mm clutch replacement kit for the Ford SOHC Pinto which includes a clutch plate, cover, and release bearing all for just £84.95 (inc VAT).
The kit can be ordered as part number 622017506 and is suitable for Ford SOHC Pinto applications including many hundreds of kitcars. For further details contact Burton Power on 0208 554 2281 or visit www.burtonpower.com ENDS.

More and more kit and classic car owners are turning to EFi for improved starting, economy, reliability and performance. In response to customer requests, Webcon has just added a complete crank sensor/trigger kit for the ever-popular Ford Crossflow engine to its line-up.
The kit comes complete with a trigger wheel, sensor and all the fitting hardware plus comprehensive instructions to make the installation a straightforward DIY operation.
The kit is suitable for all Ford Crossflow engines including the Lotus Twin Cam.
Product code: 9990291400. Retail price £180.88 inc VAT.
For further details call 01932 787 100 or visit www.webcon.co.uk ENDS.
More >