admin
This user hasn't shared any biographical information
Posts by admin

Duel Auto Care is a car care brand I really like and their Oxide Hybrid Quick Detailer is a particularly good product in my view.
Not only did it give a good level of gloss on my paintwork but it is also designed to give a level of protection from just one quick application.
I also liked the excellent levels of beading and water repellency and is said to give durability lasting up to eight weeks. A 500ml spray bottle (good trigger, by the way) costs £14.99 and is available from www.duelautocare.co.uk ENDS.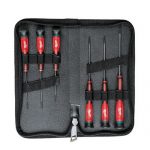 Source the best gifts for the car buff in your life with inspiration from online car parts distributor, PartsInMotion.co.uk, and get the festive season wrapped up early!
Milwaukee Torx Precision Screwdriver Set 6pc
This screwdriver set offers tools with extended reach and vastly improved visibility thanks to their long shanks. Each is plated with chrome, which works to protect the tool from corrosion and rust damage and increase its working life. All of the screwdrivers have an all-metal core that strengthens their durability, as well as a 360° rotating back cap. The set comes in a hardwearing zipper case for ease of storage More >

One for our American readers
Perfect for making trim and other small jobs, Woodward Fab's Lil Wheelie Bench Top English Wheels help form compound curves with multiple contours and can maintain smooth surfaces when working on sheet metal.
Features include: • Rigid double-wall ¼in thick solid steel plate construction • Bronze linear bearing for smooth up and down anvil adjustment • Radius and flat lower anvils included
The Woodward Fab Lil Wheelie Bench Top English Wheel is available in versions with a 3in diameter wheel and a 10in throat depth or a 6in diameter wheel and a 16in throat depth.
More from www.summitracing.com ENDS.
More >
D.R.K THREE-WHEELER by STEVE HOLE Pix from TKC MAG Archive
What a great little car the D.R.K was, originally intended as a fun one-off but met with such critical acclaim that it went into series built-to-order production.
Its origins date back to the mid-eighties when friends, Derek Callister and Keith Hamer from Ellesmere Port, decided that after many years of messing around with cars it would be a real hoot to build their own.
They discussed ideas and came up with a short-list of requirements that the car needed to have such as front wheel drive, air-cooled four-cylinder engine, two-seater sports and aluminium More >

I realise it's not a kitcar, but it is very specialist and I like it so it was always going in. It helps that I have always had a passion for proper French sportscars and the new Alpine A110 R is delicious.
The most hardcore – thus far – version of the new version of A110 has a suffixed 'R' which Alpine say stands for 'radical'.
Featuring revised styling for the bonnet, rear window and diffuser it is also 34kg lighter than the hitherto rangetopper, the A110 S not to mention around £12,000 more expensive, too.
The 1.8-litre Renault-built engine delivers a healthy More >

Burton Power has produced a reproduction of the aluminium sump, especially for use on the Ford SOHC Pinto engine. As can be seen from the photograph additional clearance has been provided around the cross member and steering rack.
In the process of reproducing this sump, Burton Power has also redesigned the baffle so that it provides far more protection from oil surge than the original version. The modified baffle has been configured to keep oil surrounding the pick-up at all times, especially under much more extreme conditions than those for which the original sump was created. The new Burton Power sump More >

Quaife, the renowned manufacturer and supplier of performance transmission solutions, will be unveiling a brand-new sequential gearbox for the Ford Focus RS Mk3 and other FWD applications as part of its presence at MotorsportDays LIVE, which takes place at Silverstone on November 4-5.
The long-established brand will make a welcome return to the show circuit, with an eye-catching stand that does justice to its products and the esteemed venue that is widely regarded as the home of British motorsport.
Quaife will be showcasing two cars that are synonymous with high performance and exhilarating driving dynamics – the Ford Focus RS Mk3 and More >

Merlin Motorsport has a dedicated Goodridge 'G-Tech' Workshop with all the know-how, proper machinery and equipment to make bespoke brake, clutch, oil and fuel lines, air jacks and vacuum lines very quickly.
For DIY assemblies at home, they also stock a vast range of GOODRIDGE UNIONS AND HOSES. If you've got a project that they can help you with just get in touch.
Call them on 01249 782 101 or visit www.merlinmotorsport.co.uk ENDS.
New from Laser Tools is this universal pedal depressor (part number 8381). It is an extremely versatile, extendable stay that can be adjusted and set to depress and hold down a vehicle's brake, clutch or throttle pedal.
The stepless, extendable design allows the operator to adjust the tool to the required position – it is then held in place by wedging the U-shaped bracket against the back of the steering wheel or against the edge of the driver's seat.
The range of extension is 521 – 851mm and the rubber foot and vinyl-dipped bracket provide excellent grip and avoid marking the vehicle More >

This one is a proper little devil of a hard paste wax and one that I rate highly and hails from the marvellous Infinity Wax brand. An underrated car care company that blends its own products in-house at its Glenrothes HQ.
The PTFE part of this product gives it the ability to repel water and thus provide a good level of beading or hydrophobicity, to be more correct.
It has a fruity smell, but I can also detect back notes of methylated spirit and dare I say Windolene (younger readers – ask your mum!).
A little goes a long way, as ever with More >