admin
This user hasn't shared any biographical information
Posts by admin
Do you sometimes get a bit cold in the garage during colder months? This new mug from Ember might be the answer. A premium product fitted with a heating element it keeps hot drinks hot at any temperature between 50-deg-62.5-deg C for up to 1.5-hours or indefinitely if you keep it on its charging dock.
An LED warning light tells you when the drink is up to the required temperature and you can even control the mug via an app on your mobile phone. A range of colours are available and it is priced at £99.95 – visit www.ember.com ENDS.
More >

Joining the UK's specialist car ranks – but not a kit – in 2022 is the French-made No Smoke electric car, powered by an electric motor.
Available in France – located in Cerizay – for several years the popular little fun car is now on sale in the UK – in right-hand drive form – via East Sussex-based JLC Group.
The company is active in several sectors including airports, land, marine and rail and among their portfolio are blast doors, fire shutters, access gates and aviation ground power. They are also heavily involved with electric vehicles and they currently offer the ORCA More >

Dr Nick Mason of Essex-based Eco Classics has been electrifying a raft of kit and classic cars for several years including his own – and brilliant – Westfield Eleven.
In recent months he's also been working on an EV Conversion package that will be suitable for a variety of kitcars powered by the BL A-Series engine (as per the Classic Mini). Not only does Nick's kit satiate those who are already grasping electric propulsion but it also gives it a huge power hike. If you've got a kitcar that utilises the Mini's front subframe then you should be able to use More >

Our good friends at Woolies, the gurus, nay, meisters of soft trim parts and related essentials has a variety of useful tools for DIY trimmers including tailor's shears, staple guns, hog ring pliers, magnetic hammers (if you have to ask, move on, eh?!) and tools for fitting hood fastenings.
Click here to see the full range of tools available. More from www.woolies-trim.co.uk or 01778 347 347 ENDS.
Need to easily cut automotive body panels or sheet metal? Quickly remove exhaust pipes and clamps? Then reach for this new professional-quality air cut-off tool from Laser Tools (part number 7626) — the cut-off tool that really has been designed with the operator in mind.
Major features: a three-position flexi-head for unbeatable access in tight areas, plus the reversible function that ensures that the sparks are directed away from the operator. Similarly, the exhaust port direction is adjustable so that exhaust air can be directed away. The guard also swivels for optimum positioning plus better visibility. Contoured tool body for comfortable More >

A great new product from Car Builder Solutions is this Lightweight Polished Aluminium Mirror (#MIALWPF), which has flat glass and a natural satin finish to the aluminium. A bargain at £26.40.
It is IVA compliant with a diameter of 100mm front 80mm rear (40mm plated steel base diameter) and is supplied with a 5/16in bolt fixing on a spherical mount with a plastic washer.
In case you were wondering it has an overall height (above the mounting plate) of 115mm and it weighs just 160gm. Sold as single mirrors.
More from www.carbuilder.com or 01580 891 309 ENDS.
More >

Chipped, rusty or dented rims will do nothing to enhance the look of a classic Mini or kitcars based on same.
Fortunately, Mini Spares can supply brand new steel Cooper S 10in wheels in a variety of options at sensible prices.
There is a choice of 3½in or 4½in and a choice of white or silver in either width.
The wheels are the same design as fitted as standard (3½in) or as a factory option (4½in) on the Mk1, Mk2 and Mk3 Cooper S (white on Mk1 cars and silver on Mk2 and Mk3).
3½in x 10in – white order as 21A1282WHITE each – £62.40 More >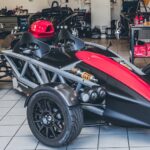 Fast, fun, intuitive, innovative, quality, passion … these principles resonate with MOTUL's core values, but they have also been attributed to Ariel Motor Company, which goes some way to explain why a newly-announced global partnership between MOTUL and Ariel is a perfect fit!
With a long and innovative history, Ariel Motor Company is today specialising in the manufacture of high-performance recreational vehicles, with the Atom proving an international success on both road and racetrack.
In 2014, Ariel added the high-performance Ariel Ace motorcycle to its range, with the Ariel Nomad road/off-road car following in 2015 ensuring that the company has gone from More >

A new and unique compilation of stories about the iconic GT40, all accompanied by a host of old and new photographs. While not a traditional history of the GT40, each individual story will give the reader new insights into the car's design and development, as well as some fascinating racing tales and previously well-kept secrets divulged.
Chapters include an explanation of the mysteries of Appendix J and its impact on the design of the Mirage and MkIV GT40; a detailed scrutineering report on GT40P/1075 at Le Mans; some untold truths behind the 2005 name controversy; and the unrecorded engine swap which More >
Forget hunting for gifts on Christmas Eve or praying your online order actually does arrive on time, why not get ahead of the game with some inspiration below from OSRAM?
Light bulbs may not be the obvious stocking filler. However, you can brighten up any car enthusiast or self-confessed petrol head's Christmas with OSRAM's wide range of high-quality bulbs.
NIGHT BREAKER 200
The NIGHT BREAKER 200 is a halogen upgrade bulb that is up to 200 per cent brighter than required by law, significantly improving road illumination and safety.
OSRAM recognises that better visibility helps drivers detect traffic signs and hazards quicker and react More >