admin
This user hasn't shared any biographical information
Posts by admin
Loving these classic signs that hail from AutoJunk UK. Ideal for your garage or workshop they come in either standard or 'distressed' finish and are printed on decent quality aluminium and you can either opt for pre-drilled holes if you like.
There is a huge assortment of designs from race tracks to marque badges to famous race helmet designs as well as classics like Gulf Oil and Dunlop.
They will come up with personalised artworks if required. Prices start at just £9.50. More from www.autojunkuk.co.ukENDS.
LEDFL10W – 10W COB LED Rechargeable Portable Floodlight – Fold Flat & LEDFL20W – 20W COB LED Rechargeable Portable Floodlight – Fold Flat
New to Sealey's Lighting & Power Range are these COB LED Rechargeable work lights. They are available in 10W and 20W versions and are currently on offer in Sealey's 2021 Summer Promotion – Read on for further full details!
LEDFL10W produces up to 750 lumens and LEDFL20W produces up to 1600 lumens. Innovative swivel function fitted on both, allows for optimum light projection.
Units have four settings, high/low/SOS/flash mode and double up as a 5V 1-amp power bank for charging More >

Webcon has a Universal Throttle Wheel kit to suit the ever-popular Weber 32/36 DGV/DGAV and 38 DGAS/DGMS carburettors.
Part number LP4026 is superbly made in the UK to Webcon's extremely high-quality standards and will allow the installer to connect a car's throttle cable to the Weber carburettor regardless of the installation.
LP4026 includes throttle wheel, cable clamp, return spring and outer cable support and is priced at £44.03 inc VAT.
Available now from 01932 787 100 or visit www.webcon.co.uk ENDS.
The Toyota MR2 is already a great handling sportscar and was a popular base for many kitcar conversions with its transverse-mounted mid-engine and front and rear MacPherson strut suspension. However, it's quite easy to improve things even further with a GAZ GHA suspension kit.
The Gaz units are both height and damper rate adjustable. Ride height is adjustable through 80mm of adjustment.
The height adjusters have a coarse acme form thread for ease of adjustment and the damper units are black zinc plated to ensure that they remain in good order even after considerable service.
Damper rates are variable through 22 different settings More >

Changing oil is always messy. Now, DEI Powersports offers a way to keep a garage or work area clean and mess-free. DEI's new Oil Rug quickly absorbs oily spills and drips. It is an inexpensive and simple way to increase safety and cleanliness whether it is in a personal garage or professional repair facility.
Applications include placement under cars when parked in the garage, or benchtop repairs for transmissions, small engines, master cylinders and any project that can cause an oily mess.
The Oil Rug features completely sealed and welded edges and will hold as much as 440gm of oil without leaking More >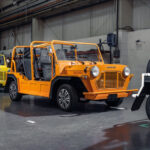 MOKE International has announced that full production of MOKE vehicles has returned to the United Kingdom – the home of the brand.
From today, all MOKEs will be built at a facility operated by the British automotive manufacturing services company, Fablink Group.
Since the marque was revived in 2017, MOKE International's production operations have been based between the Midlands and France, with initial cars engineered in the UK with assembly taking place on the continent.
The complete move back to the UK has been made possible by UK government grant funding from the Niche Vehicle Network, alongside the recent trade deal, which allows More >

The latest addition to Webcon's extensive catalogue of EFI fuel pressure regulators is the twin feed range.
These twin feed regulators have been designed for installations where the regulator is fitted either before, or in the middle of the fuel rail.
The new range is supplied with twin 8mm side feeds and a single 8mm base return, and is available in a number of pressure settings as shown below:
WFR205T (£110.18 inc VAT – 0.5 bar adjustable), WFR235T (£104.71 inc VAT– 3.5 bar fixed), WFR240T (£144.28 inc VAT – 4 bar fixed) and WFR245T (£131.86 inc VAT – 4.5 bar fixed).
Available now from More >
Rally Design has just released a new hydraulic handbrake as part of their Blackline range.
RD's boss, David Elderfield told me: "We've put all the best features into this handbrake without the product being cost-driven.
"Features such as drop-forged super-strength handles, rigid cast lightweight body, while the handles are reversible to suit vertical or horizontal mode."
The kit is supplied with both long (430mm) and short (300mm) handles and a choice of 0.625/0.70 or 0.75 master cylinders – buyer to specify.
The new handbrake costs £135 inc VAT with more information from www.rallydesign.co.uk or 01227 792 792 ENDS.
More >
Another service tool designed to get you out of trouble and speed things up – this special spark plug thread chaser from Laser Tools (part number 8083), also features an integrated flat seal-seat milling tool.
It is designed to clean and restore threads in the engine block to allow new spark plugs to be fitted with ease, it ensures that not only are the spark plug port threads cleaned but that the plug seat is skimmed at the same time (removing any contaminants and corrosion) to allow for better spark plug sealing.
So, if you feel the spark plug is reluctant to More >

Featured on the front page of Sealey's new Summer 2021 Promotion, is the CCKIT01 – new seven-piece Car Cleaning Kit.
View the full range and browse Sealey's latest promotions at www.sealey.co.uk ENDS.