admin
This user hasn't shared any biographical information
Posts by admin
Merlin Motorsport has all the proper machinery and equipment at their HQ at Castle Combe circuit to make up bespoke brake and oil lines quickly and easily.
They also have a vast range of Goodridge unions and the right hoses, so if you've got a project they can help with give them a call on 01249 782 101 or even visit www.merlinmotorsport.co.uk ENDS.
Cracks or damage to your engine radiator and heater hoses can cause coolant leakages, engine overheating and engine damage, so it's important that any faults are fixed quickly if you need to continue your journey. On modern vehicles, damaged moulded rubber hoses are a real problem and if an exact replacement part is not immediately available, then the vehicle is going nowhere.
New from Connect Workshop Consumables is this professional hose repair kit (part number 33200), that features a comprehensive selection of straight hoses, right-angled hoses, More >

Ring Automotive has launched a rechargeable underbonnet inspection lamp, providing 1200 lumen brightness for up to 4½ hours of continuous use.
The RUBL200 Underbonnet Inspection Lamp provides technicians with a versatile lighting solution for working within engine bays.
Its extendable 1.8-metre length and grab hooks make it ideal for attaching to the underside of a vehicle bonnet, or the sides of a roof for interior work such as valeting or electric work.
Ring's new underbonnet lamp features a 360-degree rotation of light to get light exactly where it is needed. At full extension, the light source can be positioned to illuminate the working More >

Renew Paint Restorer is an advanced restoration compound specifically engineered for application by hand.
Developed for the removal of oxidation and other paintwork defects, unlike traditional machine polishing products, Renew Paint Restorer contains diminishing abrasives that can be broken down and worked through easily to leave a glossy, refined finish, restoring clarity and shine to faded or damaged paint and clearcoat layers.
Renew Paint Restorer is priced at £25 (500ml) and is suitable for use on all gloss paint types.
More information from www.autofinesse.com or one of their appointed stockists including www.slimsdetailing.co.uk ENDS.

One primarily for our friends in North America but equally has transatlantic appeal!
Keep your hose and tubing nice and secure with Granatelli Motor Sports aluminium clamps. They seal more efficiently than worm gear clamps and look a heck of a lot better.
These compression-style hose clamps provide five times the clamping force of a traditional worm gear clamp and apply that force evenly around the circumference of the hose without deforming. A hex bolt secures the clamp to the hose with little chance of popping off. These features make the clamps a great choice for silicone tubes and couplers used for More >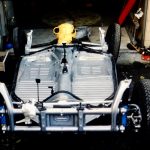 Totalkitcar.com reader, Philip Coles brings us a lovely little build story dating back to the early eighties about the Nova that he built in the early eighties Here, he tells the sorry of his build and shares some beautiful 40-year-old photos with us. Over to you, Philip.
The Nova, designed by Richard Oakes, possessed a unique styling for its time and I think the body shape still grabs attention today.
I started building my Nova in the early eighties and at the time I was a post-graduate student, so for me, it was always a very relaxing way to spend my downtime. The More >

My good friends at RPS Ltd, Garry and Julie Hutton are always busy supplying orders and somehow managing to find the time to develop new parts of an MG-related flavour.
Their latest arrival are some GRP quarter bumpers for the MGB. These were designed to go with their front valance but will also suit other MGB valances. The price is £75 per pair plus P&P.
They come in a grey gelcoat for a sprayed finish. More information from www.rps-ltd.info or 07900 431 244 ENDS.

I was delighted to learn that a special-order model sitting on the price list of Race Car Replicas is a Porsche 962 replica.
Of course, the 962 is a race car, through and through. With a small cockpit, it's not really very comfortable. Plus, it's noisy and you don't have very good rear vision. On the other hand, none of that stopped the brave souls who drove them from setting the sportscar world on fire when it debuted.
The originals are pretty much unobtainable for the normal person. But the RCR 962 is available now, with an aluminium monocoque centre section and tube frame More >

Lightweight and comfortable, this new USB-rechargeable headlight from Laser Tools (part number 8330) is packed pull of features. The rubber-coated, shock-resistant main body is waterproof and includes an LED spotlight as well as the main COB (chip-on-board) strip light. Each of the lights has a high and a low setting, with the spotlight also featuring a strobe function for emergencies. A nice touch is the infrared auto-sensor function allowing the light to be turned on and off with a simple wave of the hand.
It is fitted with an adjustable elasticated headband, and the 1200mAh lithium battery is conveniently charged via More >

I am a big fan of drying towels and use them as part of my detailing schedule.
Once you've rinsed the shampoo of your car's bodywork you need to move fast or else you could end up with a streaky, blotchy finish, which kind of puts a dampener on the hard work you will have put in.
You can use a standalone electric dryer or even one of the little blowers that poodle parlours use for dogs once they've been pampered. However, I prefer to use a quality drying towel.
As with most things these days though there are drying towels and drying More >