admin
This user hasn't shared any biographical information
Posts by admin

Innovative dash cam manufacturer, DDPAI, is pleased to announce the launch of its ultra HD dashcam, the Mola N3. With the number of cars increasing, dash cams are becoming a new favourite gadget for drivers to ensure that they can capture crucial evidence in the event of an incident and quickly resolve any disputes by recording their entire journey. The Mola N3 is the latest release from DDPAI with great quality and field of vision and is available from Amazon.com for $59.99 and Amazon.co.uk for £49.99.
Prioritising high-quality recordings, the DDPAI Mola N3 provides ultra HD recordings with six sets of full-glass lenses with infrared More >

Sealey's NEW Winter Promotion is valid until February 28, 2021. The 64-page promotion is packed with over 550 products and includes discounts up to 55 per cent off list price and even free items.
Take a look at the new LED186 Slim Folding Inspection Lamp. It's really useful for those confined spaces at a thickness of only 9mm. The inspection arm can be rotated 180° and folded. It features a 1 COB LED, which produces up to 550-lumens and a 1W SMD LED on the end for use as a directional torch.
The main light has two different lighting modes High/Low (550lm/220lm) More >

Trackdays are the safest place to find the limits of your car and your driving abilities. More practice can make you a better driver, but a good coach can help even more. A qualified instructor is one route to go, or you can get Garmin's Catalyst for real-time, in-car instruction to improve your driving ability at any track, in any car, whenever you want.
The Catalyst takes your driving data and combines it with pre-loaded information about the track you're on to deliver real-time audible driving tips via a Bluetooth-enabled car stereo or headset. Garmin's True Track Positioning Technology uses information More >

Not a dedicated kitcar piece obviously but seeing as most kit and specialist car enthusiasts have a bit of a fondness for the Beetle I thought I'd run it.
A classy modification you'll get to enjoy every time you open the door to your beloved VW Beetle. Tidying up the door aperture and hiding scuffs with their polished stainless-steel presence, they are simple DIY fit; you just need to drill a couple of holes to secure them.
Suitable for all years of VW Beetle Saloon, however, they won't work on Cabriolet models, due to a different heater channel shape.
For a few pence More >
With the Clarke range of Garage/Workshops, you can protect your pride and joy from the elements this winter in a tight fit, well-lit, protected environment through ratchet-tight cover-tensioning for that 'tight-as-a-drum' finish.
Using a heavy-duty advanced cover that is triple-layered, waterproof, fully UV-treated for long term protection against sun, rain and wind, you can guarantee that you are investing in a product built to last.
This range is easy to install through bolt together hardware and joint supports with a powdercoated steel frame for optimum durability and stability. With various anchoring options, they can be erected on a variety of surfaces.
The bright More >

Oil coolers are designed to cool the oil in high performance and racing car engines.
The cooler consists of a variable number of aluminium pressed plates. The oil-ways are interspersed with aluminium strip louvred and formed into corrugations to provide airways.
Read more about Oil Cooler design and how they work in Merlin Motorsport's online article RACING CAR OIL SYSTEMS – AN OVERVIEW.
For more information visit www.merlinmotorsport.co.uk or 01249 782 101 ENDS.
Finding space for a brake master cylinder can be a pain. Wilwood felt your pain and developed Tandem Compact Master Cylinders that are a little bit shorter than their standard master cylinders for easier packaging in tight spaces such as within kitcar engine bays.
Wilwood even makes one just for 1964.5-72 Mustangs with manual brakes; it comes with a pushrod that fits the factory brake pedal.
The lightweight master cylinders are available in ball-burnished natural or black E-coat finishes. You can also get one in a kit with a combination proportioning valve, left-hand or right-hand mounting brackets, stainless steel fluid tubes, and More >
Sparco® has given a preview of their new Sparco®-MARTINI Racing® Heritage Collection, which celebrates the colours of Martini & Rossi's hometown of Pessione in the foothills of the Alps. A truly legendary livery.
The new range resurrects the partnership between the two brands to celebrate the golden years of rallying and the triumphs of some of the world's greatest rally drivers such as Miki Biasion, Juha Kankkunen, Walter Röhrl and Didier Auriol, to name but a few.
The new Sparco® Heritage Collection ranges from Racing to Performance equipment, sportswear and merchandise.
More from www.sparco-official.com ENDS.
Allard Motor Company is making its comeback for the first time in 60-years and introducing the Allard Sports Cars JR continuation series. The car is built by the original Allard family, who is offering the first chassis of the JR continuation series for sale with RM Sotheby's at its upcoming London auction on October 31st, 2020.
Although they weren't kitcars, there was something very hands-on and roll-up-sleeves-up about the low-volume maker Sydney Allard and his cars featured parts from a variety of sources.
Based on the original 1953 JR competition specification, the JR continuation was built by Lloyd Allard and his family to More >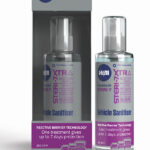 WAI has officially launched a new personal care product to help keep cars and other areas disinfected.
With workplaces and education settings open, WAI has introduced the power of Steri-7 in a handy-sized retail bottle, which can be used by businesses and consumers.
Richard Welland, WAI managing director, said: "The latest WAI Steri-7 product offers seven-days reactive barrier protection, and provides reassurance and confidence to people when going about their daily business."
The new, attractively packaged bottle can be used for car, truck and motorhome applications, and also in the office to keep keyboards, desks and personal space sanitised.
Pre-launch demand for the product More >