admin
This user hasn't shared any biographical information
Posts by admin

Merlin Motorsport stock a wide range of gauges and senders from leading manufacturers such as – VDO, Stack, Racetech, Smiths, Telemetrix, Mocal and SPA Design. They also have instrument pods, fittings and accessories.
Click the link to visit the company's range of INSTRUMENTS AND GAUGES ENDS.

Bleeding hydraulic brakes and clutches have traditionally been a two-person job. MityVac Vacuum Brake and Clutch Bleeder Kits use your garage's compressed air system to draw air and fluid out of hydraulic brake and clutch systems, turning a messy chore into a quick, clean, one-person job.
Features include:
Capable of extracting used brake fluid while refilling with new • Isolated flow and pressure/vacuum valves for simple functionality and control • Automatic shutoff to prevent overfill • Universal bleed screw adapter conforms to most common bleed screw sizes • Integrated muffler for quiet operation • Redundant pressure control systems maintain peak output pressure below More >
Looking to organise your garage, shed or workshop? Machine Mart has you covered with their vast range of Clarke Tool Chests & Cabinets!
A new tool chest in the range is the Clarke CBB205C HD Plus 5 Drawer Tool Chest with lift-out tote tray. The CBB205C provides four drawers measuring 575×261×49mm with the fifth at 575×261×64mm. All drawers have a capacity of 35kg.
Another new addition is the Clarke CBB312C 12 Drawer Tool Chest. The CBB312C also comes with a tote tray. It features nine smaller drawers measuring 170×361×49mm, two drawers at 575×361×49mm and then finally one larger drawer which measures at More >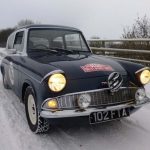 Many specialist car enthusiasts have high regard for Clapham-based Allard Cars founded and run by Sydney Allard. The company was active between 1945-1966 although the last 'proper' Allard was built in 1958.
Sydney enjoyed being an underdog and one of his favourite sayings was 'high performance through ingenuity' and it summed him and his company up rather beautifully, I think. He first started driving his own 'specials' in trials and was a very accomplished exponent.
Allard Motor Company was a subsidiary of Ford dealership Adlards Garage, which had been founded by Albert Brisco and Sydney Allard in the thirties. The company had More >
Laser Tools has just added this master socket set of extra-deep metric sockets (part number 8420) to their extensive range.  The sockets feature a single hex (6pt) profile, with a 120mm depth designed to reach heavily recessed fixings, including those found on bumper, rear lamp and door hinge fittings.
The set includes 3/8in drive sockets from 6mm to 18mm and 1/2in drive sockets from 19mm to 21mm. Also in the set is a 3/8in drive to 1/2in drive adaptor and a 1/4in drive to 3/8in drive adaptor to ensure full compatibility with existing tools. All are manufactured from chrome vanadium steel More >

Joining the MEV line-up recently the newest option for the all-conquering Exocet kit is the RX version.
It uses the major componentry from the Mazda RX8, the one with the Felix Wankel-derived Renesis 13B rotary engine. As much maligned as the Rover K-Series engine the RX8 rotary is also a superb engine if treated right and looked after.
Two variants were available in period, either 191bhp or 231bhp and MEV has cleverly incorporated it into the Exocet model. The car's chassis is mildly revised primarily around the rear subframe area.
Performance is described rather modestly by MEV Ltd as being 'exciting' and kit More >

Summit Racing's Billet Universal Battery Mount has a billet aluminium base plate, three 6.375in billet stanchion tubes and a black anodised billet aluminium top plate.
To secure the battery, set it on the base plate, run the included all-thread rods into the threaded holes in the plate, set the stanchion tubes over the all-thread rods and secure the top plate to the rods with the included lock nuts.
The Summit Racing Billet Universal Battery Mount is set up for an Optima or similarly sized battery. If you have a shorter battery, you can cut the all-thread rods and stanchion tubes to fit. More >

Here's one for owners of MGF-based kit conversions – The MGF was fitted with a 'Hydragas' suspension system employing interconnected fluid and gas displacers which provided a surprisingly compliant ride and could be tuned to provide good handling characteristics.
However, it must have had its problems because when the MGF was replaced by the MG TF in 2002 the Hydragas suspension was replaced by conventional coil springs.
MGF owners can now have the reliability of conventional dampers combined with the benefit of bump and rebound adjustability by fitting GAZ GT adjustable dampers.
GAZ fully adjustable GT dampers enable the damping bump and rebound rate to be More >

Millers Deltaplex 2EP grease from Millers is an essential item, not only as a general-purpose grease but for use in wheel bearings and other bearings on suspension and steering joints. It is available now from www.merlinmotorpsort.co.uk or by following this link – MILLERS DELTAPLEX 2EP GREASE ENDS.