admin
This user hasn't shared any biographical information
Posts by admin

A VERY warm welcome to totalkitcar online … With the difficult times we are all living in at the moment (things WILL get better) I think the need for entertaining magazines and websites is more important than ever before.
We'll make sure that we continue to publish updates on this website each and every Friday – and we've not missed one yet in twenty years – meanwhile, TKC MAG More >

Here's a superb GBS Zero that has recently been finished. Another extremely busy kitcar manufacturer, at the moment.
Brothers, Andrew and James Crossland collected their Zero in December 2019 and within twelve months the car has been built, IVA'd and registered. It's now on the road.
It has been back at Great British Sportscars' workshop this month being prepared for its date with the IVA man.
You may even have seen the Crosslands' LNER inspired Zero featured on the GBS blog on their website and social media several times during the year.
Their Zero build is understandable very special to them and you can More >

Fitting a twin-choke downdraft Weber carburettor has been a popular entry-level tuning upgrade for Ford engines for decades and one used by Ford themselves on their performance models.
The Weber 32/34DMTL Manifold for Ford CVH engines has been out of production for many years; however, now Webcon is delighted to announce it is to be available again and should be ready for delivery by the time you read this.
The Webcon manifold features threaded ports to accept the original Ford connectors and switches, a hotspot with increased surface area for better carb heating and mounting posts for the linkage mechanism. This makes More >

The B-G Fluid Spill/Drip Trays are the ideal solution to stopping unwanted fluid spills landing on the floor and are perfectly suited to garage, workshop, factory or motorsport pit/paddock environments. The low-profile design allows the B-G Fluid Spill/Drip Trays to be easily slid underneath machinery, vehicles or generators in order to catch any drips, thereby keeping the floor dry and safe. The trays can also be used for storing fluid drums, containers or bottles. The B-G Fluid Spill/Drip Trays are resistance to various fluids, including: most chemicals, fuel, oil and water as well as many more. B-G Fluid Spill/Drip Trays More >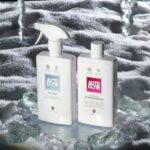 There are few more dispiriting feelings than stepping out of your house on a crisp, cold winters' morning, only to find that your car has been almost entirely encased in ice and frost!
Freeing your car from winter's grip can be both time-consuming and bone-chilling, neither of which are exactly ideal when you're about to set off on a morning commute! If this sounds familiar then worry not, we at Autoglym have you very well covered with their 'winter twins,' Autoglym Ultimate Screenwash and De-Icer.
Autoglym Ultimate Screenwash
Dirty windscreens can be annoying at best, downright dangerous at worst, distracting you from the road ahead and even partially More >
New from Laser Tools, a comprehensive set of brake servicing tools in one handy and convenient kit (part number 7919). The set includes impact quality bit sockets, EU Registered Design punches (to remove dirty and corroded brake pins), a pound-through screwdriver and a selection of cleaning tools to ensure the brake pads can be replaced quickly, correctly and safely.
The tools have been specifically chosen for brake caliper and pad servicing and replacement. Included are a ¼in  drive impact bit hex socket 9mm x 20mm, 3/8in drive impact bit hex sockets: 7mm and 8mm x 24mm; 9mm x 50mm; 7mm x More >
In 1964, Takata Racing introduced its first full-harness seat belt system. Since then, Takata Racing harnesses have become standard equipment for all sorts of motorsports from drifting to Formula 1 and are big in the JDM (Japanese Domestic Market) tuner scene.
Summit Racing carries Takata Racing harnesses for full competition, trackday, and street use, including these:
RACE 3×2 Harnesses These FIA-approved six-point harnesses have 3in V-type shoulder straps, 2in lap belts, dual 2in anti-submarine belts, and an aluminium multi-point release camlock buckle. The shoulder belts have pull-down adjusters for quick fitment and are designed to wrap around a harness bar or rollbar. The lap More >
If your VW Beetle's Flat 4 engine is suffering from spluttering and flat spots it could be because of carburettor icing. This is particularly common on engines with a standard single Solex, as due to its positioning, it doesn't benefit from the heat generated by the cylinder heads.
Heat is important to the combustion process as it assists with the atomising of the fuel and also prevents any water vapour in the air freezing.
VW engineered a number of ways to fix this issue including heat riser pipes, which draw warm air from the exhaust up alongside the manifold, and warm air More >
If you have ever been tempted to use a pair of grips or a screwdriver to remove a hose from a fixing, hopefully, you were able to do it before causing damage – to the hose, the surrounding components, or (more importantly) you. These new Hose Removal Pliers from Laser Tools (part number 7887) will ensure that you never run that risk.
These pliers have been designed to allow for the easy removal of vacuum and fuel hoses with diameters between 4 – 10mm. Their spring-loaded heavy-duty construction eases the removal of stubborn hoses, and the colour coded arms ensure you More >

Alexander Moulton's rubber cone and trumpet suspension system was quite revolutionary when it appeared on the original Minis (although Moulton had designed a rubber cone and hydraulic system during his time at Alvis). The problem with revolutionary inventions is that once they cease production, they rapidly become hard to replace.
Thankfully, Mini Spares, true to its tradition of producing hard-to-find Mini parts, has produced its own version of the Rear Suspension Trumpet to fit the wider 3.7in cone spring base (earlier versions were 3.2in) and it is available in two lengths.
The 12.28in long version is available as part number 21A1684 and More >