admin
This user hasn't shared any biographical information
Posts by admin

Mishimoto has added all-new colour options to their Weighted Shift Knob collection as well as new BMX gear-knobs.
They are designed for smooth and seamless gear change and constructed from steel for added weight and easier shift.
Weighing in at just 360gms the ergonomic shape allows for smooth shifting and comfortable hand position and they are available in multiple colour options – even glow-in-the-dark – to suit all tastes.
Purchase includes three insert sizes to fit various applications as follows – M8 x 1.25, M10 x 1.5, M12 x 1.25.
More from www.mishimoto.co.uk ENDS.

New from Scottish car care maestros, Angelwax is Legacy Titanium Ceramic Coating, which unlike a lot of similar sealants is actually very easy to use. Some of these products can leave you needing a chisel to remove.
Legacy doesn't require time to 'cure' using an infra-red lamp like some and once applied it will protect the surface of your vehicle from fallout and crud and makes maintenance much easier while leaving a super glossy finish.
A 30ml bottle (a little goes a very long way) costs £44.99 and is available via www.angelwax.co.uk ENDS.

Most factory power steering systems were not designed for high-performance use. Aggressive driving combined with upgrades like performance tires and modified steering geometry put a lot of stress on the system, especially from high fluid temperatures.
That's where Turn One Steering comes in. It makes power steering pumps, steering boxes, and other components that improve steering feel and response for street-driven and race vehicles. Look under the hoods of most NASCAR rides, Formula Drift, and Trans Am Series cars and chances are you'll find a Turn One pump or box.
Turn One Street Series pumps are brand-new, USA-made GM Type II pumps More >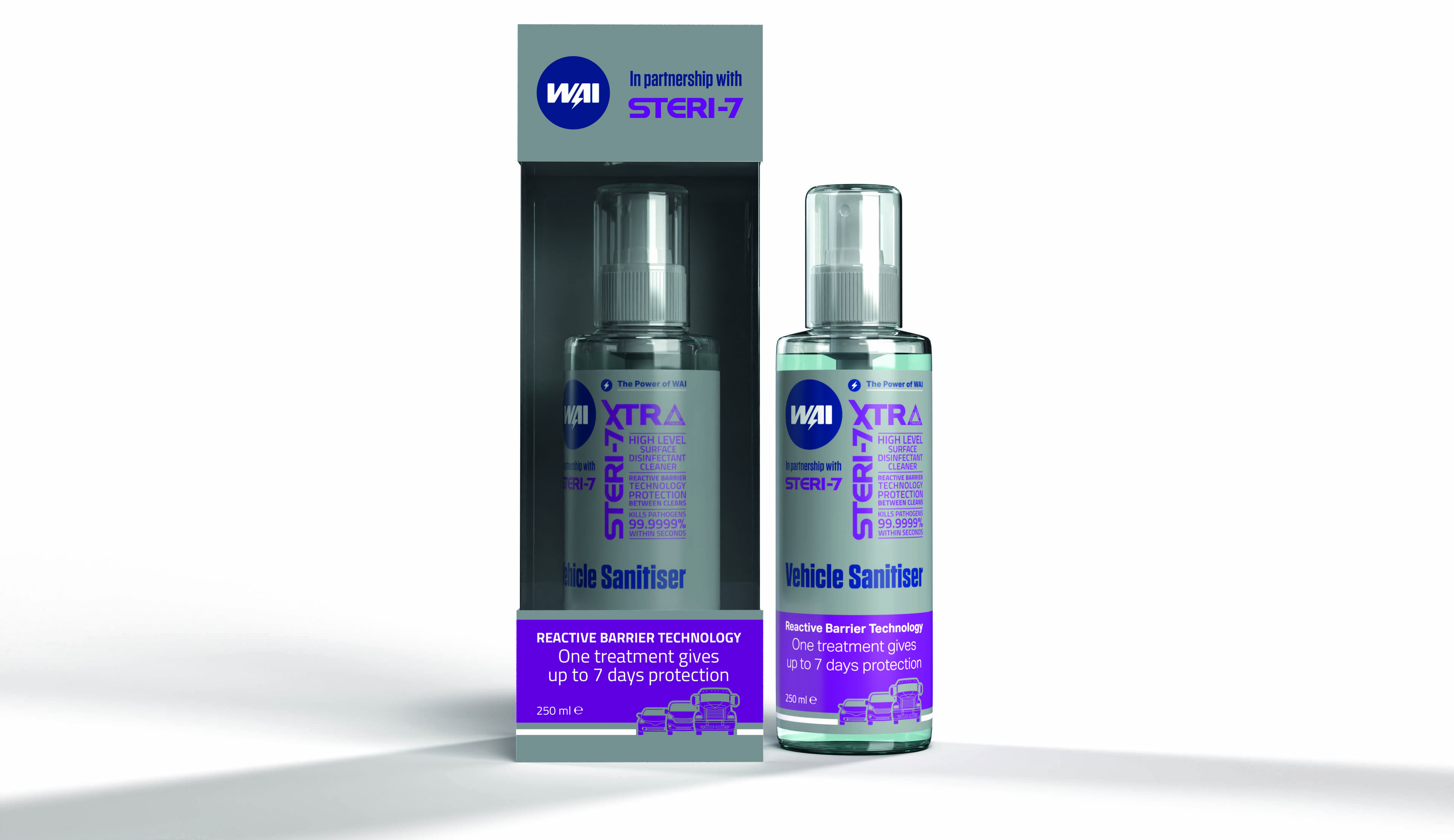 WAI's STERI-7 vehicle sanitiser car kits are continuing to prove popular and are now being rolled out across the WhoCanFixMyCar.com network.
After gaining positive feedback from its network of garages, the repair and maintenance comparison site has become an official distributor of WAI Steri-7 250ml retail bottles and sanitisation kits in the automotive industry and is able to secure orders on a garage's behalf.
This gives garages throughout the UK the opportunity to purchase the kits to protect themselves and their customers when carrying out work, but also to sell the retail bottles to the end-user to keep their vehicle sanitised.
Featuring seven-day reactive barrier More >

Here's yet another handy new product from Car Builder Solutions – it's a little three-position rotary on/off/on switch (part number #ROSWSR2) that features three ¼in spade terminals, mounts to a 12mm hole and a maximum panel thickness of 8mm.
Excuse me for this one but the knob diameter is 23mm and looks like a bargain at £13.20 inc VAT. More information from www.carbuilder.com ENDS.
I
t's really nice to keep your car's history in a single file rather than bits and pieces in various places that you can never find!
Very often these 'files' can be old, dog-eared envelopes or plastic wallets but these quality new personalised binders from bespoke album, portfolio and special occasion box creators, Hartnack and Co are a bit good.
The company can make you a one-off (or treat yourself!) in a variety of material and to match your car priced from £150. What an ideal gift for someone in your life who has a special car?
Visit www.hartnackandco.com ENDS.
More >

New from Car Builder Solutions the home of very useful products for car builders and modifiers is this new Threaded Hose Take Off Kit (part number Thom5) which features precision-engineered unions to 'tee' into water and air hoses.
Each kit includes a single-use punch for making the correct-sized hole in your hose.
The following thread sizes are available – M5, M10, M12, M14. 1/8 NPT, ¼ NPT and 3/8 BSP.
Available now and priced at £24 available from www.carbuilder.com or 01580 891 309 ENDS.

Webcon has announced the introduction of two inlet manifolds to allow fitment of a Weber DCOE carburettor to the ever-popular BMC 'A' Series engine.
Both manifolds are superbly manufactured in the UK and come complete with a set of studs, nuts and soft mounts.
The manifolds are available in 4in or 6in forms as follows:
Length                         4in                                           6in
Part No                        MMW4050                             MW4030
Price (inc VAT)          £240                                        £240
For further details contact Webcon UK on 01932 787 100 or visit www.webcon.co.uk ENDS.

Among the many, many great products that are ideal for kitcar enthusiasts that are available from Merlin Motorsport is Millers Oils Deltaplex grease.
This grease is an essential item, not only as a general-purpose grease but for use in wheel bearings and other bearings on suspension and steering joints.
For more information follow this link – MILLERS DELTAPLEX 2EP GREASE ENDS.

Many companies only offer cylinder heads on an exchange basis. This presents a problem if your old head is cracked or damaged and unsuitable for exchange.
Mini Spares' ALLOY 5 Port Heads are available on an outright sale basis' no exchange is necessary. Mini Spares has set the outright price lower than other Mini 5 Port Heads on the market, starting at just £1528.20 inc VAT.
The alloy heads are based on the 12G1805 'S' 940 casting and adapted for optimum power.
Several versions are available:
C-AHT347 is the standard head with fully modified porting AND RACE VALVES for fast
road /rally use.
C-AHT347RACE cylinder head More >