admin
This user hasn't shared any biographical information
Posts by admin

For many years, Webcon has offered a superb twin Weber 45DCOE kit to suit the VW 1.6 and 1.8 eight-valve engines.
However, for some tuners, the twin setup is not suitable either for space or race regulation reasons; the only option is to fit a single DCOE, but, up until now, single DCOE manifolds have been extremely difficult to find.
Webcon is therefore pleased to announce the introduction of a quality intake manifold to allow the fitment of any size of Weber DCOE or DCO/SP to the VW 1.6 and 1.8 8 valve engines.
Using a crossover design to ensure even fuel distribution, More >

This summer the UK experienced high temperatures the like of which we've never seen before, so it's good to know DEI has improved the formula of its Hi-Temp Spray Adhesive.
The new formula is sure to maintain its bond despite the hottest of heatwaves.
Now you can park your car in the sun, safe in the knowledge that DEI's Hi-Temp Spray Adhesive won't let go. The headlining will stay where it's supposed to be and not draped over the seats!
DEi has also redesigned the can and made it bigger; so it will go even further so that you can get even more More >

New from Car Builder Solutions is this new Liqui Moly Exhaust Repair Bandage.
It repairs small holes and cracks in exhaust pipes and silencers and comes with a tub of heat-resistant exhaust paste and one metre of 60mm wide ceramic tape.
You will need to clean any loose rust, grease or dirt from your repair area, give the repair paste tub a shake and apply the paste to the pipe, then a layer of bandage and paste, alternately as you wrap the repair. Secure with wire until cured.
Exhaust heat will cure the paste and complete the repair and it can withstand temperatures up More >
With darker nights coming Machine Mart wants to make the point that they stock a wide range of free-standing work lights and floodlights to help keep you in action over the winter months.
Their lights are all portable and have an IP44, IP54 or IP65 rating, making them suitable for internal or external use.
We supply lights on a strong, sturdy tripod or with a useful carry handle meaning they can also be used for a variety of purposes.
The Clarke COB10CR is a rechargeable work light, ideal for site or home use, offering a 650lumen floodlight and 2½ hours of working time More >

In keeping with its policy of producing parts for the classic Mini which are no longer available from the original source, Mini Spares is pleased to announce the introduction of a Lowered Engine Mount Bracket for manual transmission Minis.
This engine mounting bracket fits to the alloy bracket (12G1318) on the front cover of the gearbox which also holds the radiator support bracket.
The bracket can be ordered as part number 12A361 at £54.72 inc VAT.
For more details call 01707 607 700 or visit www.minispares.com ENDS.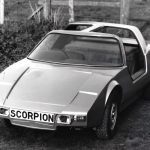 The Scorpion K19 was created by serial specials builder, and ex-Jensen engineer, Tom Killeen and derived (funnily enough) from his Rycam Mirage K18 creation (qv) although it was 3in longer
Rycam Engineering marketed the kit package although in 1973 they went into liquidation. Innes Lee, part of Innes Lee Industries of Lutterworth, took over and launched the car at the Earls Court Motor Show in November of that year where it was part of the Tudor Safety Glass Campaign.
Powered by – and based on – Hillman Imp with the 875cc engine hanging out back, with a fibreglass semi-monocoque and pressed steel floorpan More >
Now, here's a brilliant new tuning kit for Volkswagen Type 1 air-cooled engine. Therefore, it has massive potential for most Beetle-based kitcars including Speedster, 550 Spyder and RSK replicas. It's a supercharger kit for the Type 1 unit from aviation jet engine engineers, Mark Allen and Dave Godfrey of Nottinghamshire-based Kompressorhaus.
Two versions of the kit are available – the Sleeper at £1295 inc VAT includes items such as Serpentine pulley kit, Aisin AMR500 supercharger, stainless-steel brackets, pipework, fasteners and more. The Ultimate package costs £1650 inc VAT and adds genuine twin Weber DCOE carbs which are pre-tuned and tailored to your engine. The Ultimate better suits 1600cc More >

The latest missive from Tim Dutton is, as always, short but very sweet and to the point.
Tim will be at the Southampton Boat Show (Friday, September 16 to Sunday, September 25) and can be found floating at pontoon 'M015' and will have the new facelifted version of their Surf model on display.
More from www.timdutton.com ENDS.

I like to keep an eye on developments within the electric car sector although naturally enough I have a particular interest in the specialist car side of things and three recent developments have caught my attention. Two of them are available to buy with the third one a concept – at the moment.
They definitely fit under the term restomod and are also very specialist but it's good to see a couple of mainstream giants revisiting their pasts. I do wonder if these cars weren't electric if they'd ever see the light of day, though.
First up is this lovely Fiat Jolly More >
This nifty little gadget is a double-sided stretchy-belt tool that is used for safely removing and installing stretchy drive/alternator and accessory belts without causing damage to either the belt or the pulley. Just introduced by Laser Tools (part number 8331), this is a combination of removal and installation tools for most stretchy-belt applications.
On the face of each side of the tool is a strong magnet to keep it in position as the pulley is turned to remove or install a new belt. As you rotate the crankshaft or pulley (by hand with a ratchet), the belt is eased steadily over More >