admin
This user hasn't shared any biographical information
Posts by admin
New from Laser Tools is this pair of specially shaped air-chisel punches (part number 8307) specifically designed to easily release and then re-stake crush-type axle nuts found on many vehicles. Using the punches with the air-chisel makes this a quick and easy procedure that reduces the chance of causing damage to the axle shaft and threads.
The kit includes a removal punch with a curved release tip to disengage the stake (crimp) and thus release the axle nut. On replacement, the second flat-bladed punch is used to reset the stake squarely and positively. Applications include wheel bearings, propshaft and drive-flange stake More >

The Clarke IBC4 Battery Charger offers an eight-stage fully automated charging cycle which delivers 4A of charging. It is suitable with all types of 6V and 12V lead-acid batteries and for safe use, it features anti-spark, reverse polarity as well as short circuit and overload protection.
Charges Battery Types           Lead-Acid
Max Charge Amps      4
Charge/Boost  6 & 12V V
Charges batteries up to           120 Ah
Available for £23.98 inc VAT
The Clarke IBC50 is a high-performance top-quality start/charger ideal for garages, motor dealers and fleet operators offering ten intelligent charging stages in order to diagnose, recover, maintain and condition the battery.
It is suitable for all types of 12V lead-acid More >
Ceramic Spray Wax is an advanced, ultra-hydrophobic ceramic coating offering durable, grime-repelling paintwork and vinyl protection, safeguarding your vehicle exterior with a deep, high-gloss finish and extreme water beading characteristics lasting for up to three months.
Designed with ease of application in mind, this professional-level, SiO2-based finisher instantly bonds with paint, clearcoat and vinyl wrapped surfaces to install a slick, glossy ceramic protection layer, with nothing more than a spritz and a wipe.
Ceramic Spray Wax is priced at £20 (500ml) and is available via www.autofinesse.com or via their appointed stockists at www.slimsdetailing.co.uk ENDS.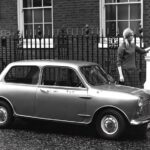 We were extremely sad to hear about the death of Neville Trickett on May 27. He was 87 years of age. In later years he split his time between a chateau in Beslon, France and Thailand. When he was in France, he spent much of his time converting Classic Minis into MiniSprints, something he was doing right up until his death.
Born in Manchester, Neville's parents ran a small private school in Dorset which is where he spent much of his childhood. He became an artist although always said that he'd never really had a proper job apart from a spell More >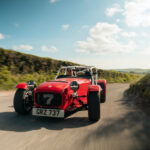 Caterham Cars has unveiled the new Seven 420 CUP, a road-going, track-focused model inspired by its top-tier Seven UK Championship Racecar.
The Seven 420 CUP features a 2-litre Duratec engine producing 210bhp and 203nm of torque, resulting in a power-to-weight ratio of 375bhp-per-tonne and a 0-60mph sprint time of just 3.6 seconds – enabling drivers to register supercar-beating lap times on the UK's premier racing circuits (1 minute 45 seconds at Oulton Park).
This performance is possible thanks to the SADEV six-speed sequential gearbox with flat-shift, fully adjustable dampers and optional Avon ZZR Extreme track tyres (with Avon ZZRs as standard).
Available for the first More >
MOKE International has announced the first deliveries of the new all-electric MOKE, manufactured in the UK.
Customers will receive their new cars from June through MOKE's official UK distributor, Hendy Group, heralding a highly-anticipated return to the road for this much-loved British motoring icon. The first Electric MOKE vehicles will be officially handed over to customers in France around the same time.
This summer also sees the launch of major new partnerships bringing the MOKE experience to locations that perfectly reflect the car's unique character. For guests at Beaverbrook, the quintessentially English country house estate, the MOKE Electric's whisper-quiet, sustainable drivetrain makes More >

As major Quaife dealers, Burton Power can now offer the Quaife ATB Differential for the Ford English 22-spline axle (also known as the Timken or Banjo axle).
The Quaife ATB Differential is suitable for earlier English Fords including myriad kitcars.
The unit is a direct replacement for the standard 'open' differential and unlike a conventional plate-style limited slip unit, these units employ gears, rather than clutch plates for a much smoother operation.
The Quaife ATB automatically biases the torque, to a constantly varying degree, away from the spinning wheel across the axle to the wheel that still has traction. It never locks up. More >
Design Engineering Inc's Protect-A-Boots™ solve the problem of spark plug boots and wires, burning and cracking due to heat generated by the exhaust manifold, engine or turbocharger.
Now DEI has introduced some options to make this useful product suitable for even more applications.
The new 7in (178mm) long boots are made from the same double-wall high-temperature resistant glass fibre material as the rest of the range and offer the same great benefits:
Helps protect spark plug wires & boots from excessive engine heat • Easy installation – just slip the boot on spark plug for maximum protection • Withstands temperatures up to 1200°F More >
The Clarke CMUS3 is a compact and robust multi-function seat, ideal for keeping tools to hand whilst working in a garage or professional workshop environment.
The CMUS3 rolling seat offers the comfort of a mechanic's utility seat with the added convenience of three ball-bearing drawers, a fitted side tray and three circular holders for aerosol cans or similar-sized containers.
Key Features:
Compact and robust design
Soft & comfortable padded seat cushion
Four x swivel casters for manoeuvrability
Three x ball bearing drawers with soft foam base
Side tray for storing nuts and bolts during use
Available here: https://www.machinemart.co.uk/p/clarke-cmus3-mechanics-utility-seat-with-3-dra/ for £94.80 inc VAT ENDS.
More >
Tenzi is a brand of car care products that never cease to amaze me not only for the quality of the products but also for their low prices despite them being imported from Poland.
Their Glass Cleaner, part of their Pro Detailing range and is a 700ml spray bottle that has a very pleasant scent and leaves a crystal finish on all glass with no smears or streaks.
Available now for just £7.79 from www.tenziuk.co.uk ENDS.