admin
This user hasn't shared any biographical information
Posts by admin

Yet another new product from Californian car care company, Chemical Guys. I think their range of brightly coloured, heady-smelling potions and elixirs features some 200 products.
The latest is Galactic Black Tyre Shine which if you like your tyres with a dripping wet black look then this is the product for you. It can also be used on vinyl, rubber and plastic.
The blue-green liquid has an intriguing smell and although I'm no expert on picking out around I'm sure this one is a mint and cucumber concoction.
It certainly gives the desired affection tyres and it lasted on my tyres for a More >
One of my favourite wheel cleaners of late is the foul-smelling Reactive by Auto Finesse. The majority of wheel cleaners smell as bad so it's not the Auto Finesse product that is unique! It has that distinctive aroma of rotten eggs and peroxide!
What I like about Reactive is that it really does work and traps and grabs crud on your wheels and absorbs them into the liquid ready for wiping away.
Like an iron fallout remover, when it finds dirt it turns blood red and depending on the severity of the dirt may appreciate some further agitation with a soft wheel More >

Just because your classic Mini has a rod-change gearbox doesn't mean it's immune from gear lever vibration. In time, the ball at the end of the lever wears allowing unwanted movement. The ball is not replaceable on its own; replacing the lever is the only answer.
Thankfully, Mini Spares can provide a complete new gear lever. The gear lever comes with a fitted dome washer, spring, rubber and a brand-new ball. It even has a smart chrome finish that will stay looking good for years in spite of constant gear changing.
Order as part number 22A1932CHROME at £115.20 inc VAT.
For more details More >

Ring Automotive is urging drivers to check their headlights ahead of winter, to ensure they are both working properly as the days get darker, and to ensure the safety of everyone on the roads.
Winter is approaching and with the clocks going back on 30th October, motorists will be driving in the dark more often. This provides challenges as visibility becomes limited, especially with bad weather conditions and driving on roads with no streetlamps.
A faulty bulb is one of the main failures in an MOT test – one in five vehicles is diagnosed with an issue with the lights. And this is More >

 LOTUS' JUNIOR SQUAD – RON HARRIS TEAM LOTUS
[standfirst] During the sixties, one of the characters involved in Britain's motorsport scene was a chap called Ron Harris, running his own teams and also on behalf of Lotus and Lola in Formula Junior, Formula 3 and Formula 2. A total of 84 races with seven victories. STEVE HOLE charts the racing history of one of the paddock's best-turned-out teams.
There have been a few famous Ron Harris' over the years. There was Ron 'Chopper' Harris who played More >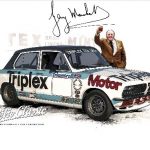 One of my all-time motorsport heroes was the late Gerry Marshall and I was delighted to hear about RetroClassic's new 'Gerry-flavoured' t-shirt range. An ideal Christmas present.
RetroClassic Clothing has created an official range of t-shirts celebrating motorsport hero Gerry Marshall. The larger-than-life Marshall began his career in 1963 at the wheel of a Classic Mini and went on to become one of the UK's most popular drivers.
In a career that lasted over forty years, he contested more than 1400 races in all manner of cars and won 625 of them, while his flamboyant driving style – as well as his More >

Saddle clamps are an interesting and very useful product and are ideal for securing items such as brake lines.
Car Builder Solutions unsurprisingly offer a range of them including the one pictured here.
Heavy duty, made from 2mm thick stainless-steel it has a 5.2mm mounting hole and is supplied with an M5 x 12mm stainless steel button-head screw.
The overall size 23mm x 13mm and these 3/16in stainless-steel saddle clamp packs come in packs of 12 and wear part number #SAD316 with more information from www.carbuilder.com or by calling 01580 891 309 ENDS.
Just in time for the colder weather, this Multi-function Jump Starter from Laser Tools (part number 7405) is an efficient and extremely compact emergency engine starting power pack. Surprisingly small but packs a powerful punch! Packed full of features, it also features a bright LED to illuminate the work area, (flashing mode can be used as an emergency beacon), two USB outputs (for charging mobile phones, etc), a Type-C input/output port and a digital voltage display on the cable clamp adaptor. The unit and accessories are supplied in a convenient and protective case.
The unit is charged from a suitable USB More >
Here's a way to extract some extra performance from the five-bearing 'B' Series 1800cc engine as used in the 1968-1980 MGB without making any modifications to the engine internals.
A Fidanza lightweight flywheel can easily be installed when you replace the clutch and will bring the following benefits:
Faster throttle response and quicker acceleration • Additional horsepower to the wheels (reduced parasitic losses) • Smoother, faster shifting • Easier braking, better slowing (due to reduced rotational mass) • Reduced clutch wear and improved efficiency (from better heat dissipation) • Cost savings and longevity (thanks to Fidanza's replaceable green friction plate – no More >

In response to customer demand, leading suspension specialists GAZ has now produced a double adjustable coil-over race damper specifically for Hillman Imps used in competition or for serious track day use where extra damper adjusting parameters are required.
The body of the dampers sport two multi-point adjustable control knobs, a blue one for the bump and a red one for the rebound adjustment.
Although these are brand-new dampers, they include all the popular GAZ features. They are manufactured from high tensile alloy with induction hardened piston rods, are filled with high viscosity index fluid to help prevent fade and have an internal More >