admin
This user hasn't shared any biographical information
Posts by admin

Regular readers will know that I am addicted to car care and car detailing products.
One of a growing number of dedicated car care supplies stores springing up around the country is Cheshire Detailing Supplies – a company I've bought stuff from in the past.
I think that one of the few growth areas during Boris' lockdown was car care with people up and down the land polishing, waxing, buffing and goodness know what else in their garages, driveways and sheds.
At present CDS stock the ranges of nine leading brands from Autoglym and AutoSmart to Angelwax and Infinity Wax plus cool boutique More >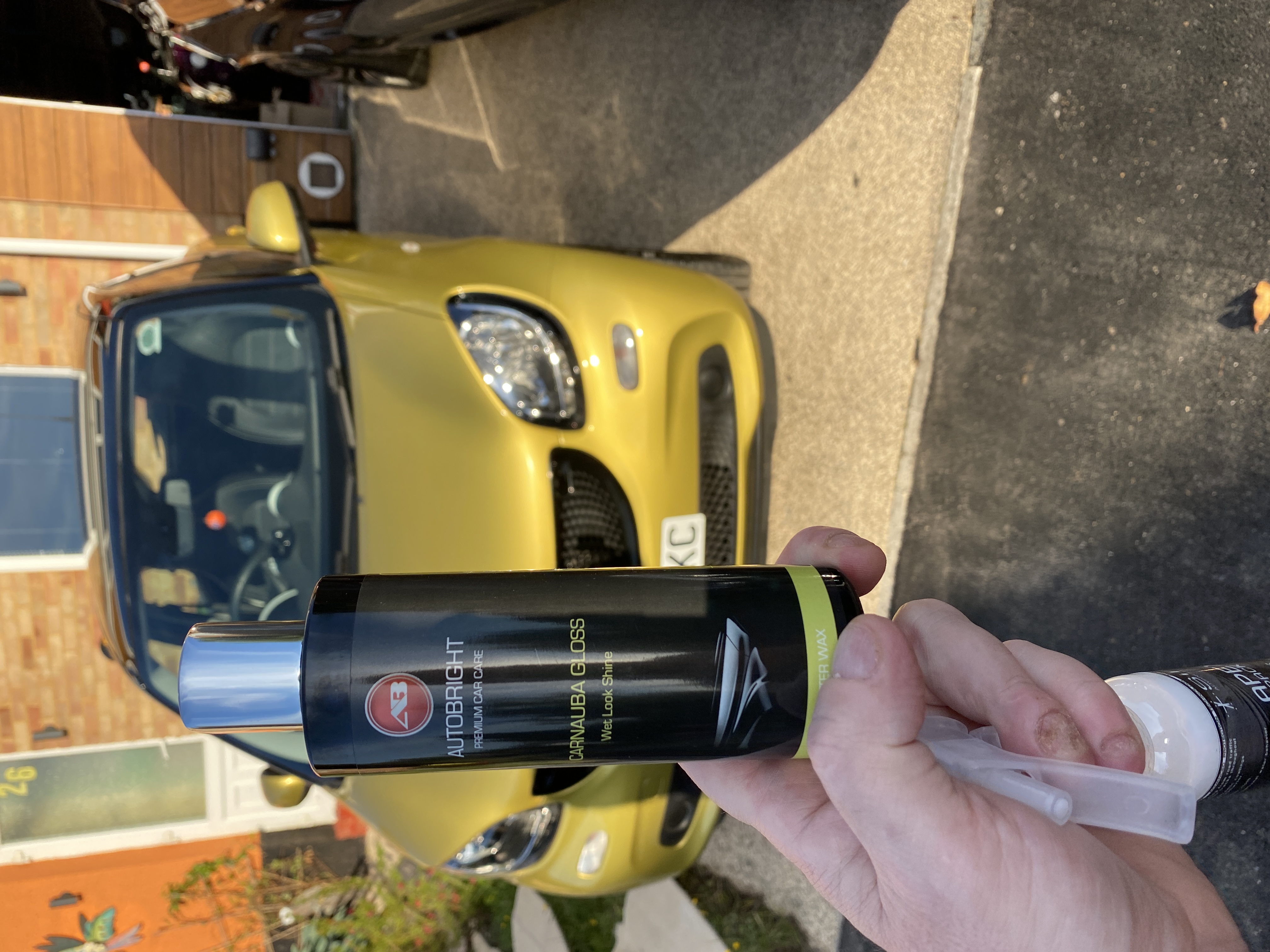 If you don't really 'get' quick detailer sprays and much prefer a more beefier product, then Carnauba Gloss from Autobright could be of real interest.
It has a thick crème consistency and contains, as the name suggests, a high level of carnauba wax which gives you a very wet-look shine. A similar type of product, I guess, to Adam's Buttery Wet Wax, Chemical Guys' Butter Wet Wax and Carbanuba, which have all become a very popular sector.
It is very easy to use and is formulated using the latest technology its unique blend of cutting-edge polymers, resins and natural carnauba and its More >

Don't under-estimate The Urban Detailer brand. Their products are affordable and work really well. Here's one that I tried recently that does exactly as it says on the tin, so to speak.
Their Mirror Finish Carnauba Spray Wax gives a huge level of gloss – the sort of result that looks like you have just chucked a bucket of melted butter over, in fact.
It does need a good shake pre-use to agitate the active ingredients. As well as how a product performs, I do like a nice, pretty colour while smell is also important to me. Mirror Finish is a pleasing More >

New from Sealey is this AK7943 – ten-piece Insulated Socket Set. This is another new addition to their fully comprehensive range of Premier Hand Tools.
The sockets and accessories in this set are made of hardened and tempered Chrome Vanadium Steel and each component is fully insulated to VDE and EN 60900 standards to protect from electric shocks up to 1500V DC and 1000V AC.
Making it not only is it suitable for daily professional use but ideally for technicians working on modern hybrid and electrical vehicles (1500V DC safe live working) and also suitable for electricians and carpenters (1000V AC safe More >
New from Rally Design are these 'Battery-Through-Bulkhead-Connectors', which help eliminate chafing (sounds painful – Ed) problems when running battery cables through vehicle bulkheads. They are designed to withstand vibration and prevent electrical shorts. They have an RRP of £11.88 inc VAT and wear part number RD2811.
Joining the above in the Rally Design line up are these Positive/Negative Vehicle Battery Posts, which are essential to jump-start a vehicle where the battery is hidden or remote from the engine compartment. The Blackline package includes swappable caps, black for negative and red for positive.
They retail at £15.48 inc VAT and have part number RD2812.
Find out More >

I'm a big fan of the products made by the micro-car care company (and I mean that in the biggest and most complimentary way possible), SiRamik.
I really like and enjoy using their SC Mist 'topper' or quick detailer and just lately I have been getting some great results on a GRP-bodied car with their Praefulgeo Spray Sealant.
The product uses silicon resins within its formulation and it really is ridiculously easy to use. An average size car can be coated in around 20-minutes.
It can give up to three months protection but the real wild cards in Praefulgeo's favour are its gloss More >

These high output heavy-duty industrial drum fans are built for long term industrial, commercial and agricultural use. An ideal solution for fast, efficient cooling in large spaces!
These models produce an excellent amount of air-flow, up to 222mᶟ per minute, allowing large areas to be cooled quickly and efficiently. There are two fan sizes to choose from, ranging from a 24in to a whopping 30in!
All models have a tilt range of 300° and are mounted on large rubber wheels so the fan can be positioned easily and transported to wherever it is required.
Main features of the range include:
Heavy-duty gauge steel guard, More >

Lurking within the German Sonax Xtreme range are some great products. The most 'obvious' one, I guess, is the superb Brilliant Shine Detailer, but there's another I really like called Spray & Seal.
It's a fast and effective and dead easy-to-use liquid sealant that is effective on paintwork, chrome and plastics. The formulation incorporates what Sonax claim is Unique Polymer Technology that they say provides up to three months protection.
It couldn't be easier to use. You just spray it onto your still wet vehicle after you've washed it and rinse off, then using a good quality drying towel, wipe to a More >
I'm really loving the sound of a brand-new three-wheeler kit that hails from ex-Ricardo and current Prodrive engineer, Rob Moon.
A modern design, the Darkside (there's a superb play on words if you consider the creator's surname!) is a single-seater that according to Moon is totally dedicated to sheer driving enjoyment, with no compromises.
Power will be monstrous and comes from Suzuki Hayabusa which when you consider that the car weighs in at 275kg. Even in entry-level 'SS' spec it still packs 180bhp. Rob is talking turbochargers and intercoolers for models higher up the range!
What I think is rather cool. More >
Enjoy a scent explosion with Designer Fragrances Blast Cans.
Designer Fragrances Blast Cans are a range of air fresheners developed to stimulate the senses with their unique and invigorating scents.
Developed in conjunction with a famous perfume house, this exclusive collection includes masculine, feminine and classic fragrances.
The stylish and powerful Blast Cans are high pressure, CFC-free 400ml aerosols with sanitising and odour-eliminating properties. Made from natural oils and carefully selected ingredients, they are safe as well as invigorating.
A few short bursts of spray will freshen up any space, as well as clothing, footwear, carpets, sofas and much more. Ideal for cars, motorhomes, More >