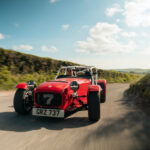 Caterham Cars has unveiled the new Seven 420 CUP, a road-going, track-focused model inspired by its top-tier Seven UK Championship Racecar.
The Seven 420 CUP features a 2-litre Duratec engine producing 210bhp and 203nm of torque, resulting in a power-to-weight ratio of 375bhp-per-tonne and a 0-60mph sprint time of just 3.6 seconds – enabling drivers to register supercar-beating lap times on the UK's premier racing circuits (1 minute 45 seconds at Oulton Park).
This performance is possible thanks to the SADEV six-speed sequential gearbox with flat-shift, fully adjustable dampers and optional Avon ZZR Extreme track tyres (with Avon ZZRs as standard).
Available for the first More >