admin
This user hasn't shared any biographical information
Posts by admin

Machine Mart is one of Britain's biggest suppliers of welding equipment and whether you have previous welding experience or if you're a welding novice, you are bound to find a product for you.
The best-selling, easy to set up Clarke MIG135TE Welder is ideal for the DIY enthusiast, thanks to its professional style, non-live torch and turbofan, which allows for prolonged welding at full power.
This excellent value welder comes complete with everything you need to get started including CO2 gas (390g), face shield and helpful user guide/instructions.
It comes in a stylish case with a hinged side door providing access to More >

Parts in Motion reminds drivers to replace blades for streak-free cleaning in winter.
In winter, the importance of having fresh wiper blades with good adhesion to the windscreen glass can be more visible than any other time of year.
Throughout the winter months, salt is sprayed onto the road surface in order to minimise the risk of ice and frozen patches.
Following vehicles on wet roads that had been salted the previous night means your windscreen wipers will be working overtime and PartsinMotion.co.uk reminds drivers to replace their wiper blades to ensure streak-free visibility, even in the worst winter conditions.
Matt Gates, director of PartsinMotion.co.uk, said: "Wiper blades are More >

A manufacturer keeping a low profile but very busy nevertheless is Formosa Cars based in Dorset and their 120GR model available in two guises.
There's the short nose version based around (91in chassis) Triumph Herald (or Vitesse) donor or the long nose example that is based on (99in chassis) Reliant Scimitar SE5 (or SE5A) donor.
The company is run by top rodder, Gary Janes and he has followed the specials era theme with the GR120. Therefore, the car is very much what you make of it and you can go your own way once you have your bodyshell and donor.
Body kit More >

Burton Power has announced that it now has stocks of Facet's solid-state type competition fuel pump kit.
The American-made pump flows at a maximum rate of 27 gallons per hour and operates by moving a stainless-steel plunger inside a brass cylinder. There are no seals or diaphragm to wear.
The kit includes a replaceable 74-micron fuel filter and a magnet to trap metallic particles.
The negative earth pump is suitable for front or rear mounting and comes with unions, rubber mountings and a spare filter.
Order as FAC480530K at £94.50 inc VAT with more details from 0208 554 2281 or via www.burtonpower.com ENDS.
More >
You've got original factory wheel nuts and you've got the wheel nut socket that was supplied with the car. But it doesn't fit! What's going on?
Some wheel nuts are manufactured with a permanently fitted chromium-plated cap. These start off from the factory as a whole size, but over time due to the combination of corrosion and impact tool use, the wheel nuts can swell by up to 0.5mm.
Laser Tools has a solution! This newly introduced three-piece impact socket set (part number 8214) features ½in drive sockets that are double-ended, one end 1mm larger than the other, which overcomes the issue More >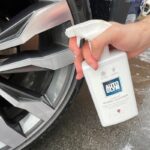 Banish winter wheel woes with Autoglym wheel cleaning products
It doesn't matter if you're running around in a supercar or supermini, winter roads have a habit of quickly turning all wheels into the same, nondescript shade of grey-brown. The royal-warranted car care experts at Autoglym, therefore, suggest that you fight back and reveal the true colours of your rolling stock with the help of the company's broad range of wheel cleaning products.
As enthusiasts have come to expect from Autoglym, each product is carefully formulated to do the hard work for you. So, by selecting from the specialist wheel cleaning products below More >

New from Mishimoto is this new Universal13-Row Stacked Plate Transmission Cooler
It features universal mounting for use in any application
Efficient stacked-plate core for optimal performance with minimal pressure loss
40,000 GVW rating makes this cooler ideal for heavy-duty applications
Sleek, durable powder-coated finish protects against corrosion
Hose protection sleeve prevents damage from abrasion
15.25 metres of durable SAE J1532 transmission cooler hose for routing fluid to/from the transmission
SAE J1532 hose explicitly designed for transmission fluids features a spiral polyester reinforcement for increased pressure tolerance
Precise O-ring sealed ¾in dash -16 to hose barb adapters provide a leak-free seal
High-quality stainless steel worm gear clamps
Applicable for use with More >

At Machine Mart, their range of Clarke Impact Wrenches provides the power and efficiency to tackle a variety of applications.
As well as corded options, they offer two powerful battery-powered impact wrenches. The Clarke CIR18LIC is a best-selling ½in drive impact wrench, supplied with two 2Ah batteries and a charger. It has a max torque of 450Nm and comes with three LED work lights, allowing you to clearly see where you're working.
The Clarke CCIW160 is a lightweight, compact, yet powerful tool, and the latest addition to the range. Another ½in drive impact wrench, the CCIW160 is also supplied with two 2Ah batteries and More >

Lucas Oil Products has announced the rollout of customer-centric QR codes across the entire line-up of Racing, Everyday Car Care, Motorcycle, Marine and Industrial products.
Lucas Oil's new QR code smart packaging provides a simple and effective improvement to the customer experience, allowing the company to offer customers instant access to relevant product details, including:
Key benefits:
Performance information
Complementary products
Environmental and ecological information
Disposal considerations
Formulation and chemical properties
Handling, transport, and storage information
"We are excited for Lucas Oil to be among the first in our industry to include QR codes on packaging across our entire product lineup," said Morgan Lucas, President of Lucas Oil. "In More >

Jon Lee's brilliant Classic Mini bike engine conversion kit sold originally via his Lynx AE operation has recently been under a new company called Auto Concepts run by John Boyland. His dad, Ray is an ace hot rod builder, incidentally.
The Boylands did some nice development work on the kit but decided to move the project on late last year.
It is now available under the Gixermini banner, which is part of Classic Mini expert, Graham Bennett's Gloucester-based Bennett Built Motorsport where I think it is assured a good future given Graham's reputation for quality work.
We'll be bringing you more on this More >