News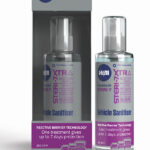 WAI has officially launched a new personal care product to help keep cars and other areas disinfected.
With workplaces and education settings open, WAI has introduced the power of Steri-7 in a handy-sized retail bottle, which can be used by businesses and consumers.
Richard Welland, WAI managing director, said: "The latest WAI Steri-7 product offers seven-days reactive barrier protection, and provides reassurance and confidence to people when going about their daily business."
The new, attractively packaged bottle can be used for car, truck and motorhome applications, and also in the office to keep keyboards, desks and personal space sanitised.
Pre-launch demand for the product More >