News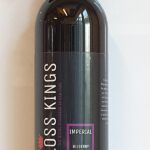 I've known about the Gloss Kings brand for some time and was very pleased to hear that in addition to selling other people's products they've recently launched their own range of products.
I recently needed to clean some filthy wheels on one of my cars so decided to put their new Bloodline iron fall-out remover and Knight, their wheel cleaner through their paces.
The rear wheels weren't too bad, so I used Knight on them, while the fronts were caked in crud so I reached for the more aggressive Bloodline product to help shift the grime and brake dust.
Firstly, Knight. It's one More >