admin
This user hasn't shared any biographical information
Posts by admin

Boutique car care brand, Monster Shine make some nice products and I'm a sucker for their Chocolate Sauce Interior Dressing, which smells like the sweetest and most loveliest choccy sauce/Nutella loveliness ever.
However, I'm pleased to say that when it hits the hard trim areas of your car it loses the smell, otherwise, you might find yourself followed by a thousand and one bees when you go out.
Seriously, it is a superb interior dressing that leaves a slick, satin finish. I love that smell though.
A 500ml spray bottle costs just £8 and is available now via www.monstershine.co.uk ENDS.
More >
There's a big soft spot for VW bays and Splitties on this website so this press release appealed to me so I decided to run it here.
Whether it is for extra ventilation on the move, or to air the van out after cooking breakfast in the morning, opening side windows are a great idea for Split Bus owners.
Heritage Parts Centre has been in touch with news of these great kits containing almost everything you need to let the fresh airflow. Hailing from the USA, their kits include the window frame, the glass, the catch and the seals, all you need More >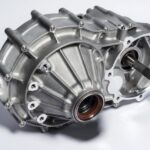 Following the recent release of its HPD E crate motors and associated kit to electrify the classic Mini (and ideal for a kitcar conversion). Swindon Powertrain is now extending its electrification range with its standalone E-Transmission for EVs.
In response to rising demand for proven OE specification componentry both from low volume OEMs and home enthusiasts alike, the single-speed gearbox is, contrary to many solutions on the market today, a 'plug-and-play' and affordable solution to purchase a transmission to work with existing electric motors.
Versatile, with two ratio options, and multiple mounting points for ease of installation, the E-Transmission is suitable for More >

The Ford Atlas Axle started life in the 1960s being used in the Transit Mk1. It proved tough and durable and was soon used in the powerful V6 Capri model as a heavy-duty alternative to the English axle. Plenty of these used in kitcars, too. It was later used in most of the Capri Mk2/3 range, the 2.0/2.3 Cortinas, the later Transit models and continued on into the Sierra range in the P100 pick-up truck.
Its heavy-duty ability made it suitable for competition use, but its weight counted against it due to its cast-iron casing.
Burton Power now has a lightweight alloy More >
New from our mates at Car Builder Solutions is this cool SU Replacement Fuel Pump (part number FPUMP5).
It is 12-volt, has a maximum flow rate of 125-litres per hour, copes with 0.35-bar, 1/4in male spade terminals and is available now at £96.
www.carbuilder.com or 01580 891 309 ENDS.
These little things are always worth keeping in your workshop spares bin. Merlin Motorsport stock 6, 8, 10mm 'eyes' for both 16mm² and 25mm² cables.
It's good to keep a few spare just in case you need to adapt your battery cable in a rush. Merlin can crimp eyelets onto the cable to your measurements. BATTERY CABLE CRIMP EYELETS ENDS.
Not only is this dual-function rechargeable, foldable, waterproof, work light with COB (Chip-On-Board) LED flood light and LED torch functions a must to get you through the winter months, but it also makes for an ideal gift! (Laser Tools part number 7650)
With a 180° rotatable magnetic stand, a max output of 370 lumens, multiple light settings, and a maximum run time of 5 hours (on the low setting), it will make getting the right amount of light to exactly where you need it a breeze.
Neat and compact: folded dimensions: 50mm x 122mm x 34mm; with the mounting hook open, dimensions: More >
Now is the time of year when many MGBs (and kitcars based on same) are tucked up in their garages waiting for the first signs of spring, but it's also the time to get out into the garage and put some added enjoyment into your MGB in the form of a Fidanza lightweight aluminium flywheel.
Fidanza Lightweight flywheels offer – • Faster throttle response and quicker acceleration • Additional horsepower to the wheels by reducing parasitic losses due to flywheel weight • Smoother, faster gear shifting • Easier braking, better slowing (due to reduced rotational mass) • Reduced clutch wear and More >

The 2021 Sealey New Year Sale promotion launches on January 1, 2021, and has 48 pages overflowing with fantastic savings. The publication features over 480 products with up to a huge 85 per cent off list price. It is valid to February 28, 2021, and there are some really good savings inside!
The promotion also features the latest competition. See inside for details on how to win a 101-piece toolkit with a cordless drill worth £214.95.
Sealey's complete product range can be viewed on their new website at www.sealey.co.uk ENDS. 

With the temperature in my garage turning decidedly nippy recently, it made me realise that a bit of heat while I'm working might be a good idea.
Therefore, the press release for the Clarke Devil 2000PTC arrived at the right time. It features a composite aluminium and ceramic PTC (positive temperature coefficient) heater element.
This means that it heats up quickly, self-regulates its own temperature, dishes out uniform heat and at just £41.99 inc VAT it is extremely cost-effective.
More information from www.machinemart.co.uk ENDS.