admin
This user hasn't shared any biographical information
Posts by admin
Dan Walsh at Tech Autos hasn't been around the UK kitcar scene very long but he has been making a big impact.
The recently appointed UK agent for American kitcar manufacturer, Factory Five Racing, general kitcar builder and classic car restorer have moved to larger premises.
Tech Autos can now be found at – Unit 16h, Chalwyn Estate, Poole, Dorset BH12 4PE.
You can also contact Dan via www.tech-autos.co.uk  or at the other end of  07494 339 929 ENDS.

New from Car Builder Solutions is this new range of Autotek Professional paint-on brake caliper paint. Good, quality stuff, unlike some of the rubbish available elsewhere that is a pig to apply and refuses to stay on the caliper.
This one from CBS can be used on drums as well as calipers, is heat resistant to 150-degrees C, is quick-drying, is Alkyd-based for premium heat resistance, doesn't require a primer coat and is brake fluid and oil-resistant, too.
Four colours are available – black, red, yellow and blue and all dry to a high gloss finish.
A 250ml tin costs £9.60 with more More >

One of my favourite leather and Alcantara cleaners is also one of the most cost-effective.
Koch Chemie Po Pol Star is an effective neutral cleaner with protection formula. It cleans and protects without leaving behind any watermarks. With protection that prevents the parts against becoming dirty again quickly.
Perfect for use on leather, Alcantara, textiles and any other type of soft trim part.
Recommended use: Depending on how much dirt has accumulated, apply a 1:5-1:20 solution with a spray bottle, microfibre mitt or similar, and allow to react for a short time.
Work in carefully with a sponge or microfibre cloth in the direction More >

Merlin Motorsport now stock this very neat Y-PIECE BLOWER FAN SPLITTER from Revotec.
These are ABS moulded plastic designed to slot straight on to a 3in or 4in inline blower fan. You can then connect two ducting hoses to the other side of this splitter to divert air to a different location.
These are ideal for driver cooling – particularly the interiors of kitcars – so the cold air can be directed to two different places inside the cockpit, face and feet for example.
They can also be used in reverse too if you have two inlets of the same size you can direct air More >

Webcon has the world's largest range of manifolds, and now, by popular demand, the legendary Jaguar V12 has been added to the list.
The six-piece twin-choke manifold set has been made to the company's usual standards and is made in England. It is suitable for Weber 40IDF carburettors and throttle bodies, although it can also be ported to suit the 44 and 48mm versions.
The Webcon V12 manifold set is available as part number MM4480MF and is priced at £836.89 inc VAT.
Linkage packs are also available to suit as follows: PRE-HE (part number LT4480) – £424 inc VAT
HE (part number LT4480HE) – More >
UPGRADE your storage space to the ultimate garage or workshop storage solution! Be the envy of your friends or workmates with a great looking Clarke heavy-duty professional modular storage package, suitable for workshops, warehouses, garages or sheds!
Ideal for trade and domestic use to create the perfect fitted garage and now available with FREE UK mainland delivery on all Clarke Modular Packages!
Choose from ten complete package systems for ease of ordering and you will know you have all the right units to build your package and you'll also save money compared to buying all the units individually.
Alternatively, build your own custom More >

I am on record as saying that I have issues with lots of glass cleaners. Many, frankly, are rubbish, while others might clean your glass but leave an irritating, smeary residue behind.
However, there are some good ones out there and a couple of new arrivals are among the best I've tried – Akira Brand's Topaz and Revive Auto Apothecary's Glass Cleaner, while this one from Mint Classic is also a corker.
The pleasant green colour is pleasing on the eye although there is a heady whiff of alcohol, which in this case is good. The product's formula means it evaporates very More >

The Mini Spares team are the experts when it comes to sourcing hard-to-find parts for the classic Mini. However, if they can't source a part that's up to their high standards they will not compromise on quality and so will opt to make their own version.
A case in point is the latest Mini Spares Engine Front Plate for A Plus engines that use a timing chain tensioner.
The main bearing cap screw holes are countersunk to allow flat-faced screws to be used in place of bolts, thus providing the extra clearance required when using a duplex chain. (Screws are available as AEA687 or More >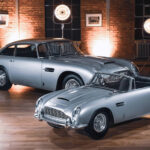 Obviously, we love all specialist cars here at totalkitcar.com and sometimes when something is as cool as this is doesn't matter that they aren't full-size.
Following on from the recent Bugatti Baby, at around 3m long, and 1.1m wide, the Aston Martin DB5 Junior is designed to easily accommodate an adult and a child side by side, to allow different generations to share the love of driving.
The aluminium honeycomb chassis and composite body provide a very rigid platform while keeping the total weight down to around 270kg. Powered by a torque-laden electric powertrain delivering 6.7bhp to the rear wheels, the drivers More >
I think totalkitcar and TKC Mag readers will be very interested to hear about super cool new sunglasses brand Yuma Labs founded by Sebastiaan De Neubourg. From one industry that recycles to another!
Their frames are pretty funky and what's really great is that they are made from 100 per cent recycled PET bottles. Thanks to rigorous production controls, they can use only the purest materials in their own manufacturing process. Another cool thing is that thanks to a label and a unique code that comes with your sunglasses you'll be able to trace the origin of the parts used.
In what More >