admin
This user hasn't shared any biographical information
Posts by admin

Boom Mat Tape has the same noise blocking and sound damping qualities as DEI's Boom Mat damping material. However, the tape is ideal for those hard-to-reach areas as well as for covering wire and cable harnesses running on or along the sides of floorpans.
Boom Mat Tape is a multi-purpose sound deadening material for use anywhere to help reduce road noise, sound system vibrations, rattles and plastic-to-plastic chafing sounds in the dash, door panels, floor pans and boot area – to name but a few.
The tape will also cover seams and gaps, patch leaks in van, caravan, trailer and motor-home roofs More >

Mirka UK is introducing a new and improved formula for all its Mirlon Total grits, designed for both machine and hand sanding, providing 20 per cent higher cutting performance, better mechanical strength and increasing the product's lifespan.
Developed using Mirka's innovative Total CoatingÔ technology, Mirlon Total features an open and flexible structure and strengthened fibres that make it stronger and last longer.  It is more aggressive than Mirlon and produces a dense, balanced cutting and scratch pattern and rapid result for both wet and dry sanding.  The double-sided abrasive collects and attracts the dust from the surface delivering excellent dust extraction.
Applications include More >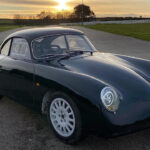 If the name Neil Yates sounds familiar that's not surprising. He was formerly one-half of the Adrenaline Sportscars operation, the Cornish company that produced the Subaru Impreza-based Murtaya.
When that company hit the buffers in 2010, Yates, by his own admission, wasn't left with much. "A bicycle to get around on," is how he describes it. Therefore, faced with that situation he had to literally get on his bike. Falling back on his beloved rallying he founded a new operation called Rally Prep in St Columb Major. Since 2011, he's been preparing cars for a bank of customers around Europe.
As if More >

I really like the family-run (the Aistons) Liquid Leather brand and in addition to their considerable knowledge with all things hide they are also the UK distributors for the New York-based Gliptone car care brand.
They've been around since 1947 and are massive in their home state and environs, while they were pretty much known here in the UK for their own leather products. Indeed until Paul Aiston and his son, Tom started marketing them people didn't realise the extent of the Gliptone car care line up.
There really are some outstanding products lurking within their large range – Emerald Clean APC More >
It's pretty scary to think that that the V-Storm is now thirteen years old. I well remember the day, Simon Dickens of SDR Sportscars, wheeled his first demonstrator onto his stand at Stoneleigh show in 2008. Not only was it an exo-skeletal design, but a three-seater with a central driving position, which pretty much set it apart.
Designed by the very under-rated and multi-talented Guernseyman, Simon Keys the car was originally developed to accept Aprilia RSV1000 v-twin motorbike power (there is also at least one in existence that has a Kawasaki ZX-10 Ninja engine, by the way) but it quickly evolved More >
Manchester-based Frogeye Spares has been around since 1993 and specialise in yep, you guessed it, all things Frogeye Sprite as well as MG Midget.
They are also the current home for the exquisite Wheeler & Davies bodyshells, which are available in three distinct stages.
Stage 1 is the basic monocoque without any GRP panels fitted and is ideal for DIY home restorers and/or those without access to a jig. This is priced at £5275 inc VAT.
Stage 2 adds rear shrouds and rear wings (pre-fitted) and only requires bonnet and doors to be fitted. No welding required either, incidentally. This costs £8069 inc More >

You've got original factory wheel nuts and you've got the wheel nut socket that was supplied with the car. But it doesn't fit! What's going on?
Some wheel nuts are manufactured with a permanently fitted chromium-plated cap. These start off from the factory as a whole size, but over time due to the combination of corrosion and impact tool use, the wheel nuts can swell by up to 0.5mm. Laser Tools to the rescue!
This newly introduced double-ended impact socket (part number 8014) has one end machined to 18.5mm and the other to 19.5mm to overcome this issue. It's a 1/2in drive More >

Webcon is delighted to announce the addition of three new fuel pumps to its already comprehensive range: a low-pressure petrol carburettor version (ideal for Weber installations), a higher pressure petrol carburettor version and a Diesel Version. The new pumps are produced by legendary US fuel systems manufacturer Edelbrock and are of the very highest quality.
Each of the new pumps is quiet and reliable and designed to be mounted near the fuel tank. The pumps are supplied in kit form complete with a branded mounting bracket, an intake filter and mounting nuts and bolts.
The new pumps are supplied with 5/16in/8mm unions More >

Connect Workshop Consumables has just introduced two new pairs of reusable professional mechanics gloves.
The first is a pair of cut resistant gloves that have been manufactured from 15-gauge nylon plus spandex liner with a SKINTEK coating and conform to EN 388:2016 for abrasion, cut, tear and puncture resistance, and are silicone-free. The lightweight and flexible nature of these gloves, combined with the coating, offers dexterity and grip even in wet and oily conditions. They come as a set of three pairs, so you should never find yourself without a clean and dry pair to use.
The second is a pair of More >
If you're stuck for gift ideas this Valentine's Day … why not choose for yourself with a Machine Mart gift card! Perfect for those of you with a craving for some tools and machinery!
Machine Mart gift cards and E-Vouchers can hold any value from £20 to £500 and can be used in any of Machine Mart's 64 superstores nationwide, over the phone by calling 0115 956 5555 or choose from over 21,000 products online.
You can also order them online; an E-Voucher can be sent in a personalised email style, courtesy of Machine Mart, whatever the occasion may be!
To find out More >