AUTOGLYM'S NEW YEAR'S RESOLUTIONS
When it comes to New Year resolutions, statistics reveal that the UK's top three resolutions continue to be based around improving personal health and well-being. However, the biggest year-on-year increase is the resolution to spend more time with family.
These facts got Autoglym thinking. Seeing as we often attribute sentience to our cars – saying 'Ouch!' when we hit a pothole, for example – what sort of New Year resolutions would the four-wheeled member of our family make if it was given the opportunity? Surely it would also like to feel greater pride in its appearance and spend more quality time with its life-partner.
Autoglym would therefore like to suggest three New Year resolutions that owners can make on behalf of their cars. Each resolution will improve your car's appearance, enhance your interaction with it and – you might want to whisper this bit – speed up the cleaning process in order to get on with your personal resolution of spending more time with living and breathing loved ones.
New Year resolution 1: use Autoglym De-Icer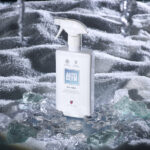 Winter has the potential to conspire against any car-related resolution, and can quite literally freeze you out. But no arctic weather front is a match for Autoglym De-Icer spray, which takes the effort and numb fingers out of manual ice-clearing by swiftly melting through frozen windows and freeing windscreen wipers, door seals and locks without fear of them immediately freezing up once again.
The de-icer's super-concentrated, water-free formula is effective down to -50°C and will not harm, stain or discolour any vehicle surface. So once you've cleared away any heavy deposits of snow you're free to get trigger-happy creating windows you can see through and doors you can actually open. All you've got to do is remember to think ahead by keeping the product at home and not leave it in the car!
Autoglym De-Icer is priced at £4.50 and dispensed through a 500ml trigger spray bottle for ease of use all year round.
New Year resolution 2: use Autoglym Ultimate Screenwash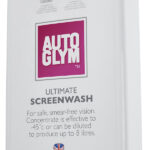 While starting any journey with a clear windscreen is legal requirement, keeping it clean and clear is another thing entirely. During the winter, many of us will have been in the situation where we've tried to activate our car's windscreen washers only to hear the whirr of the pump fighting against a frozen washer jet.
As the view ahead becomes dangerously opaque we're left wondering why we didn't just keep the reservoir filled with Autoglym Ultimate Screenwash because its highly concentrated formula can remain effective down to -45°C.
Although partly designed with winter in mind, Ultimate Screenwash is exactly that – the ultimate windscreen and headlight washer of its kind and adaptable for all driving conditions. So whether you want to clear baked-on insects in the summer or salty smears in the winter, this fluid can be diluted to suit.
Because it comes as a concentrate that can make up to eight litres of screenwash, the bottle takes up less shelf space and minimises plastic use.
Autoglym Ultimate Screenwash is priced at £4.50 and presented in the company's distinctive and space-efficient rectangular 500ml bottle.
New Year resolution 3: use Autoglym Polar Seal
Of course, we'd love it if your New Year resolution encompassed all three products in the Polar Series pressure wash range. But seeing as we're trying to help people achieve their goals we've simplified the recommendation to just one product – Polar Seal – as it delivers contaminant-defying protection against the rigours of road salt and winter grime.
Applied through a pressure washer in just one minute, four capfuls of Polar Seal will impart a super hydrophobic layer on top of whatever car cleaning product you may have already applied, be it a shampoo, wax, ceramic coating or exotic polymer. And once the residual foam has been chased off with another quick blast of fresh water, you're left with a high-gloss finish that will protect the underlying surfaces for six weeks.
Autoglym Polar Seal is priced at £20.60 and presented in a one litre bottle. That's enough to deliver 25 treatments, or another two rounds of New Year resolutions!
More information from www.autoglym.com ENDS.
| | | |
| --- | --- | --- |
| | Print article | This entry was posted by admin on December 30, 2021 at 8:32 pm, and is filed under News. Follow any responses to this post through RSS 2.0. Both comments and pings are currently closed. |
Comments are closed.