IN A CLASS OF THEIR OWN – THE STORY OF COSMIC WHEELS & ACCESSORIES
Whenever I used to hear Rodney Trotter say his ironic 'cosmic' remark on 'Only Fools and Horses' it used to remind me of my dad's old Cortina Mk3 GT in sunflower yellow that he used to swan around South Norwood and Crystal Palace in when I was a kid. Why? Well, he saved up and bought himself a set of 13in Cosmic RW wheels and a Cosmic Mk2 two-spoke steering wheel.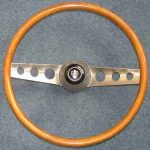 When I say 'saved up', rather he used to pay for them weekly via his mate Dennis' catalogue. He was the man around town, with his Hush Puppy slip-ons in Weimaraner Brown and a liberal splash or ten of potent Old Spice aftershave.
To be honest, though the wheels did give a visual lift to that Cortina, while his steering wheel was one of the wooden-rimmed ones.
Cosmic's wheels were at the affordable end of the automotive bling market, with Tech Del (Minilite) and Wolfrace dominating the market for a couple of years in the late sixties/early seventies before others jumped on the bandwagon and car makers began offering alloy wheels as optional extras on new cars.
Cosmic, particularly with their Mk2, was often referred to as 'catalogue wheels' as home shopping catalogues listed them and people could pay 30 bob a week to get the wheels of their dreams. Like lots of things once regarded as a bit kitsch back in the day, they are now seen as really cool wheels for certain classic cars.
Cosmic Car Accessories story is, like many, an interesting one. The company was founded by a chap called Ken Rose, who was an apprentice at Lea Francis in Coventry, where his father, Hugh was technical director.
Ken was called up in 1942, flying Hurricanes and then Spitfires in RAF Fighter Command. After being demobbed in 1946 he went back to the world of engineering before he started Cosmic in 1952. This significant career move was inspired after he bought a mundane standard Vanguard. It had no heater, so he designed one. Obviously.
It's often been the subject of conjecture as to the origins of the Cosmic name. The explanation is quite simple, really. Someone told Ken that Cosmic rays were the sun's hottest. He liked it and used it.
Rose set up in a factory in Mount Street, Walsall and from the outset wanted to manufacture most of what he sold in-house. The company had their own foundry, which helped greatly.
It wasn't long before all sorts of 'go faster' and 'blingy' parts like wheel nuts, wheel spacers, steering wheels, string-back driving gloves, gearknobs, sill kickplates and random stuff like coat hooks appeared on the market. The company grew quickly. I've got a copy of a mid-sixties 'Cosmic – In a Class of their Own' catalogue and it really is a delightful thing packed full of temptation for sixties Jack the Lad motorists like my dad.
The first Cosmic aluminium road wheel, the Mk1 was launched in 1961 and they literally flew out of the door. Helped by the quality of their established parts, which gained them a good reputation, plus, of course, the desire from motorists for the instant lift that an alloy wheel gave a car. The Mk2 wheel appeared in 1964 and if anything was more popular than the Mk1.
Those wheels were cast in Cosmic's factory and aluminium was heated to 825 degrees C and the molten ally proved into moulds. I remember a feature in a contemporary car magazine of the day that Ken proudly stood beside, who I guess was his works manager, accompanied by hundreds of brand new, freshly cast Cosmic wheels.
Each year eager enthusiasts would flock to the company's stand at the Motor Show or Racing Car Show hungry to see the latest new-fangled component that Rose had introduced.
Cosmic probably hit the peak of its popularity in 1971, but a changing market and the recession and three-day week in 1973 sounded the alarm bell and they went into decline after that really.
Ken Rose sold the business in 1986, although the company's slide continued and they went bust in year 2000. A sad end really for a very notable company that was a household name among young car enthusiasts during the sixties.
A quick word on Ken Rose's father, Hugh. He'd been apprenticed to Humber where he met French engineer Louis Coatalen, who had started his career in his homeland working for the likes of Panhard et Lavasseur and De Dion Bouton before moving to England where he joined Humber as chief engineer in 1901.
This is where Rose met him and when Coatalen became MD of Sunbeam in 1909 he was headhunted. His first task was to basically copy Peugeot's very advanced Grand Prix-winning engine that had a twin DOHC arrangement with four valves per cylinder and twin spark plugs.
It was so advanced that Peugeot's test driver, Paolo Resta was charged with taking it around Peugeot dealers in the UK. The story goes (I so hope it is correct and not a myth) that one night Resta left the car parked in a side street in Wolverhampton.
It is alleged that Hugh Rose and his cohorts hot-wired it, took it to their workshop, removed the engine, studied its construction, took copious notes, reinstalled it and returned it to its hitherto parking spot before first light.
Resta carried on with his tour totally unaware of what had happened. It wasn't very long before Sunbeam had their own very similar engine tearing up trees!
| | | |
| --- | --- | --- |
| | Print article | This entry was posted by admin on December 1, 2022 at 5:53 pm, and is filed under Uncategorized. Follow any responses to this post through RSS 2.0. Both comments and pings are currently closed. |
Comments are closed.