THE STORY OF MIKE CANNON AND CANNON ENGINEERING
THE MIKE CANNON STORY – words by Steve Hole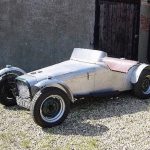 Michael 'Mike' Richard Blackburn Cannon was a very interesting and talented chap. Born in Tasmania in 1928 to a farming family, he emigrated to England and settled into sheep farming at Oxen Hoath Farm in West Peckham (near Tonbridge), Kent. They farmed 2000 acres and lived in a fifty-room mansion.
When his father died in 1952, Cannon and his brother acquired the farm but were forced to sell 1980 acres of it, living on the remaining 20 acres, where Mike built his own bungalow called Crooked Chimneys.
His great uncle was Blackburn Cannon who served in the Royal Navy aboard HMS Terrible, which was a cruiser that took part in the Boer War (1899-1902), so it was no surprise when young Mike joined the navy soon after the Cannon family arrived in England in 1946.
He served as a photographer, although he was quoted as saying that as there wasn't actually a photography department when he joined so he spent the first eight months or so doing next to nothing.
Outside of military service, he retained a lifelong interest in photography unsurprisingly and even built a dark room in his cottage. He also loved flying having a private pilot's licence and also took up powerboat racing in a 21ft speedboat with a pair of 110bhp Volvo marine engines with 36-knot capability (about 41mph).
Automotive Dominance
It was in the automotive world where Cannon excelled. He became interested in Sporting Trials taking part in his first event, the Maidstone and Mid-Kent Trial at Vintners' Park in 1951, having joined the Kentish Border Car Club Sporting Trial. He initially used an old Cotton-Ford before he created the first of his eponymous Cannons (Mk1) in 1954. His car used a chassis from a Peter Jopp 500cc single-seater to which Mike fitted an Austin engine. Cannon had some friends at Lotus and they produced the aluminium body 'on the side', for him.
Cannon soon became one of the UK's leading trials drivers but when others saw his Cannon Mk1 they wanted one including hotshoe Rex Chappell, who would win the British Sporting Trials Championship over ten times.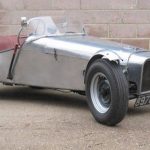 Cannon's trials cars became the dominant marque beating the likes of Cotton, Cannonball, Canhi, Hartford and their main rival Alexis and Mike probably sold around 120 of them, the majority of them in kit form
It should be remembered that back in the fifties, many talented engineers were involved in trialling. Colin Chapman included. Indeed, three of the first four Lotus models were officially trials cars.
What isn't quite so well known is that Mike also produced over 200 Cannon trailers from 1973 after one of his customers suggested it would be a great idea. Mini racers of the early sixties also loved them. During this time Cannon was a world record holder, classed as the world's biggest one-man car manufacturing company by the Guinness Book of Records.
Cannon seriously injured his back during his trailer building period and packed up in late 1974. Incredible that on his own he got 200 of them out of the door. To help him recuperate he returned to Australia for an extended holiday for several months.
When he returned to the UK he was on the mend and he built a trials car for Colin Taylor, then another for Russell Thompson, the boss of Pitstop Accessories in Orpington, who also sponsored the Sporting Trials Championship.
Cannon hated the fact that by the mid-seventies trials cars were becoming what he described as 'over complicated' and therefore overly expensive when by contrast his could be DIY built for around £1000.
Cannons featured a delicate little steel tube spaceframe chassis, aluminium panels, wraparound Perspex flyscreen and proper 'fiddle' brakes with external levers on each side of the car, ideal for trialling up and down adverse camber, steep and muddy hillsides.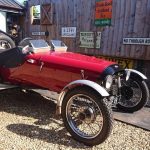 Power usually came from Ford sidevalve (Ford Ten-spec 1172cc) or A-series engines. Kits cost £77 10s in 1967. Front suspension was from Ford Ten with the rear set up consisting of a solid 'live' axle and transverse leaf springs.
Most Cannons were supplied in kit form as mentioned with the aluminium and GRP body panels pre-fitted to the chassis leaving the customer to just supply and fit the engine, wheels, tyres and axles.
Mike returned to his native Tasmania in 1981 and had a happy retirement. He died in 2005, aged 77.
Cannon Engineering 1964-81
Approx 120 made
CANNON GT
What also isn't often highlighted is that in 1964 Mike Cannon built a delicate-looking fixed-head Coupé. It was built to take on the all-dominant Diva GT in clubmans GT race classes.
It had spaceframe chassis with aluminium and GRP body and suspension from an Elan 26R with Rotoflex couplings and other mechanical parts from a Lotus 23A. The engine was a Ford 1098cc 'screamer'.
The car featured a Lenham Spitfire GRP roof panel, limited slip diff, Lotus Cortina 'Bullet' gearbox and twin Weber 40 DCOE carbs.
I do so like the fact that Mike Cannon would regularly say that he didn't have a job rather than just a collection of hobbies that kept him busy and he described himself as a 'bit of a dabbler'. Maybe so, but a very good one, though!
Cannon Engineering 1964-65
Approx 2 made
| | | |
| --- | --- | --- |
| | Print article | This entry was posted by admin on January 19, 2023 at 6:59 pm, and is filed under Uncategorized. Follow any responses to this post through RSS 2.0. Both comments and pings are currently closed. |
Comments are closed.