CATERHAM CHANGES TO THE BARC
Caterham Motorsport is about to see its biggest shake-up in over three decades.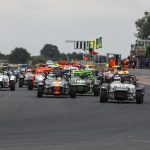 Caterham Cars has announced that they will be joining the British Automobile Racing Club (BARC), one of the UK's biggest motorsport organisations, as their new official club for motorsport events (for the 2023 season and beyond).
Since the 1990s, their motorsport championships have operated as part of the British Racing & Sports Car Club (BRSCC). Over the years, the five championships have grown exponentially thanks to Caterham's innovative formula, allowing drivers of all budgets and experience to participate on an equal footing. Now, they hope to take those championships to a new level, continuing the successful growth.
The BARC has a rich history spanning 110 years, organising and running events for the likes of the British Touring Car Championship, the MINI Challenge Championships and the Porsche Carrera Cup (GB).
Both Caterham and BARC are committed to continuing the successful, long-celebrated format characterised by big grids, low running costs and exceptionally close racing. For example, over half of the ten races at Silverstone GP (2022) were won with less than a 1/10th second margin.
Closely controlled regulations ensure one of the most level playing fields in motorsport, while comprehensive support from the manufacturer in the low rungs is bolstered by professional teams at the higher levels.
Today, the Caterham championships boast nearly 200 drivers. This includes the phenomenally successful 'Caterham Academy' novice-exclusive series, which has seen more than 1200 ordinary people become racing drivers since its inception in 1995.
Building on the foundation of the Academy, they have assembled a 'ladder' of championships progressing through Roadsport, Seven 270R and Seven 310R to the flagship series, the national-level Caterham Seven Championship UK, a one-class series for the Seven 420R race car (which is on pace with GT4 cars, by the way).
The championships have also welcomed familiar faces and created racing legends. BTCC driver Ollie Jackson cut his teeth in the Caterham Academy; British GT champions Flick Haigh and Jon Barnes started their car racing careers with Caterham; while Olympian Sir Chris Hoy is also a former Caterham stalwart.
"We have enjoyed a long and successful partnership with the BRSCC for more than three decades and I could not be more grateful for the work the dedicated HQ and regional teams have done to keep our customers racing. Making the move to a new club has not been an easy decision, but as we continue to grow and step up our service, we feel the BARC are more closely aligned with our goals," said Simon Lambert, Chief Motorsport and Technical Officer for Caterham Cars.
As well as organising thirty club race meetings each season, the BARC also runs three circuits (Thruxton, Pembrey and Croft), two Hillclimb venues (Harewood Hill and Gurston Down) and provides the sporting services for all three of Goodwood's major events (Festival of Speed, Revival and Members Meeting).
"We are thrilled that Caterham Cars has chosen to race with the BARC," said Ben Taylor, BARC Group Chief Executive. "This is really positive news and demonstrates the work that has gone into evolving our race organisation business over the last few years. We have put a great focus on delivering for our championships and competitors, which has led to improved calendars, a commitment to quality live streaming and a financial model that returns a proportion of the revenue to successful championships. We can't wait to start racing with Caterham Motorsport."
More from www.caterhamcars.com ENDS.
| | | |
| --- | --- | --- |
| | Print article | This entry was posted by admin on July 21, 2022 at 8:28 pm, and is filed under News. Follow any responses to this post through RSS 2.0. Both comments and pings are currently closed. |
Comments are closed.