THE SERAPH AND BONITO STORY 
FIBERFAB AVENGER II SPAWNED THE BONITO AND THE SERAPH
If you want your new car to 'fly out the door' in big numbers by all means build it in a Lancaster Bomber factory – but using the help of a six-winged angel seems a step too far.
Fiberfab of California was once arguably the biggest kitcar company in the world, alongside fellow American operation Classic Motor Carriages – the two would later join forces, but that's another story – and had a convoluted not to mention dramatic history, since being founded in 1964 by Warren Harding, 'Bud' Goodwin and John E. Hebler.
Regardless of the whys and wherefores, the company sold a lot of kitcars including a model that they called the Avenger GT, itself closely related to the earlier Aztec II and Valkyrie.
Although not a replica, the Avenger GT did have more than a hint of GT40 about it, particularly around the front end. They probably sold a good few thousand kits in North America and came to the attention of the German importer for Nikki Carbs – also called Fiberfab but totally unconnected.
They were based in Ilsfeld, thirty minutes north of Stuttgart, a town best-known as being home to a huge Bosch factory. It's also a massive German automotive region too, with Mercedes-Benz, Porsche and Audi close by. The German company was called Fiberfab Karosserie and they began by importing Fiberfab Avenger GTs in 1969.
It wasn't long however before they had taken over the rights to the model and renamed it the FT Bonito … and modified it for the European market, changing items like bumpers and – most notably – the height of the roof, leading to more interior space. The Germans also modified the donor to Volkswagen Beetle Type 1 1302.
Once modified, the FT Bonito featured a Ford Taunus 12M windscreen and Karmann Ghia rear light lenses and it's believed that the company sold over 1200 kits and cars in their homeland.
In 1971, a chap called Hans Alma was visiting a car show in his native Amsterdam, when he was quite taken by the FT Bonito on display, although didn't know what it was and forgot about it until the early eighties.
By this time, he had moved to the UK and was running a GRP company called ACM in Poole, Dorset, specialising in boat hulls, with Alan Bradshaw (formerly an international racecar mechanic). One day, Hans was casually reading a copy of Peter Filby's Alternative Cars magazine and his attention was grabbed by a feature on the very same FT Bonito he'd first seen in Amsterdam, ten years before.
Suitably enthused and with Alan on board, he set about tracking down Fiberfab Karosserie and was soon shaking hands on a deal to import the FT Bonito to the UK. Alma's boat business was doing quite well, although they believed that their future lay with the Bonito and so moved to a much larger (20,000 sq/ft) factory in Torpoint, Cornwall.
ACM started off bringing in the German-spec kits, but by 1982 they had purchased the rights to the model – at the same time dropping the 'FT', simply using 'Bonito'. AEM couldn't really make it work for them and sold the project to Graham Keane of Bristol-based AED International in 1983. It was Keane who devised a convertible version of the Bonito. Only one prototype was made, however … and it was never seen again.
It then moved to a company called Bonito Performance Centre until 1985, when it arrived at John Grossart's Seraph Cars operation (a Seraph is a six-winged angel, incidentally). Until this point, about 30 of the VW Beetle-based Bonito kits had been sold.
Grossart had spent 12 years in the RAF as an airframe fitter, followed by three years designing racing cars and then had a spell as a senior project engineer at Lucas Girling. He ran the company with a chap called Karl Nicklass – and as a point of interest, they were based in a factory that once made Lancaster bombers, one of the so-called wartime 'shadow' factories.
Seraph got rid of the Beetle floorpan and mechanicals, introducing a bespoke spaceframe chassis (Terry Sands' Alfachassis, actually) instead, using Ford Cortina mechanicals – with two models being available – the 'Seraph 115' (used a Ford Pinto engine) and 'Seraph 215' (Rover V8 power).
Seraph probably produced up to 35 kits. A man called Gary Whitfield resurrected the project in 1991 and I believe that he was still technically offering them up until about 2010.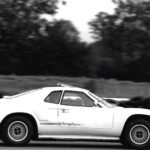 ACM Ltd 1981-83
AED International 1983-84
Bonito Performance Centre 1984-85
Seraph Cars 1985-87
Whitfield Specialist Cars 1991
Approx 65 made
As an aside, prior to taking over the Bonito project, Seraph had begun in the kitcar world in 1984 under the Motorstyle banner, by producing the Seraph Sports Racer model, a purposeful wedge-shaped, mid-engined coupé with Ford Crossflow (or Lotus Twin-Cam) power, which was intended as a dual-purpose road/racer.
The car was one of the first kitcars designed on a computer using CAD. Nicklass was a computer expert and engaged Geoscan to help produce the car at vast expense.
The car featured modified Ford Cortina uprights at the front, with bespoke wishbones. The rear suspension comprised wishbones and uprights fabricated in-house. Seraph produced another version, with Imp 998cc engine tuned to produce 120bhp.
I recall that many people lusted over it, although none parted with money for one for some reason. I think they made only two prototypes.
Motorstyle 1984-85
Seraph Cars 1984-85
Approx 2 made
THE EXCALIBUR FACTOR
Clearly, the Excalibur Crusader was inspired by the Bonito. Boat-builder, Clive Clark, was the man behind it and he was based in West Looe, Cornwall.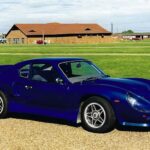 At the car's launch at Stoneleigh in 1985, the company announced three variants; the Classic, based on VW Beetle with rear engine, the Ford-based Classic MkII (which was ultimately the only Crusader model to see the light of day) and the Black Knight, which had Ford Granada running gear with Rover V8 power. Other proposed ambitious developments, known as Excalibur CV8, TE21 and Golden Hawke, were stillborn.
Engine builder, Al Melling, who was responsible for several engines for Peter Wheeler's TVR as well as the Melling Wildcat sportscar, at the time ran Melling Motors in Chorley and acted as one of several agents around the UK for Excalibur Cars.
Excalibur Cars 1985-92
Approx 32 made
| | | |
| --- | --- | --- |
| | Print article | This entry was posted by admin on June 16, 2022 at 6:13 pm, and is filed under Uncategorized. Follow any responses to this post through RSS 2.0. Both comments and pings are currently closed. |
Comments are closed.