WET AND DRY
Kärcher, the world's leading cleaning solutions specialist, is pleased to showcase its versatile range of Outdoor Wet & Dry Vacuum Cleaners, specifically designed for cars, garages, gardens and other tasks too tough for indoor vac.
These robust machines are capable of taking on any task, wet or dry, and the powerful suction makes light work of everything from dust and sand to mud and gravel, using minimum effort and maximum speed.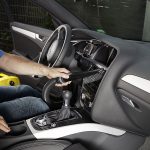 The Outdoor Vacs can seamlessly jump from mud and gravel to dust and sand or even liquid spills without a pause in the intense suction power. The range includes different container sizes, from the 12-litre capacity of the WD 2 all the way up to the 25-litre container of the WD 5.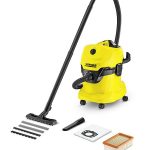 It's not just size that separates the range, with the WD 3 and WD 3 P containing a blower function that dislodges dust and leaves from corners and harder to reach areas getting them ready to vacuum, whilst the WD 3 P also allows you to sync your power tools to your Wet & Dry Vacuum Cleaner to limit mess when doing your DIY jobs.
All Kärcher Outdoor Vacs come with a two-year warranty as standard and feature durable motors which are designed to last, giving you peace of mind when tackling the toughest jobs.
Jack Sweeney, Marketing Director at Kärcher UK said: "We're thrilled with our new Outdoor Vacs, offering a machine to suit whatever jobs come your way and more powerful accessories to make them the toughest vacuums yet. Our Outdoor Vacs aren't just designed to do a good job, they're designed to do the perfect job, and they'll keep your household vacuum protected by taking on the really tough jobs."
WD 2 (RRP £89.99)
The Kärcher WD 2 is a robust, compact and powerful vacuum that's perfect for a range of outdoor cleaning jobs, from wet spills to dirt and sawdust. This versatile cleaner is packed with clever features, like onboard hose and tool storage, a 12-litre dirt container and a specially designed cartridge filter.
WD 3 P (RRP: £139.99)
As well as being practical in the home, the Kärcher WD 3 P is also the perfect partner for the workshop, capable of collecting sawdust from power tools. This versatile cleaner is packed with clever features, like onboard hose and tool storage, a 17-litre dirt container, a blower function for clearing away leaves and a power tool connection.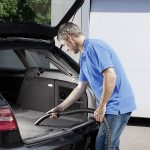 WD 4 (RRP: £129.99)
Perfect for jobs in the car, garden and garage, the WD 4 is super-powerful with a power consumption of 1000-watts and a robust 20-litre plastic container. The WD 4 comes complete with a flat pleated filter, which makes emptying the machine quick and easy, meaning you have no contact with the filter or dirt. The WD 4 is easy to transport and store and comes equipped with a 2.2m suction hose, 2x 0.5m suction tubes, a wet to dry floor tool and a fleece filter bag.
WD 5 (RRP: £179.99)
The WD 5 is the most powerful vac in the range with consumption of 100-watts, as well as the largest container with a capacity of 25-litre, giving you stronger suction power for longer. The vac also includes the blower function which dislodges dust and leaves from tricky to reach corners so you can pile them up and vacuum them away in no time.
More information from www.kaercher.co.uk ENDS.
| | | |
| --- | --- | --- |
| | Print article | This entry was posted by admin on October 10, 2019 at 8:27 pm, and is filed under News. Follow any responses to this post through RSS 2.0. Both comments and pings are currently closed. |
Comments are closed.