ALLARD'S ALLARDETTE FORD ANGLIA CONVERSION
Many specialist car enthusiasts have high regard for Clapham-based Allard Cars founded and run by Sydney Allard. The company was active between 1945-1966 although the last 'proper' Allard was built in 1958.
Sydney enjoyed being an underdog and one of his favourite sayings was 'high performance through ingenuity' and it summed him and his company up rather beautifully, I think. He first started driving his own 'specials' in trials and was a very accomplished exponent.
Allard Motor Company was a subsidiary of Ford dealership Adlards Garage, which had been founded by Albert Brisco and Sydney Allard in the thirties. The company had three branches one in Acre Lane, Brixton, a second in Upper Richmond Road, Putney and also an army auxiliary unit in Fulham.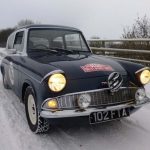 The first Allards emanated from and were sold via Adlards before being set up as a separate entity from a small workshop in nearby Clapham.
The idea was quite straightforward. Place a big V8 into a relatively lightweight sportscar body. The cars were known for their performance and handling. During the fifties, the company did very well, particularly in the USA. A succession of models appeared starting with the J and ending with the Palm Beach.
A lack of research and development and the fact that larger rivals such as Jaguar, Triumph and MG got their acts together and started offering cheaper and more appealing cars resulted in a sharp decline in Allard's fortunes.
Sydney – aka The Guv'nor – and his son, Alan began to look actively at ways of attracting new business although some were more successful than others. As well as the Allardette, Dragon kits and Shorrock Superchargers, the company commenced an oval racing car project called the Atom. It was an idea conceived with Wimbledon Speedway track boss, Ronny Greene in 1955.
It used a fair amount of Clipper parts and was an attempt to establish American 'midget' short oval racing in the UK. The idea didn't catch on and the project was pulled after just two examples were built. It was described as the UK's smallest ever racecar, being smaller even than the later Legends cars.
Sydney also gained a lucrative contract with London County Council to produce a de Dion conversion for their fleet of ill-handling ambulances, plus he also acted as an agent for German engineer Dr Golde's Golde Schiebedächer (also known as 'sunshine') sunroofs.
It's the Allardette Ford Anglia body conversion that we'll be dealing with in this feature but, first, I hear you say, 'but Allard didn't offer their cars in kit form, Steve?' Well, that's true, sort of. In 1953 the diminutive three-wheeler the Clipper with its 346cc Villiers twin-cylinder engine was launched. This was available in component form.
It's often been incorrectly reported that Allard Motor Company went bust. They didn't. Sure, the writing was on the wall, but Sydney absorbed the staff and the Allard business into the main Adlards Garages operation.
A press release sent out to the motoring press in May 1960 confirming this although they'd actually ceased earlier than that, with the last Palm Beach being built in 1958. This, however, also coincided with the setting up of a new division called Allard Engineering.
For some time, Sydney greatly encouraged by son, Alan, had been building up their tuning and engineering work, so they increased these activities greatly basing themselves in a showroom in Putney (one of the Adlards premises).
Allard senior really liked the Ford Anglia and loved its reliability and comfort, if not outright speed but its underdog nature appealed to him as it mirrored that of his own company. He had built up a great reputation on the international rallying scene in the Anglia first entering the Monte Carlo rally in a standard 105E in 1961 (and 1962). However, prior to rallying, he had begun his motorsport career with trialling before moving to hillclimbs, circuit racing and of course, the drag strip.
Allard added a rear brake disc conversion for the Anglia to the company's pricelists and was pleasantly surprised at how well they sold. The company was giving enthusiastic boy racers of the day lots of temptation and was really one of the early speedshops that quickly sprung up in the UK.
It was keen motoring enthusiast, Allard customer and Aston Martin workshop manager, James Watt who gave Sydney and Alan the idea for what became the Allardette Anglia body conversion. He pointed out that they were Ford specialists, liked the Anglia and could offer all sorts of tuning parts for the car, so why not go a stage further?
The Allards like the idea, while Watt also suggested the Allardette name. In 1963, Sydney with co-driver Tom Fisk and Alan with his navigator, Rob Mackie entered the Monte again this time in their own modified Allardette Anglias, resplendent in team colours of Ambassador Blue tastefully offset by Ermine White.
They'd even managed to get the 997cc powered version homologated by the FIM and Sydney Allard is still the only man to enter and win in a car of his own design in an international rally (in an Allard P1 in 1959). For the record, in 1963, Sydney finished second in class (33rd overall) on the Monte with Alan just behind in third (51st overall). Not bad at all, especially when you consider that there were 200 finishers from a starting list of 350!
Another popular tuning product of the day that Allard Engineering became synonymous with was the Shorrock Supercharger. They started as stockists before Sydney did a deal with the then owners of the brand Rubery Owen in September 1960 to become the grandly named World Distributor of the products, although Donald and Geoffrey Healey always had something to say about that claiming that they had global rights to Shorrock for BMC fitments.
Alan Allard came up with two versions of the Shorrock that the company sold in kit from £100 (the equivalent of approximately £1556, today) with Ford fitments taking the lion's share of sales, but owners of Mini, Triumph Heralds, Midgets, Sprites, MGBs, VW Beetle and even Renault Dauphine were also well catered for.
I think it fair to say that thanks to word of mouth, advertising and editorial features in leading car magazines of the time, like Hot Car and Cars & Car Conversions Shorrock kits flew out of the door, with peak sales of 75 per month being maintained for quite a while. Actually, Allard would eventually own the Shorrock brand outright. A chap called Gerry Belton, who joined Allard in 1961, as marketing manager, must take a chunk of the credit for the successes enjoyed with the Shorrock kits.
Belton organised lots of marketing events such as hiring Brands Hatch circuit and inviting motoring journalists along to test drive some cars fitted with Shorrock superchargers. This gained huge publicity.
Allard also tapped into the growing UK demand for the drag racing scene that Sydney had pioneered with affordable replica kits inspired by the Allard Dragster, called the Dragon.
However, the Allardette was playing a growing part in the reinvented Allard company's business. It wasn't long before there were several variants, the Allardette 105 (in 997 supercharged and 1200 normally aspirated guises) 109 and 115, which referred to the Anglia donor model and engine used.
The 105E was the 'entry-level' version and featured several components from the Allard Engineering tuning catalogue including disc brakes all-round, modified suspension and Shorrock supercharger. It had 68bhp, which was 7bhp more than the Mini Cooper.
Allardette conversions also included the 109E version which transplanted the 1340cc engine from the Capri Mk1 with the top of the shop being the 116E, which used the new Pre-Crossflow 1500cc engine from the Consul Classic (just one of these in turnkey form was produced, incidentally).
There were reports that another well-known UK speedshop pioneer, John Young of Super Speed had built his Allardette from a conversion kit and bored and stroked his 116E engine to 1720cc.
As it was, the Anglia's 39 stock horsepower figure was increased dramatically With the larger Shorrock fitted and other optional mods carried out about 130bhp was possible.
As mentioned, you could order a turnkey Allardette or a conversion kit for a DIY build. The standard kit included three chrome 'Allardette' script badges, front disc brakes, Microcell GRP sports seats, a boost gauge and rev counter both with 'Allard' script on the dial face, a Shorrock supercharger kit (depending on your engine choice either a C75B or a C142B), front anti-roll bar and anti-tramp bars. A long list of options was available including Cibie spotlights and rear disc brake conversion. The Allardette 105E (997cc) was supercharged but the 1200cc version remained normally aspirated.
When Sydney began marketing the Allardette in the autumn of 1961 fully built prices started from £760 (approximately £11,828 allowing for inflation, today) although rose rapidly depending on the extras specified). At £760 it was just £132 (about £2000, today) more expensive than a standard Anglia 105E but £80 more than its nemesis the Mini Cooper.
Conversion kit prices for the Allardette don't seem to be listed anywhere – at least not that I've found – but must have been around £350. You also had to add your own Anglia donor, of course.
Period reports were very complimentary, particularly when the supercharger kit was fitted although Motor Sport magazine reported that fuel consumption was 'furious' as a result. However, as a specialist car of immense charm and innovation, it is a delightful thing. With around 100 turnkeys sold and no doubt at least as many DIY conversion packages, it might be a surprise to learn that there is probably only one example currently on the road.
That version was a 'big engine' (1500cc) that was an Allard works car. It was latterly restored by Alan Allard and his son, Lloyd and was sold at auction in 2019 for around £20,000. A beautiful thing.
[boxout] SYDNEY ALLARD – THE FATHER OF DRAG RACING IN THE UK
During his dealings with American customers, Sydney became aware of drag racing and generally loved the American way of life. In 1961 he brought drag racing to the UK initially and brought some of the leading US drivers – including 'Big Daddy' Don Garlits and 'TV' Tommy Ivo – to these shores and along with Allan 'Bootsie' Herridge and John Harrison (the latter forming Dragster Developments and also being instrumental in the setting up of the British Hot Rod Association.
In association with the legendary Wally Parks of the NHRA in America, together they started the International Drag Festival in the UK, which included match races between the UK and USA from 1964. Following the second weekend the UK's first purpose-built drag racing track was set up at the former USAAF airbase, RAF Podington in Bedfordshire, better known as Santa Pod, of course.
| | | |
| --- | --- | --- |
| | Print article | This entry was posted by admin on December 15, 2022 at 6:23 pm, and is filed under Uncategorized. Follow any responses to this post through RSS 2.0. Both comments and pings are currently closed. |
Comments are closed.