THE STORY OF THE ELAN-BRM AND THE SPENCE SPECIFICATION CARS
ELAN-BRM by Steve Hole Photos by Carol Hardy
There have been a large number of special variants of the Lotus Elan over the years including the IWR Elan, Willment Elan, Shapecraft Elan, Starley Sprite (the second was Elan-based) and a pre-knighted Sir Stirling Moss's S.M.A.R.T Elan.
However, my favourite of them all is the Elan-BRM. At first glance, it might appear strange that Lotus and BRM, rivals in F1 back in the day, would collaborate on anything but collaborate they did.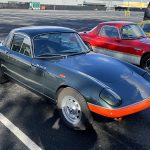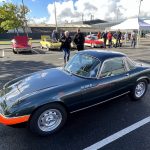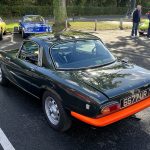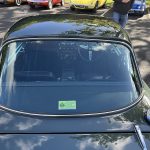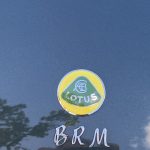 In any case, BRM had already supplied tuned engines for the competition Elan, the 26R and also for Type 47 Europa.
The men behind the Elan-BRM project were Mike Spence and Tony Rudd. The former was a very good driver, if not quite in the elite group, but still made 37 Grand Prix starts, although it was a test and development driver where he really excelled.
Born in Purley, Surrey in 1936, Spence had been racing from an early age and started in a Turner Sports followed by an AC Ace, before graduating to single-seaters and Formula Junior in 1960.
His connections with Lotus date back to 1964, before joining BRM in 1966 when Graham Hill joined Team Lotus.
Outside of motorsport, Spence was a businessman like so many of his brethren were and ran Mike Spence Ltd, which incorporated Mike Spence Cars and Mike Spence Developments all operating from the same site in Reform Road, Maidenhead.
One of their activities was a popular Lotus dealership, although potential customers hoping to buy an Elan or Seven from Spence were usually disappointed as he didn't spend that much time and there.
Meanwhile, Tony Rudd (b.1923 d. 2003) was a gifted engineer first seconded to BRM from Rolls-Royce's aviation division to help with the development of the V16 engine that used Rolls' superchargers.
He never did go back to his parent company and stayed in Bourne until 1969.
He and Spence came up with the idea for the Elan-BRM. In a nutshell – and with Colin Chapman's full blessing – they purchased bare, unpainted Elan kits from Lotus and built them at Bourne, where Rudd oversaw revisions on the Lotus Twin Cam engine, the same unit as used in the 26R.
However, they only used LAA (competition version) blocks and if it came with the standard 'LBB' version, it was changed. Then every internal was balanced such as the crankshaft, flywheel, clutch, pistons, and con-rods with the inlet valves replaced by 1.5in items. The cylinder head was skimmed by 0.010in with an additional o.020in shaved from the black itself.
The standard four-speed gearbox was retained although an ultra-close-ratio gearset was listed as an option, while wider wheels, servo-assisted brakes and stainless-steel exhaust system (with a very fruity rasp on the over-run) were added as standard. I think two 'strengths' were available – 130bhp and 140bhp.
Once built the cars were sent down to Mike Spence Developments' Maidenhead HQ (the MD in those days was actually a chap called David Porter) where the gifted painter, Alan Rigglesford (he later set up Specialised Paintwork with his son, Karl in Reading) applied several coats of BRM's Lustrous Green with the bumpers painted in BRM's trademark Dayglo Orange and a 'BRM' badge was added to the bodywork.
I believe that owners did a lot of their own modifications meaning that no two are ever the same.
Production numbers have also been a source of conjecture but Rigglesford, who should know, was quoted as saying that there were ten Elan-BRMs with one Plus Two version, which was curiously painted Tasmin Blue.
Back to Mike Spence, he re-joined the Lotus team in 1968 very soon after Jim Clark's tragic accident at Hockenheim in April and he was parachuted straight into the team's Indy 500 squad.
He was to race the Lotus 56 Gas Turbine car but after practice on May 7, Colin Chapman was asked by STP's Andy Granatelli if Spence could drive his driver, Greg Weld's turbine car as he was struggling. Spence duly went out and posted some very respectable lap times but collided with the concrete wall exiting turn one, knocking off the right front wheel which flew back and his Spence on the head. He sadly died in hospital that evening. A tragic accident.
It's often recorded that Spence's death meant the end for Mike Spence Developments and definitely the Elan-BRM project. Actually, it didn't. Both carried on for a time.
A new MD, Chris Davies was appointed and business carried on pretty much as normal. The Elan-BRM was now a conversion for existing Elans and renamed SPENCE SPECIFICATION Elans.
Engines were still built at BRM's Bourne HQ but shipped to Mike Spence Developments where the donor car (S3, S4 or Sprint) awaited. I think they may have also dropped the mandatory Lustrous Green colorscheme as a mark of respect. Customers could now choose any colour they liked and I believe five Elans, two Plus Twos and even a Europa, were converted.
Meanwhile, Ton Rudd became director of engineering for Lotus' road car division in late 1969 where he stayed until 1990 when he retired although still did some freelance engineering work. He even ran Team Lotus for a season in 1989.
| | | |
| --- | --- | --- |
| | Print article | This entry was posted by admin on September 29, 2022 at 3:17 pm, and is filed under Uncategorized. Follow any responses to this post through RSS 2.0. Both comments and pings are currently closed. |
Comments are closed.