STING IN THE TAIL – TOM KILLEEN'S SCORPION K19
The Scorpion K19 was created by serial specials builder, and ex-Jensen engineer, Tom Killeen and derived (funnily enough) from his Rycam Mirage K18 creation (qv) although it was 3in longer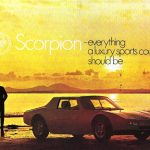 Rycam Engineering marketed the kit package although in 1973 they went into liquidation. Innes Lee, part of Innes Lee Industries of Lutterworth, took over and launched the car at the Earls Court Motor Show in November of that year where it was part of the Tudor Safety Glass Campaign.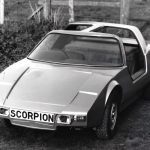 Powered by – and based on – Hillman Imp with the 875cc engine hanging out back, with a fibreglass semi-monocoque and pressed steel floorpan arrangement. Its main rival, the similarly powered Clan Crusader was more popular and the Scorpion faded away, a plight no doubt aided when its makers went into receivership.
Killeen himself acted as technical director for Innes Lee Motor Co when they were latterly located in Telford. Other people involved at Innes Lee were technical manager, Andy Wotherspoon, Larry Reeves in charge of finance and Tim Gresly, who was PR manager at Commercial Advertising Services in Manchester. A very ambitious project. Even the seats were specially made for the car by Restall.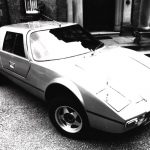 The K19 featured pop-up headlights that were actuated by two windscreen wiper motors an idea patented by Killeen as far back as 1959.
Incidentally, Innes Lee Motor Co was run by Bill Lee and Mike Innes, who I suspect had previously worked at Rycam Engineering when they were also based in Telford, which is what – I think – Innes Lee had evolved from. Innes Lee was the first company to occupy Telford's new business park, incidentally.
Killeen retired to Bridgwater in Somerset. He had been designing racing car monocoques since the seventies and indeed had claimed to have produced the world's first in 1950.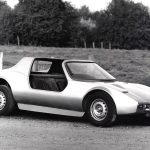 AMI Plastics of Stafford had been making the bodies for Rycam and latterly Innes Lee had re-possessed them when they saw the company running out of steam. They then put them into storage.
After 10 years away, Dovetail Plastics, of Lambourn, Berkshire, run by Peter Sylvester, who also made the Briton model, for a time, acquired the moulds and rights to the Scorpion and set about revising the car ditching the pressed steel floorpan and semi-monocoque in favour of a multi-tube chassis with foam-filled box section sills, for added side-impact protection.
Dovetail also amended the power to mid-mounted Alfasud 1.5 or 1.7-litre engines with the complete front suspension set-up from a Vauxhall Viva HC and input from Lotus Engineering. Meanwhile, the standard gullwing door arrangement of Killeen's original was joined by alternative options such as Targa and convertible.
The rear suspension, meanwhile, was quite interesting and was indirectly the work of Lotus thanks to a grant and input from the government's Production Engineering Research Association body. The top wishbones were fabricated in-house and paired up with Alfa Romeo bottom wishbones and coil-over dampers. Sylvester probably sold an additional nine.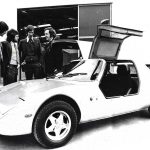 Innes Lee Motor Company 1973-74
Approx 16 made
| | | |
| --- | --- | --- |
| | Print article | This entry was posted by admin on August 31, 2022 at 6:14 pm, and is filed under Uncategorized. Follow any responses to this post through RSS 2.0. Both comments and pings are currently closed. |
Comments are closed.