THE BIG SHOW – THE SILURIAN (DEFINITELY 'A ONE THAT GOT AWAY')
The Silurian story by Steve Hole
PHOTOS COURTESY OF BRIGHTWELLS
The men behind the remarkable Silurian project were Mike Phillips and his business partner, Jack Orwin. They ran a classic car restoration business called MGP Restorations and were based in the wonderfully-named 'Brassknocker Street' in Magor, Gwent.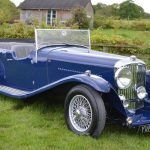 The company specialised in the restoration of Bentleys, Bugattis and pre-war limousines. Phillips and Orwin had intended to build a high-quality petrol-powered children's car and came up with detailed drawings and plans. Sadly, when they costed the project it was clear that it would be more cost-effective to build a full-size vehicle.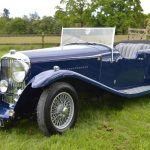 Phillips was a very keen historian and was particularly fascinated by a feisty tribe called the Silures who roamed around the hills of Monmouthshire in about 48BC. They spent their days giving the invading Romans a bit of a kicking and as a result were notoriously fierce.
Therefore, MGP was always going to use the name Silurian for their own car. The intention was to offer it in kit form – or turnkey should there have been an interest – and although the quality of the build was never in any question it was such a complex build that it probably scared any potential customers off.
Busy with their restoration work Phillips and Orwin sounded out other companies who they felt may be interested in taking the project over but sadly to no avail and the huge Silurian remained a one-off. With a wheelbase of 128in it must be one of the very largest kitcars ever produced.
Thanks to MGP's main work they had an eye for a stylish line and despite its size, the Silurian was beautifully proportioned with a bonnet that dipped towards the radiator that itself was mounted behind the front axle line. All skilled tricks of a vintage car designer. Long bonnet; big engine. They also carefully selected the size of road wheel meaning that the car sat right and looked beautiful.
The Silurian was underpinned by a substantial twin-rail ladderframe with a stiffening cruciform perimeter frame topped with a beautifully made 18swg aluminium-over-plywood body. It had four doors and could seat five adults. Top-notch stuff.
The donor vehicle was unsurprisingly Jaguar XJ6 and MGP utilised a lot of components from the car including its 3.4-litre straight six engine and complete braking and suspension components. Unusual for a kitcar as it had four doors and five seats and thanks to its gear ratios it was perfectly suited to grand touring.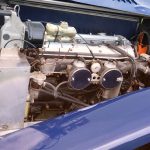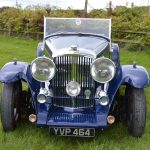 Inside, the car was trimmed in top-quality leather with Wilton carpets and those doors shut with a resounding, reassuring 'thunk' rather than a tinny clang.
It was influenced by thirties leviathans from the likes of Bentley, the Vandenplas Tourer and Lagonda T7 3-litre of 1933. Phillips owned one of the latter.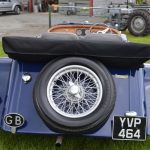 Brightwell's auction house recently sold the one and only Silurian and it went under the hammer for a bargain £22,000 and we are also pleased to credit them with the photos.
As a fan of Doctor Who, you may also recall that the Silurians were a particularly un-friendly race of baddies, first appearing in 1970.
MGP Restorations 1989-90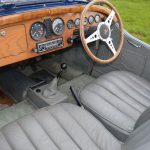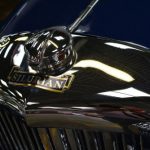 1 made
| | | |
| --- | --- | --- |
| | Print article | This entry was posted by admin on August 11, 2022 at 3:36 pm, and is filed under Uncategorized. Follow any responses to this post through RSS 2.0. Both comments and pings are currently closed. |
Comments are closed.