THE HOT ROD HISTORY OF ED 'MISTER ED' WIMBLE
THE OUTLAW, FAST EDDIE AND MISTER ED – THE EDDIE WIMBLE STORY
[standfirst] Eddie Wimble is rightly regarded as one of the UK's greatest exponents of hot rod building. He is deservedly in the UK's National Street Rod Association's Hall of Fame, but unless you are into the hot rod scene or were reading Filby's mags back in the late seventies, the name of Eddie Wimble won't be known to you. I thought it was time to pay a little tribute to Eddie and highlight the great work he did. I hope you enjoy reading it …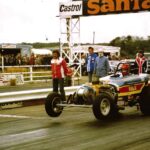 A bit of a cliché (they should be avoided 'like the plague'!) maybe, but Eddie Wimble was born (in 1951, in Brixton) to build hot rods. He was reading and digesting American hot rod magazines from the tender age of eight and by fifteen he'd not only restored several rusty old Ford Pops and Austin Sevens, but he'd also worked out that rather than waste his time he may as well build what he really wanted, from scratch.
Never one to rush, Ed has always done things his own way and very much in his own time. This is something that characterised his career and perhaps because he didn't jump when expected, explains why his name isn't as well-known as some others.
His first chassis was built in the attic of his parents' home using little more than a hacksaw, a knife, fork and a set of files …  and ended up in the skip. Undeterred, he pressed on though and came up with something like he'd seen in his American magazines, featuring a drop tube front axle and a twin-rail box tube affair with a Triumph TR4 engine and a Morris Minor rear axle.
Indeed, he is quoted as saying: "I had a 3in vice, a bracket on the wall for it, a hacksaw, a big hand-drill and a few files."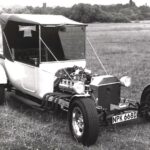 Apprenticed at a South London engineering firm by day, he'd spend his evenings and weekends working on his cars, eventually moving to a rudimentary lock-up behind a launderette in Tulse Hill.
As mentioned, he'd read those hot rod mags cover-to-cover; inside and out and would always be an avid reader of the technical sections, where he'd learn stuff that he could use on his own car. What set Ed apart was that if he didn't understand a particular aspect, he'd simply make a transatlantic phone call and speak to the rodding personality (be it painter extraordinaire Art Himsl or rod builder, Dan Woods) who had written the particular piece he was interested in.
He told Filby: "Usually, I'd get straight through and they'd be really helpful. If I saw a particular paintjob for example, I'd ask Art Himsl direct. Ask him how it was really done. They were always very helpful," he says.
His phone bills were often eye-watering though, as a result.
Due to this thirst for learning, Ed quickly became an expert and a UK authority on Ford Model-A, Model-T and custom painting. Wimble was always known for his ability to paint beautifully, often using those trick techniques he'd read in the US magazines.
His own car was progressing – albeit slowly – and to help speed the process up he bought a Jago T-Bucket GRP 'shell. He said that the body wasn't as accurate as he'd hoped, so didn't proceed with it. He had planned to take a mould from it and revise it for his own purposes. Then sell replicas of it, which he later did, but not with that bodyshell.
One day, out of the blue, he discovered one of only three original Ford Model-T tourers in the UK and was allowed to carefully take a mould from that – well, rather the centre section and patterns from the rear end.
From this he painstakingly created what he wanted – an authentic American-spec roadster-style buck: "… or as close as I could get it, anyway," he said.
The production-ready mould was ready in March 1970 and selling GRP bodies to customers helped fund his own build. He sold quite a few and was charging only £30 a pop (about £325 in today's money), although he really hated working with what he called messy and smelly fibreglass.
The first-ever Custom Car Show at Crystal Palace Park in January 1971 was the first time that anyone saw what he'd been building, although it was exhibited on The Rodding Group's stand and was far from finished. It certainly received lots of positive comments though. Ed Wimble and his reputation for painstaking quality had well and truly arrived.
As a result of the show appearance, he gained the nickname, 'Mr Ed' and was suitably encouraged by public reaction. It took another two years before the car was finally finished and the Triumph engine had given way to an Oldsmobile F85 V8 imported from Jordan … and fitted with every replacement upgrade part that had ever been made for that engine.
Meanwhile, the Minor rear axle had given way to a fully chromed Jag MkX IRS.
By now he was running an official – albeit still part-time – speedshop business, trading as Mr Ed's Custom located in Hermitage Lane, Streatham Hill, in 1972. The stuff he sold was typically exquisite and included twin-rail rod chassis, axles, suspension parts, chrome windscreen frames, spun aluminium fuel tanks and GRP T-Bucket bodies, while other glassfibre 'shells on the pricelist included a four-seater T-Bucket. His mother's death in 1972 hit him hard and he struggled to get over it. He was only 21 at the time.
As mentioned, Eddie was a gifted painter – thanks to those hot rod mags! – full of the tricks that rod builders of the day wanted – and his services were in demand. For a start, another well-known hot rod builder of the day, chairman of Wolfrace Wheels, restauranteur and hot rodder, Derry 'Treacle' Treacy, had him on a retainer and Ed painted all of his notable cars, such as the outrageous Nick Butler-built, Sonic.
Alongside the painting, Ed helped further make ends meet by taking on jobs such as glass embossing and signwriting, although did manage to finish his car in time for the 1974 running of the Crystal Palace Custom Car Show. The show sponsor and then editor of said magazine, Roger Fennings phoned up asking for a name for Eddie's car to help promote the show in advance.
"I remember spluttering and wondering what to call it, but then remembered a George Barris car that I'd recently read about in an American mag, called Outlaw, so I called it The Outlaw!" he recalled to Filby.
As it happens, the car wasn't running but did look visually finished (actually I'm not entirely sure if the car ever turned a wheel more than a few hundred yards under its own steam!) and went down a storm.
It won Eddie the prize for 'Best Engineering' (it was a work of art) and came second to his rival Nick Butler's equally brilliant 'Nykilodeon' in the 'Best Model-T' category.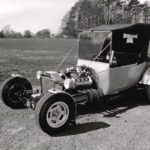 He'd really achieved what he'd first tentatively set out to do in 1966. It was as close to an American 'Fad-T' as you would ever see in the UK and won him loads of well-deserved plaudits. The 'shell was different from when it was first shown though and although still GRP, it was now 'sectioned' (that's lowered to you and me!).
What was really becoming Ed's trademark was his perfect eye for detail, his finesse as was shown as he carried on making modifications to The Outlaw, such as fitting a jewel-like transverse torsion bar front suspension and a few tonnes of additional chrome … and show audiences around the UK were knocked out by the quality of the car. Meanwhile, Ed scooped up a good few awards along the way.
His star was brightened further by TV appearances on shows as diverse as 'Nationwide' and 'Magpie' …  and also a very fleeting glimpse of the man and his car on Shaw Taylor's motoring show, 'Drive-In' with Wimble looking menacing and mean in the background. That look wasn't for effect either, as I think he was genuinely a bit upset as he was expecting a proper interview that didn't happen!
In the first-ever National Custom Car Show at Olympia in London in 1975, Wimble turned the tables on Nick Butler by taking the award for Best Model-T, with Nykilodeon in second place. Wimble had well and truly joined the UK scene's elite group of builders.
So encouraged was he that he decided to turn his hobby into a full-time business, becoming Mr Ed's Specialised Auto Design in a new workshop in West Croydon, which is when I first became aware of him. My area of South Norwood was quite a speedshop hotbed and also the home of another lesser-known hot rodder called Mackenzie James.
Croydon was also the home of Peter Agg's Trojan operation who, in addition to being the official UK importer for Lambretta at the time, also imported bubble cars, made Elvas for several years and also made Bruce McLaren's roadcars.
It was all Agg's fault I think, as to why I do what I do for a living, as I was totally enthralled at what I saw every time I walked past the factory gates, twice a day to and from school and while going to my dad's garage that was just down the road from there. I vividly remember seeing loads of automotive bubble cars in a variety of colours awaiting delivery to dealers. That was quite influential on a young lad who already loved cars.
This is also when I first became aware of Eddie and his work. I think my late father knew him, or one of his friends, while I would talk to him while passing through. I think he wondered what the spotty kid was on about, but I don't care, this was formative stuff on an impressionable lad like me.
Other products were added to Wimble's price list, such as a GRP T-Bucket 'shell that Ed altered to better suit his and his customers' requirements. He'd seen it on one of his regular visits to the US. This one had its origins at Cal Automotive. He also offered other 'shells including a stock roadster, shortened tourer body, pickup beds, Turtle decks and a variety of chassis and suspension parts.
Much of what he sold was made in-house, too. Typical of Ed he spent far too long on making his stuff, but he did it because he could, he wanted to and he wanted his customers to have the best possible products.
Anyway, in 1976 after one year at West Croydon, he upped sticks again and moved to another unit in Streatham, a tiny place of just 600 sq ft but it seemed to work. Due to the success of his parts business, he had less time to devote to his own builds.
Custom fans were eager to see what Ed would follow 'The Outlaw' with. Other notable Wimble show cars were The Incredible Hulk (a Chevy V8-powered, competition-altered dragster) and another Model-T, called 'Freedom' – aka 'Mr B's T'
A planned C-Cab was scrapped after he saw how good Nick Butler's 'Revenge' was, although by the Autos International Rod & Custom Show at Belle Vue in May 1977, he did unveil a brand new '23-'25 Model-T Tudor and a very authentic '28-'29 Ford Model-A Roadster, which were available in kit form from February 1978.
Why isn't Ed Wimble better known outside of the hot rod fraternity? Good question. Maybe he was too ambitious and too much of a purist for the fledgling UK rod movement, where most people happily settled for a Jago kit with the greatest of respect. His time came though and for several years his star burned brightly, or until about 1982 when he seemed to shut his rod business.
He went on to set up Ed Wimble Design … and until fairly recently he was still doing that. There were some beautiful hot rod paintings on his Facebook page, stuff that was right up there with what Chip Foose produces on Overhaulin'.
Ed Wimble definitely ploughed his own furrow and did things at his own pace, but was always down-to-earth and, rather than employ loads of staff, he remained pretty much a one-man band throughout … BUT he definitely belongs at the same table as hot rod glitterati like Bryan Godber, Mickey Bray, Chris Boyle, Pip Biddlecombe and the magician that is, Nick Butler.
| | | |
| --- | --- | --- |
| | Print article | This entry was posted by admin on June 30, 2022 at 3:03 pm, and is filed under Uncategorized. Follow any responses to this post through RSS 2.0. Both comments and pings are currently closed. |
Comments are closed.