THE HISTORY OF FLEUR DE LYS VEHICLE MANUFACTURING
FLEUR de LYS VEHICLE MANUFACTURING
The Fleur de Lys range of period vans was one of several around in the eighties– most being offered in kit form. Several of them frankly weren't very good but the Newark company's offerings thanks largely to the input of sixties motorsport designer-great LEN TERRY, were first class. They were available as turnkeys or as kit packages.
Fleur de Lys means 'flower of the lily' and has been widely used in heraldry through the ages and the company behind the vans and period vehicles had a very interesting story.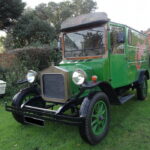 It's often been said that when Newark patisserie owner, Dionysios Andreas Livernas (Fleur de Lys Patisseries) wanted a period-style vehicle to help promote his business he couldn't find what he wanted so decided to build his own hence the Len Terry connection.
I've also seen it written elsewhere that Liveras ran a baker's shop. While it is true that his business did produce pastries – fresh cream a speciality – it was hardly a corner kiosk.
It was a huge operation employing some 600 staff.
The company were the kings of the supermarket chilled fresh cream (nice line in profiteroles!) and pastry aisles for many years supplying the likes of Birds Eye, BHS, Sainsbury's, Marks & Spencer with own-label products. The company was ultimately bought out by Grand Metropolitan.
In 1983, Livernas designed his own vehicle and engaged the services of Terry and even set up a new division of the company called Fleur de Lys Vehicle Manufacturing with Kyri Kyriacou installed as managing director. Another key member of the management team was Iain Robertson Muir.
They didn't just stick to vintage vehicles either as they were quite ambitious. One notable thing about the Fleur de Lys vehicles was their superb handling. Liveras had complained that a couple of rival products didn't have a good ride quality.
Len Terry was known for his suspension set-up skills. Therefore, Fleur de Lys' vehicles may have looked vintage but they drove like brand-new, modern-day cars.
Just prior to the company taking on the Evante project in 1991, Len Terry had been working on a low-cost modern two-seater under the Fleur de Lys name called The Zero. He carried some of it over to the Evante Mk2, such as the Zetec engine.
Kyriacou was pretty successful in getting his vans and limos out to a wider audience with plenty of companies small, large and artisan recognising the promotional impact that a vintage-looking van with modern mechanicals could make on their business.
Fleur de Lys' corporate customers were an impressive list and included – Harrods (they bought six!), Kelloggs, Michelin, JVC, Walls, Castrol, Bang & Olufsen and Budweiser UK.
The vehicles were even sold with a Ford warranty meaning they could be serviced and repaired by a Ford dealer's service department. By 1985 the company had complied with European Low Volume Type Approval regulations and a growing number of its products were exported. 90 per cent of them at the height of sales.
They were coachbuilt vehicles using mahogany and solid brass fittings, brass radiator cowls and diecast artillery-type wheels. Bonnets, doors and mudguards were usually formed from aluminium. They also had period-type klaxon horns fitted, too.
With the effects of the early nineties recession taking hold, Fleur de Lys's sales, particularly their exports, were contracting and so in 1994 Kyriacou decided to close the vehicle manufacturing arm which at one time had employed 80 staff at the company's Brunel Drive, Newark factory.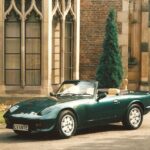 When they put down their spanners for the last time in 1994, they were showing a healthy cash surplus so they didn't go into liquidation as is often erroneously reported.
FLEUR DE LYS NEWARK
FDL's first model was the Newark primarily available as a Ford-based Van but they also produced mini-bus and hearse versions.
This was by far their best seller with businesses from international to corner shop size recognising their potential.
Fleur de Lys 1983-1994
Approx 150 made
FLEUR DE LYS BELGRAVIA LAUNDALET
Initially available in Laundalet style the Belgravia was FDL's take on vintage and elegant Rolls-Royce of the day wafting occupants along in grand comfort. Very luxurious.
Fleur de Lys 1986-1994
Approx 15 made
FLEUR DE LYS BELGRAVIA LIMOUSINE
Exactly the same as the Belgravia Laundalet except that the rear bodystyle was plusher thus befitting the term 'limousine' and was non-opening.
Fleur de Lys 1987-1994
Approx 4 made
FLEUR DE LYS LINCOLN
This was FdL's large van bodystyle although they also made at least one with a small bus type body.
Fleur de Lys 1988-994
Approx 6 made
FLEUR DE LYS EVANTE MK2
The Evante Mk2 was wide and had revised styling and power from Ford Zetec (a few Vauxhall-powered cars were also produced), rather than the Vegantune 'twink' of the Mk1.
Len Terry carried some of the elements of the Zero sportscar that he was working on for FdL into the Mk2.
When the Fleur de Lys stopped making vehicles in 1994, the Mk2 version of the car was acquired by Jeremy Snow trading as Evante Sportscars. The Mk2 added 15 sales to the 108 originals produced.
Fleur de Lys Automobile Manufacturing 1992-94
Evante Sportscars 1998-2005
Approx 15 made
| | | |
| --- | --- | --- |
| | Print article | This entry was posted by admin on June 23, 2022 at 5:53 pm, and is filed under News, Uncategorized. Follow any responses to this post through RSS 2.0. Both comments and pings are currently closed. |
Comments are closed.