NEVILLE TRICKETT RIP – A POTTED CAREER OVERVIEW
We were extremely sad to hear about the death of Neville Trickett on May 27. He was 87 years of age. In later years he split his time between a chateau in Beslon, France and Thailand. When he was in France, he spent much of his time converting Classic Minis into MiniSprints, something he was doing right up until his death.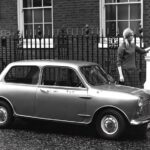 Born in Manchester, Neville's parents ran a small private school in Dorset which is where he spent much of his childhood. He became an artist although always said that he'd never really had a proper job apart from a spell of National Service as an officer in the Army spent in Malaya (Malay Peninsula and Singapore) between 1957-1960
Post-military service Neville continued to follow his passion for art and also motorsport, enthusiastically racing a succession of Minis; firstly an 850, followed by a 1071S sleeved down to 1-litre and finally a 970S.
After a race at Castle Combe in August 1965, he had a chance encounter with businessman and fellow Mini racer, Geoff Thomas, who raced Rob Walker's Mini Cooper 1300 S and although the two had never met they got on very well and within a short space of time they set up business together.
Thomas ran GT Equipment and had been reading American Hot Rod magazines for some time and was inspired by how they'd take a standard saloon car and 'section' it. This basically involved chopping the roofline and doors down to give a more dramatic look. Geoff liked this idea but didn't know how best to do it. His new friend, Neville did though.
Therefore, Trickett got to work on what became the MiniSprint. Thomas purchased an 850cc example (registered VRR 470) and Neville got to work. The company's first workshop belonged to a secondhand car dealer, Peter Barnes (known as Westminster Garage) located in Parkstone, Dorset. Barnes was quite a character, and his father ran a company called Bonsoir Pyjamas, that he'd founded in 1926.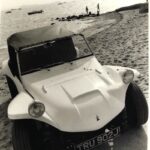 The company still exists incidentally, but their heyday was in the early '30s when the 'cocktail pyjama' was all the rage … when Bertie Wooster-types entertained their guests dressed in Bonsoir's extensive range of luxury bedroom wear.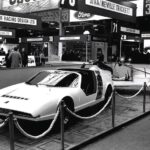 Back to the MiniSprint. Neville reasoned that, by simply chopping the Mini's roofline it would give an out of balance appearance; so, he decided that his 3in 'chop' would be achieved by removing 1½in from the A-pillars and a further 1½in from the car's waistline.
This gave the MiniSprint a very balanced, purposeful and attractive appearance. To keep weight down, Neville used Perspex for side and rear windows and glassfibre for the bonnet and bootlid. Meanwhile, windscreens were bespoke and cost a hefty (for 1965) £85 (equivalent to a scary £1150.37, today) and they were fiendishly (and carefully) also cut-down by 1½in (37.5mm) to match the reduction of the A-pillar. The 'screen was delicate and an awkward thing to fit and, because he was paying for them, Geoff Thomas gave himself the task of installing them.
The response to the MiniSprint was very enthusiastic and Trickett, Thomas and their three staff, Nick Janke, Mike Sparkman and Robert 'Haggis' Leasor were kept pretty busy preparing their first demo car. They rapidly outgrew Westminster Garage and moved to a larger premise in Christchurch … before very quickly relocating again – onto another in Wallisdown, called Surtees' Garage (nothing to do with the late double GP and Motorcycle champion, John Surtees!) owned by a chap who was related to Samuel Margolin, the inventor of the Dansette record player.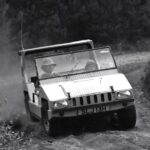 The press loved the MiniSprint and, as a result, orders came flooding in. An un-related move saw Geoff Thomas buy a controlling stake – in May 1966 – of RRC Walker's Garages, run by the flamboyant privateer Grand Prix entrant, Rob Walker, whose F1 driver was Stirling Moss.
The company had, at various times, been dealers for Alfa Romeo, Mercedes-Benz, Porsche, Austin and Jaguar. This proved very fortuitous for the MiniSprint as there was a readymade sales outlet for it – with the RRC Walker chain's buyer immediately placing an order for thirty cars.
Trickett and his team moved to Walker's large workshop at Corsley, near Warminster and, by the time the MiniSprint project was sold to Morris dealers Stewart & Ardern of Berkeley Square, in London's Swanky Mayfair in December 1966, some 85 examples had been sold.
Incidentally, Neville had also devised an 'MSR', lightweight race version that had specially fabricated rear suspension and sat even lower as its height was reduced by 7in. Although effective and dramatic looking, it was never really that successful on track where it came up against full-on race 'silhouette' Minis.
GT Equipment's brochure was a black and white affair and they were prepared to convert their MiniSprints using the customer's own used parts if required. Their prices started at £450 (£6092, today) which included everything except the interior trim kit, which was extra.
Neville and Geoff (now selling the cars through Walker's Corsley and Pippbrook Garages, Dorking site) also offered the fully built GTS version.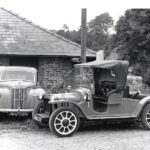 In essence, if you wanted a fully built, brand new MiniSprint you purchased a new Mini from them to your specification in 850cc, 998cc Cooper or 1275 Cooper form. To this you added the cost of converting the Mini to MiniSprint, which cost from £324. You could add a respray in your choice of colour for an additional £75. In addition, GT Equipment – via their new association with Walker Garages – were now able to purchase secondhand Minis for the customer, at very good prices … and they could also supply brand new Mini bodyshells from £97, or a pair of doors at £24 (wow, £12 a door!).
They charged £60 to convert to MiniSprint specification, while those rectangular Cibié headlight units were £16 a pair. Meanwhile, if you fancied doing around forty hours work in your garage on it, you could take the MiniSprint in kit form at £375.
For that you'd get the subframes fitted to your 'shell, with the remaining parts in boxes neatly packed inside. However, there was a feeling of relief almost when Neville and Geoff sold the MiniSprint project to Stewart & Ardern as the increasing number of orders had brought with it added pressure, although production had shifted to Walker's Corsley premises some months before they sold the project.
Geoff Thomas described it thus: "I think by then we were all pleased to be out of it." Geoff later described building MiniSprints as: "Aggravation, aggravation, aggravation!" Neville and his friend, Nick Janke then helped Thomas with his Opus HRF project before they went off to found Siva Engineering; while Geoff and his brother Graham, built up Walker Garages to fourteen branches and took on a Lotus franchise, too. They even floated the business on the London Stock Exchange in 1972. They continued the motor-racing, too – under the Rob Walker Racing Team banner – with their personal highlight being a British Grand Prix win in 1968 in a Lotus 49B driven by Jo Siffert.
In a beautiful touch, if you bought a Lotus Elan from them your new car would be personally presented to you by Jim Clark and Colin Chapman! Can you imagine that happening today? Having the keys to your Lotus Elise being handed to you by say, Toto Wolff and Lewis Hamilton!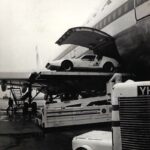 MORE TRICKETT
After he'd finished with Opus, Neville based himself in a 2500sq/ft former sawmill at the end of a long country lane on an estate owned by Lord Portman in Bryanston, Dorset. Neville loved being out of the way.
Trickett was in big demand. A three-wheeler prototype called Landtrac came to nothing, although the Hillman Imp-based Trickett GT was offered for commercial sale albeit briefly. The intention was for Marcos to take it on but it didn't happen.
The day that Michael Saunders, who ran Siva Engineering in Bournemouth, came into the workshop of Neville Trickett (Design) Ltd with an idea for an Edwardian-type vehicle led to a large range of kitcars sold under the Siva banner.
A variety of similarly styled cars resulted in the Parisenne (2CV-based), the Tourer, Raceabout among others. The late Jon Pertwee used a Tourer when he starred as Doctor Who.
By mid-1970, Trickett and Saunders amalgamated their companies into one entity – Siva Cars and moved to a new workshop on Poole quay and things were going well until Saunders decided to leave and also wanted his Roadster and Tourer moulds, meaning the end of them. However, Neville carried on with the Parisienne, Raceabout and San Remo models, while he also continued to sell the Minibuggy (a beach buggy based on Mini mechanicals).
Ultimately though, the rest of the Edwardians and Minibuggy were sold on with Cyril Malem of CTM taking on the main Siva range and Skyspeed acquiring the Minibuggy.
Trickett was now onto a new modern range led by the swoopy S160 launched, which was launched at the Racing Car Show in January 1971 where it wowed the crowd. Trickett then accepted a challenge from the daily Telegraph's Weekend magazine to design a car for the British Motor Show of November 1971.
A chap called Andrew Duncan revised a Dulon F5000 chassis, while Aston Martin no less agreed to supply a brand-new DBS V8 engine. This car was finished within six months and was called the S530 V8. Aston Martin later showed a strong interest in taking over the car but it fell through at the very last minute. However, businessman Robert Paterson of Bifurcated Rivets offered to fund the development setting Neville up in a new workshop close to Aylesbury.
Moving to Buckinghamshire, Trickett left Nick Jenke in Dorset taking care of business and working on the new Mule, an innovative utility vehicle, which Neville's take on the Mini Moke theme.
Neville divided his time between the two bases coming up with the Saluki and also the Llama and it was a busy time for Trickett although he received another body blow when Rootes went back on an agreement to supply brand new parts for the Mule.
Mike Carlton, ex-Siva laminator, started his own company MBC Motor Company in 1974 and asked Neville to design a car him which was the Chepeko.
Then came several Bentley Mk6 specials such as the Rose, Westminster and even the GRP work and a bit of styling for the Johnard Donington.
NOT JUST CARS
Proving how versatile he was Neville also came up with children's playcubes, a little GRP garden house and hovercrafts for Surface Flight, plus he created a flying saucer – in reality a flightless hovercraft although Neville told me once that it did reach 60cm off the ground once!
He was commissioned by JCB to produce a digger that really could do 100mph, called the JCB GT, then Peter Barnes (again) asked Trickett to make some replicas of the Elgin Marbles then there was a Fiat-based electric car intended for launch at the Motor Show of 1974.
Neville created a nut-for-nut copy of the Porsche 718 RSK for himself complete with a bespoke spaceframe chassis by his fabricator, Andrew Duncan, which indirectly led to the GP Spyder, a company for whom Neville produced several cars including a Kubelwagen replica, a Mehari replica and various other models including the Madison.
I hope you've enjoyed our little tribute to one of the specialist car industry's most innovative designers and definitely one of its most talented. A proper legend. RIP, Neville.
A LIST OF NEVILLE TRICKETT'S MODELS
Model                                      to/from                    Number produced
MiniSprint                              1965-66                       85
Opus HRF                               1966-67                       225
Trickett GT                             1968                            1
Codford Mini                          1966-67                       2
Rose Bentley Special              1970                            20
Westminster Bentley Special 1971                            2
Johnard Donington                 1971-78                       32
Mehari Replica                       1969                            1
Sierra                                      1971                            1
Siva Roadster                          1969-74                       25
Siva Tourer                             1969-74                       80
Siva Parisenne                        1970-74                       7
Siva San Remo                       1970-74                       8
Siva Raceabout                       1970-74                       6
Siva Minibuggy                      1970-72                       94
Siva Mule                               1970-75                       12
Siva S160                                1971-72                       10
Siva S160 Spider                    1972                            2
Siva S530 V8                          1971                            1
Siva Saluki                              1973-76                       12
Siva Llama                              1974-76                       52
Porsche 718 RSK                    1978                            1
GP Kubel                                1976-83                       32
GP Camel                               1983-84                       4
GP Talon Mk1                        1979-83                       30
GP Talon Mk2                        1983-92                       120
GP Madison Roadster             1980-95                       900
GP Spyder                               1982-2000                   400
GP Madison Coupe                1983-95                       7
Trickett MiniSprint S2           1997-2019                   65
 Our condolences to Neville's wife Lara and sons Lawrence and Jake
| | | |
| --- | --- | --- |
| | Print article | This entry was posted by admin on June 1, 2022 at 7:24 pm, and is filed under News. Follow any responses to this post through RSS 2.0. Both comments and pings are currently closed. |
Comments are closed.