CATERHAM CARS UP FOR THE CUP WITH NEW 420
Caterham Cars has unveiled the new Seven 420 CUP, a road-going, track-focused model inspired by its top-tier Seven UK Championship Racecar.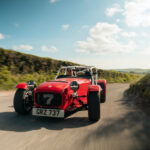 The Seven 420 CUP features a 2-litre Duratec engine producing 210bhp and 203nm of torque, resulting in a power-to-weight ratio of 375bhp-per-tonne and a 0-60mph sprint time of just 3.6 seconds – enabling drivers to register supercar-beating lap times on the UK's premier racing circuits (1 minute 45 seconds at Oulton Park).
This performance is possible thanks to the SADEV six-speed sequential gearbox with flat-shift, fully adjustable dampers and optional Avon ZZR Extreme track tyres (with Avon ZZRs as standard).
Available for the first time on any road-going Caterham, the Seven 420 CUP features fully adjustable Bilstein dampers. Tuned specifically for the Seven 420 CUP, the dampers can be placed in any one of their ten stiffness settings without the use of any tools and in just a couple of minutes, giving the Seven 420 CUP true 'arrive and drive' track day flexibility.
The Seven 420 CUP treads new ground for Caterham visually too. Exterior updates include a race-style nosecone, a centralised petrol filler and new LED rear lights, while an optional race-style roll-cage adds a metal boot cover and racing wing mirrors for a full competition-spec look.
A unique livery featuring translucent satin decals and custom trackday graphics will be supplied with every car.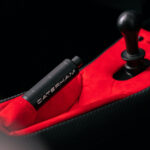 Inside, the Seven 420 CUP benefits from optional carbon-fibre seats with model-exclusive embroidery (new styled composite seats as standard), a 620-style dashboard finished in satin carbon and new Seven 420 CUP racing dials, while Alcantara trim features on the transmission tunnel and headrests.
The interior also benefits from red highlights on the seat pads, dials and tunnel-top. These additional touches bestow the Seven 420 CUP with a level of finish befitting of such a significant model in the Caterham range.
Sitting between the road-going Seven 420R and the purpose-built Caterham Seven Championship UK Racecar in the line-up, the Seven 420 CUP possesses a top speed of 136mph and will be available in the UK and US with a choice of standard and large chassis sizes.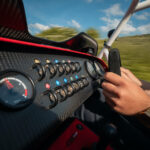 The car is available to order now via the dealer network with production commencing in early 2023. Prices will start from £54,990 in the UK and US customers should contact their local retailer for further information. This model is only available as factory built and not in kit form.
Speaking of the addition of the Seven 420 CUP to Caterham's range, CEO Graham Macdonald said: "The Seven 420 CUP is, quite simply, the best trackday car we've ever made. By taking everything we've learned in the development of our top-tier Seven UK Championship Racecar and engineering in a level of adaptability and approachability that belies the Seven 420 CUP's incredible performance, we believe we've created a car that drivers of all levels can enjoy driving too, around and from any circuit, while still experiencing the exhilaration and engagement that Caterhams are renowned for."
For more information about the 420 CUP visit: www.caterhamcars.com/420CUP ENDS.
| | | |
| --- | --- | --- |
| | Print article | This entry was posted by admin on May 26, 2022 at 6:44 pm, and is filed under News. Follow any responses to this post through RSS 2.0. Both comments and pings are currently closed. |
Comments are closed.