TIP-TOP BATTERY CONDITIONER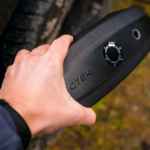 The spring ritual is a must for any kit or classic car owner because when it finally comes to hitting that open road again it's essential to make sure that your pride and joy is ready, including, say vehicle charging specialists CTEK, making sure your batteries are in tip-top condition.
Even if you have 'winterised' your classic car as best as you could, it's still a good idea to check everything over. There's nothing more annoying than planning that first glorious drive and finding your battery is dead.
Taking care of a classic car isn't the same as looking after a new car. Due to the age and condition of different components, classic cars need lots of love and care to preserve their vintage appeal and avoid the deterioration of the original parts. But, as every classic car owner knows, maintaining them is all part of the joy of owning them, and there's more to storing a classic car than simply parking it in a garage and covering it over for the winter.
Checking the oil level and brake fluid may be simple, checking that the tyres are fully inflated goes without saying, but what about the battery? Charging any 12V lead-acid or lithium battery just got a whole lot simpler with the CS FREE, CTEK's revolutionary new battery charger and maintainer with Adaptive Boost technology which will work out the safest and quickest way to power up a flat battery within 15 minutes.
"You want to be ready for the first drive of the season and not face a flat battery after months of waiting in anticipation throughout the winter," said Mark Poole, Sales Manager for CTEK. "When it's time to take your pride and joy out of storage you certainly don't want to find yourself uncovering a flat battery. It's expensive, time-consuming and frustrating.
"But if you do fall the unfortunate victim of a flat battery, the CS FREE features revolutionary Adaptive Boost technology, that carefully works out the best way to safely give any 12V lead-acid or lithium battery the right amount of power, meaning you can charge your battery quickly and safely without the need to connect to a power outlet. The simple LED displays show you when your battery has enough power to start your vehicle.
"The CS FREE is also designed to be an intelligent charger and maintainer that will keep your batteries in optimum condition and delivering maximum performance. The CS FREE is also a portable 12V power bank that can charge smartphones, tablets, laptops and other devices along with its ability to top up the battery on a little-used classic car stored away from mains power.
"It can keep your battery topped up for long periods of time. Just like a traditional charger and maintainer, you can power the CS FREE via mains power but it's truly portable too. Use it as a portable charger to top up your battery or hook up to a solar panel kit or 12V battery for long term storage where you don't have access to mains power. Remember, regular maintenance will actually extend the lifespan of your battery by up to three times.
"Even when you get your classic car out on the road, it's important to make sure you have the right tools on board should you get into battery trouble – the CS FREE should be included in every onboard kit for peace of mind wherever you are. With the CS FREE, all you need to do is simply charge it up, take it with you wherever you go, and use it when you need to."
 For more information about the CS FREE, please visit www.ctek.com ENDS.
| | | |
| --- | --- | --- |
| | Print article | This entry was posted by admin on May 5, 2022 at 7:22 pm, and is filed under News. Follow any responses to this post through RSS 2.0. Both comments and pings are currently closed. |
Comments are closed.