CRINKLE-CUT CHIPS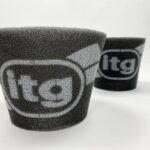 ITG, the Coventry-based induction technology specialist, continues to update its comprehensive application list for the tuning market. The latest introduction to filter down from the company's participation in top-level motorsport is an all-new product line: high-performance Maxogen pleated cotton gauze cone filters.
Every product in ITG's newly expanded portfolio of hand-built intakes sets industry standards in the pursuit of performance and efficiency. The key benefits of this new ITG Maxogen pleated cotton gauze cone filter line include:
Maximum filter surface area for maximum flow rate
Fine cotton gauze element protected by epoxy-coated wire mesh
Choice of unique spun aluminium trumpet or flexible rubberneck for mounting
Compact proportions and up to seven neck diameters for easy fitment
Optional foam over-sock for ultimate dust capturing ability
Just as crinkle-cut crisps have the capacity to hold more flavour, the meticulously constructed folds and zig-zag shape of ITG's new Maxogen pleated cotton gauze element provide an unusually large surface area. This attracts the greatest volume of free-flowing, filtered air into the vehicle's inlet system, which, in turn, increases the volumetric efficiency of the engine and ultimately creates more power.
The fine cotton gauze at the heart of this new product offers excellent flow characteristics allied to superb dust-capturing ability and high load tolerance. Although the material is naturally hard-wearing and long-lasting, ITG has encapsulated the gauze in an epoxy-coated wire mesh to give the pleats additional resilience against damage.
Within this segment, ITG engineers noted that most rivals clamp the filter element into a hard-polyurethane material. This new Maxogen product differentiates itself by locating the pleat pack into a matt black, spun aluminium trumpet, the curved internals of which funnel air more smoothly into the intake system.
However, for applications where the filter has to be secured directly to hard intake pipework without a silicone joiner, ITG also offers an alternative with a flexible rubberneck. With these two variations up to seven different intake diameters can be accommodated for a broad fitment range.
Further increasing the filtration excellence and durability of the new ITG Maxogen pleated cotton gauze cone filter is the availability of an optional reticulated foam over-sock. This combination of two filter materials – both of which have advantages over the other – creates an unusually effective marriage between road and motorsport solutions. What's more, because this foam over-sock is designed to be easily cleaned and refit, it extends the service life of the conical pleat pack underneath.
Prices for the new range start from £69.60 inc VAT. All ITG filters are proudly handmade in the UK using entirely UK-sourced materials.
More information from 02476 305 386 or www.itgairfilters.com ENDS.
| | | |
| --- | --- | --- |
| | Print article | This entry was posted by admin on May 13, 2021 at 5:48 pm, and is filed under News. Follow any responses to this post through RSS 2.0. Both comments and pings are currently closed. |
Comments are closed.