VEHICLE DISINFECTANT FROM WAI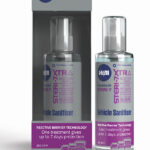 WAI has officially launched a new personal care product to help keep cars and other areas disinfected.
With workplaces and education settings open, WAI has introduced the power of Steri-7 in a handy-sized retail bottle, which can be used by businesses and consumers.
Richard Welland, WAI managing director, said: "The latest WAI Steri-7 product offers seven-days reactive barrier protection, and provides reassurance and confidence to people when going about their daily business."
The new, attractively packaged bottle can be used for car, truck and motorhome applications, and also in the office to keep keyboards, desks and personal space sanitised.
Pre-launch demand for the product has been incredible and thousands of orders have been placed as businesses seek to shore up their procedures and standards.
The product features a seven-day reactive barrier technology, keeping the vehicle free from pathogens and virus between cleans. It has been tested to the highest standards, making it safe on all surfaces.
STERI-7 is a recognised leading pharmaceutical company and the unique formula kills 99.9 per cent of pathogens for up to seven days with its unique regenerative formula. Users simply have to spray the product onto the surface for it to begin working.
WAI STERI-7 vehicle sanitiser is available for pre-order by emailing OrdersUK@waiglobal.com or calling 01243 833 420 ENDS.
| | | |
| --- | --- | --- |
| | Print article | This entry was posted by admin on October 8, 2020 at 8:16 pm, and is filed under News. Follow any responses to this post through RSS 2.0. Both comments and pings are currently closed. |
Comments are closed.