SMART CHARGING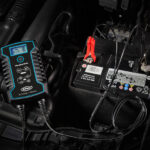 With 286 million passenger cars across the EU, all with a battery, the company has developed the RSC804, RSC806 and RSC808 Smart Battery Chargers and Maintainers to keep drivers safer on the roads and able to easily restore power to their motorcycles, cars, 4x4s, vans and trucks.
Although batteries are supposed to last four years, testing from the dedicated on-site quality control facility at Ring Automotive suggests this is more likely to be between two to three. As such, its Charger and Maintainers have a selection of features, making them robust and fit for purpose.
The RSC804 (RRP £29.99) Smart Battery Charger is 6V and 12V compatible, has 2A to 4A charge rate, is start-stop compatible, provides a 7-stage charging process, includes a large LCD display screen, offers cold weather charging mode, has quick connectors, comes with one-button operation and reverse polarity protection.
It also has short circuit protection and automatically adjusts to long-term maintenance mode when the battery is fully charged. With 90Ah battery charging and 140Ah maintenance mode, this product is ideal for motorcycles and cars.
The next product in the range, the RSC806 (RRP £39.99) Smart Battery Charger has all the same features but has a charge rate of up to 6A, a maximum battery capacity of 110Ah battery charging and 160Ah maintenance mode, making it ideal for motorbikes, cars, 4x4s and vans.
Finally, the last product in the range is the RSC808 (RRP £44.99) Smart Battery Charger which is compatible with 12V and 24V. With a charge rate of 8A for 12V and 4A for 24V and a maximum battery capacity of up to 150Ah for 12V and 70Ah for 24V, this product was developed for more robust use including with motorbikes, cars, 4x4s, vans and small trucks.
Marketing Manager for Ring, Henry Bisson, commented: "While vehicles have evolved and become more comfortable, constant consumption from the likes of heated seats, central locking and navigation systems has increased energy demands, placing additional strain on batteries.
"Furthermore, we know that cold temperatures or extreme heat can cause electrolyte in batteries to evaporate resulting in premature failure.
"With five common battery types; Lead Acid, Gel, EFB, Calcium and AGM, not all react well to standard charge cycles, which is why we have developed a range of Battery Chargers that will meet with the needs of our customers and their vehicles."
As each Smart Charger in the range offers multiple different charge modes for a safer and more comprehensive charge, the products can be used on flat batteries. The automatic function ensures that even though the Smart Charger can be left connected for a long time, it will not overcharge and will not cause any safety concerns for the user.
Henry concluded: "As a leading provider to the aftercare market, we put a great deal of time and effort into the development of new products that can offer additional benefits for our customers. As 90 per cent of vehicles have start-stop technology, they are fitted with AGM an EFB batteries which have to be charged with a smart unit.
"Thanks to the anti-arching features there is no sparking or short circuits if the live connectors touch and the reverse polarity prevents charge following in the battery if positive and negative terminals are connected the wrong way around. Ultimately, we have developed a product that motorists and car enthusiasts can rely on when they need it the most."
For further information about Ring and its full product range that includes vehicle lighting, tyre care and battery care products please visit www.ringautomotive.com ENDS.
| | | |
| --- | --- | --- |
| | Print article | This entry was posted by admin on May 21, 2020 at 5:17 pm, and is filed under News. Follow any responses to this post through RSS 2.0. Both comments and pings are currently closed. |
Comments are closed.