SUPER HYBRID PRODUCTS FROM TURTLE WAX
Regular readers will know that I follow the car care and detailing scenes very closely. Indeed, we feature products we think you'll like here on the website and we also devote at least three pages per issue of TKC Mag.
About a year ago, some detailing YouTubers in the USA started to make really, positive noises about the Turtle Wax Ice range of hybrid products.
The Turtle Wax brand is still the number one in the USA where their 'green bottle' products were joined in recent years by the Turtle Wax Ice range. Actually, the brand can trace its history back to 1944, when a man from Chicago, Ben Hirsch created the world's first liquid car polish in his bath!
It was originally known as Plastone before being renamed Turtle Wax (for its hard-shell) in 1946. Available in 90 countries around the world, Turtle Wax opened its UK manufacturing plant in 1966.
We don't have the Ice range in the UK where all the products are sold via the standard Turtle Wax line-up with some of them being renamed slightly.
I continued to watch a variety of the leading YouTube car detailing channels over in North America such as Apex Detailing, Dallas Paint Correction and Pan the Organizer. Some real big hitters who regularly compare similar products.
What I noticed was that they'd be putting the Turtle Wax Ice hybrid stuff up against more expensive, boutique brands and stuff like Sealant Hydrophobic Wax and Hybrid Dry & Shine Wax would regularly see off the supposed cooler brands, while often being in bigger bottles and costing less than half as much in some cases.
When I got the chance, I tried some of the products out for myself and I've been similarly impressed. They really are as good as the YouTubers claimed.
Starting off with Dry & Shine Rinse Wax, which comes in a 750ml spray bottle at just a tenner it's a superhydrophobic liquid with synthetic sealants and natural carnauba wax that gives an intense level of gloss to your car's bodywork.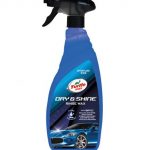 Wash your car, make sure the surface is rinsed thoroughly but still wet and then mist the product onto the body. Rinse again with a stream of water watch the magic happen! The car should almost dry itself with any residual water requiring a dry off with a towel. Easy to use, long-lasting and effective.
Hybrid Sealant Hydrophobic Wax – 500ml £10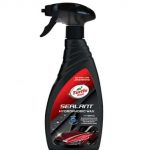 Next up comes this Turtle Wax hybrid sealant that is again infused with carnauba wax that I found gives your car an incredible slick feel, mirror-like gloss and long-lived protection. You can apply it to a wet or dry surface.
Hybrid Snow Foam Shampoo 2.5-litre £18
I really like the new Turtle Wax Snow Foam that as well as its bubble gum scent offers incredible value for money. A little product goes a massively long way.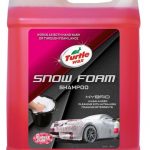 It's a very pink, bio-degradable foam, with advanced conditioners and detergents that give a deep foam covering to your vehicle that clings to the surface and the thick lather lifts and encapsulates dirt, traffic crud, oil and tar.
This one could just be my favourite snow foam of the moment.
In the USA, they've just launched their new range-topping Hybrid Solutions products, which seem to be receiving rave reviews. These will be launched here in the UK in mid-December, so I shall look forward to trying them out over the Christmas holiday.
Find out more from www.turtlewax.com/en-gb or USA visitors go to – www.usstore.turtlewax.com ENDS.
| | | |
| --- | --- | --- |
| | Print article | This entry was posted by admin on November 25, 2019 at 7:33 pm, and is filed under News. Follow any responses to this post through RSS 2.0. Both comments and pings are currently closed. |
Comments are closed.