COLD BLAST!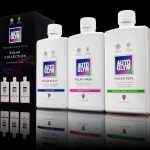 Just in time for the Christmas season, Autoglym's award-winning 'Polar' series of car care products have been released in an attractive, affordable – and handy – three x 500ml bottle gift pack.
Not only is that your Christmas list sorted, but this handy-sized pack is also much easier to fit in your boot or on your garage shelf, meaning that car-care perfection will always be within easy reach.
The Polar Blast, Polar Wash and Polar Seal formulas from Autoglym are all pressure washer specific applications that should be mixed at the required ratio and applied lovingly via a snow foam lance, making them perfect for the home detailer who wants maximum results in minimum time.
Polar Blast is the perfect remedy to loosen and remove stubborn dirt and road debris thanks to its clinging snow foam action that breaks down the dirt in no time.  Polar Wash represents a leap forward in car cleaning technology as a zero-contact car cleaning solution, and Polar Seal really does seal the deal for the trio as it locks in the cleanliness and requires a very short time to cure before rinsing off.
Together the Polar trio will ensure the winter can't get at your pride and joy, no matter how hard it tries.  It is expected to be able to wash and seal an entire vehicle in less than 30 minutes, making these products perfect for everyone's busy lives.  Inspire your passion for perfection, make Autoglym's Polar Collection part of your detailing regime and stay chilled this winter.
Polar Blast
With its dense foam blanket, this class-leading product acts as either the perfect pre-wash on a filthy car or on a lightly soiled vehicle can even be all the shampoo you'll need! Thanks to its unprecedented ability to 'cling' to the bodywork, offering an essential lubricant layer between dirt and sponge, the chances of the dreaded 'swirl marks' are massively reduced and no body part goes unwashed! Formulated to work in all modern pressure washes or dedicated snow guns, Polar Blast truly puts the fun back into your wash-day routine, adding a superb fragrance into the mix and offering a truly wonderful fragrance throughout the whole experience.
Polar Wash
As the perfect second-step for a truly cosseted car, or indeed, as a stand-alone routine, Polar Blast brings a truly luxurious level of lather to the foam party! Containing powerful cleaning agents that are tough on dirt, yet soft on everything else, Polar Wash can also be used in a jet-wash lance or snow foam gun for truly satisfying cleaning. It's cleaning power means it can be used as a 'touchless' wash product too, while being able to have the level of its rich, dense suds dialled up or down, depending on how you mix it.
Polar Seal
As the perfect finishing touch, Polar Seal can do so much – yet in a tiny timeframe. Yet again, this is a product that can be administered via a jet wash to not only save precious time but ramp up the fun of wash day. Offering exceptional hydrophobic properties, Polar Seal acts as an easily-applied invisible barrier to protect and enhance the bodywork and appearance of your vehicle. It's not just quick to apply, once on, it also dramatically reduces drying times, as well as repelling future dirt and water with consummate ease. All of this means your next wash day will be even easier still!
Whether you're gifting for the one you love, the car you love – or just looking to try out this year's car care sensation, Autoglym has you covered – literally!
The pack is priced at £24.99 with more information from www.autoglym.com ENDS.
| | | |
| --- | --- | --- |
| | Print article | This entry was posted by admin on September 26, 2019 at 8:58 pm, and is filed under News. Follow any responses to this post through RSS 2.0. Both comments and pings are currently closed. |
Comments are closed.