NEW OFF-ROADER FROM SCOTLAND
Munro Vehicles (Munro), a manufacturer of all-electric 4x4s has announced the completion of its first pre-production model. The white Series-M Utility, a hard top five-seater 4×4, leaves the factory in East Kilbride just eleven months after Munro unveiled the MK1 prototype model in Edinburgh in December 2022.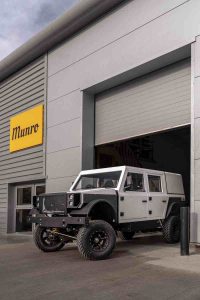 The roll-out of the Series-M Utility signifies the next phase of Munro's strategic vision to expand its production facilities and grow its workforce and bring 300 new jobs to the region by 2027. Achieving scale-up will allow Munro to increase production from 50 vehicles over the next twelve months, to 200 units per annum and 2500 by 2027.
"Witnessing the first pre-production Munro Series-M Utility roll off the line is a momentous moment. Both for Munro and Scotland, as the Series-M Utility is the first light vehicle to enter mass production since the Linwood car factory closed in 1981," commented Marcus Mackle, Munro Head of Vehicle Sales. "While it represents an undeniably historic occasion, Munro's focus is firmly on the future. With a healthy, two-year customer pipeline worth £68 million for the innovative and sustainability-focussed Munro Series-M Utility hard top and Series-M Truck open-bed, we can look forward with confidence."
The Series-M range was forged during an intensive period of development that pushed the vehicle to the limit in the unforgiving Scottish terrain that inspired the company's name. Comprehensive feedback was collated during an extensive customer test drive programme.
"Our customers spoke, we listened and, we acted," explained Munro CEO and co-founder Russell Peterson. "Their feedback drove us to achieve even greater levels of innovation. This enabled us to create a highly versatile, sustainable and enduring electric 4×4 to help customers transition to net zero and protect the environment."
"After listening to our customers, we introduced numerous improvements. These included an adjustable steering column with steering wheel controls, plus a raft of ergonomic enhancements. A full suite of safety equipment, including airbags, ABS brakes, stability, and traction control, is also now offered."
At the rear of the vehicle, an 'exo-skeleton' mounted on the hardtop of the Utility specification models enables easy mounting of equipment. This is wholly in keeping with Munro's determination to create a versatile all-electric 4×4 with an array of options to meet a wide range of diverse customer needs.
The introduction of a more durable, longer-lasting LFP (Lithium Iron Phosphate) battery pack provides a faster 30-minute, 130kW rapid charging time. Munro has also significantly improved the thermal efficiency of the vehicle. Waste heat, scavenged from the drivetrain, can now be used to heat the cabin.
Combined with more effective sound-deadening measures, the Munro Series-M makes for a more comfortable travelling experience, whether it is being driven on tarmac for a range of up to 200 miles or traversing the most challenging off-road terrain in the world that it was designed to conquer.
The Munro Series-M is a ground-breaking electric-powered, four-wheel-drive workhorse that combines the rugged reliability and repairability of a full-time 4×4 mechanical drivetrain with a state-of-the-art electric powertrain, ensuring zero tailpipe emissions. The vehicle is offered in 'standard' M170 170kW and 'high-power' M280 280kW guises and in Utility (hard top) and Truck (open-bed) configurations.
More than 250 pre-orders for both the Utility and Truck models have been received, affirming that Munro's vehicles are precisely what the market needs, particularly in sectors such as mining, construction, utilities, agriculture, and defence, where radical solutions are required to enable operators to meet their decarbonisation targets. More from www.munro-ev.com ENDS.
| | | |
| --- | --- | --- |
| | Print article | This entry was posted by admin on November 16, 2023 at 6:58 pm, and is filed under News. Follow any responses to this post through RSS 2.0. Both comments and pings are currently closed. |
Comments are closed.