EFFECTIVE ELECTRIC CHARGING OPTIONS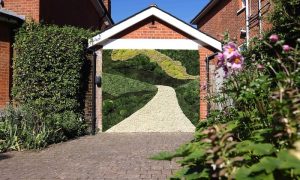 New research has revealed that nearly half of UK homeowners (49 per cent) are considering paving over their front gardens to accommodate an electric vehicle in the future.
The poll of 2000 homeowners by EO Charging, an independent British charging point manufacturer, looked at how they are balancing the opportunity for greener motoring with the potential loss of green space, as lawns and borders make way for more paving to enable EV parking and charging.
It found that one in ten (13 per cent) UK homeowners currently own or have owned an EV.
The top three areas are London (29 per cent), West Midlands (16 per cent) and Wales (15 per cent). The lowest areas of EV ownership are the South East (8 per cent) and Northern Ireland (8 per cent).
Of those that own EVs, 70 per cent have already made changes to the front of their homes and gardens to accommodate them, with more than a fifth (22 per cent) cutting back on green space.
More female homeowners (49 per cent) have installed charging points than male (39 per cent), suggesting they are more switched on to the convenience and cost benefits of charging at home.
The top three reasons British homeowners value the space at the front of their homes are because they make them more attractive, provide off-road parking space and offer green space for plants and wildlife.
But they are concerned about the de-greening our driveways, with more than half (53 per cent) saying the trend of people paving over their front gardens to create more parking space needs to be addressed. The two biggest reasons are to protect the important habitat for plants and wildlife (65 per cent) that front gardens offer and the fact they help increase property value (59 per cent). A significant number also recognise front gardens allow rainwater to soak into the ground, reducing flooding (55 per cent).
Ownership of EVs in the UK is steadily growing as we move towards the government ban on the sale of new petrol and diesel vehicles in 2030. In London, twice as many people already own EVs than the national average, with drivers potentially saving more than £3500 per year by avoiding the Congestion Charge.
Charlie Jardine, CEO at EO Charging, said: "With the expansion of ULEZ around London and more cities likely to follow a similar path with congestion charging, more and more people living in the suburbs will benefit from choosing to drive EVs. This means the desire for home charging facilities will grow, putting more pressure on front gardens and neighbourhood green spaces.
"We've tried to design our charging points to be as small and attractive as possible, so they are a welcome feature on the front of our customers' homes. But it's also important to understand that there's a balance between accommodating EV charging infrastructure and protecting the green spaces around our homes. With some careful planning, homeowners can maximise the cost and pollution benefits of switching to an EV whilst still preserving the value of driveways and gardens for themselves, their neighbourhoods and nature."
The EO survey found that more than a quarter of UK homeowners are worried the growth of EV charging at home may have a negative impact on their neighbourhood.
The biggest concerns are around safety hazards caused by cables running across pavements and insufficient off-road parking for charging and front gardens disappearing are also concerns.
Asked which features make them more attracted to a property on first viewing if buying a new house, homeowners said a beautiful front garden sturdy fences, walls or hedges and a spacious paved driveway offering ample parking.
Henrietta Norman, Landscape Architect and Creative Director of Tulip Landscapes said: "Homeowners with EVs looking to install charging points in their own home and worried about the impact of paving over their front garden needn't despair. With a little creativity and planning it's possible to free up the space to charge and keep the much-needed habitat and beautiful planting our front gardens are known for.
"Whether it's by choosing permeable paving options and weaving in plants that are happy with a little foot traffic or creating planting pockets, integrating green roofs for bin or bike sheds into your design, or even considering vertical surfaces and growing climbers, homeowners can strike a balance between greener motoring and green space because there will be a practical and attractive option for every situation."
For those not wanting to compromise between a green space filled with wildlife and plants, and somewhere to charge their EV, find out more about EO Charging which offers the perfect solution by visiting www.eocharging.com ENDS.
| | | |
| --- | --- | --- |
| | Print article | This entry was posted by admin on September 7, 2023 at 5:31 pm, and is filed under News. Follow any responses to this post through RSS 2.0. Both comments and pings are currently closed. |
Comments are closed.