A GOOD DAY WAS HAD BY ALL
The recent XCS Designs Open Day at the firm's Saffron Walden HQ saw the sportscar manufacturer throw open its doors once again to welcome customers and prospects, old and new, to tour the factory for themselves and examine the firm's latest designs and demonstrators.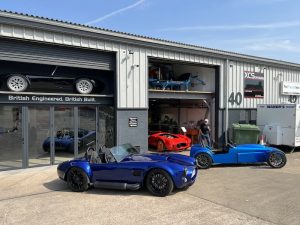 The weather played along, offering an incredible 30 degrees of heat and blistering sunshine from the very start of the day. If anyone was needing a meteorological encouragement to push them gently towards an open-top sportscar, then this definitely played its part, with XCS's all-new Dieci and 427 Demo cars literally glinting in shimmering heat to welcome the hundred or so guests that attended throughout the day. Many were very glad to discover that the XCS factory is fully air-conditioned, which proved to provide something of a welcome refuge throughout the day.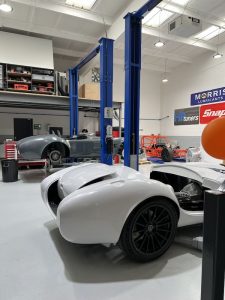 If the weather was hot, then the cars were even hotter. The round-tube chassis 427 Cobra evocation had recently returned from its successful IVA appointment and with a few subtle styling tweaks to areas like the rear lights, was looking better than ever. The Hayabusa engine Dieci, again having had a substantial amount of chassis development and bodywork restyling, was clearly encouraging people to take a seat and book a test drive.
Being completely self-contained, guests were able to visit not only the final assembly area, containing outgoing customer builds, but also the chassis and composite shops, allowing them to see the level of precision and craftsmanship that goes into each XCS build, as well as the detail behind each aspect of the assembly process.
For many visitors, the brand new 427 LT (standing for Long Tail), a Cobra designed for the taller, more generously proportioned driver, was the standout car of the day. Ingenious restyling has seen the body grow by 50mm in the doors, whereas clever engineering has created an additional 50mm of legroom in the footwells.
The resulting 100mm of additional space suddenly opens up the dream of Cobra ownership to those that never imagined that they could fit, while the additional chassis stability created by the longer wheelbase will undoubtedly allow for higher power configurations to be employed in a more benign manner.
The showstopper for most guests, however, was the all-new Dieci Tetra. This incredibly engineered 400bhp 4WD 'Seven' showcased its full tube chassis with integral roll-cage, turbocharged Honda motor and Cosworth-derived drivetrain. For those looking to see some truly fresh thinking in the marketplace, it seemed to very much hit the mark.
A number of 'naked' chassis builds were also on display, allowing close inspection of the materials and constructional standards that XCS is fast becoming famed for. As the company's calling card, these clearly proved to be the most effective sales aid.
After keeping guests suitably refreshed and fed all day, XCS CEO Harvey Rice was evidently happy with the day's events. 'It's been a fabulous day catching up with customers and enthusiasts, and it's always wonderful to show people how we design and build these cars.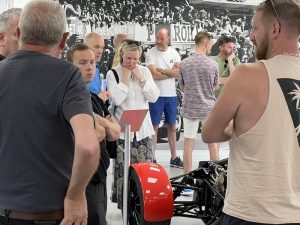 The whole team enjoys the chance to listen to our customers and find out what they want and need, and I think it's always reassuring when buying a car like this to come and meet the engineers behind it – and see how and where it's built. Three guests were kind enough to place deposited orders with us by the end of the day and allied to our recent sales successes at Malvern, the order book has never been so full! I'd like to personally thank everyone that came to see us.'
The next big show outing for XCS and its impressive fleet will be the Goodwood Festival of Speed between July 16-19, 2023.
For more details on XCS Designs and its range of sportscars, visit xcsdesigns.co.uk ENDS.
| | | |
| --- | --- | --- |
| | Print article | This entry was posted by admin on June 15, 2023 at 7:26 pm, and is filed under News. Follow any responses to this post through RSS 2.0. Both comments and pings are currently closed. |
Comments are closed.