THE LEGEND THAT WAS MIKE THE PIPE
STEVE HOLE pays tribute to Mike the Pipe
Everyone in motorsport (from bottom to top) classic, kit and custom car scenes all knew who Mike the Pipe was.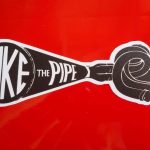 Who was 'Mike The Pipe'? His real name was Mike Randall and for nearly thirty years his workshop at the unassuming 12 Stanley Park Road, Carshalton Beeches (people often say it was Wallington, which is very nearby, but technically it is in Carshalton Beeches) was the UK's exhaust hub.
Randall first came to prominence when he worked for Vic Derrington and Bill Terry at TDC Components in Kingston-on-Thames, next door to the main V.W. Derrington tuning and preparation business. They were an autonomous company and in effect were Vic's in-house specialist exhaust company. After Vic's death in 1973, his son Stuart took over the company but it closed after a few years.
TDC had the motor-racing scene in the UK really sewn up, as far as exhausts were concerned, with every Formula One team using their services in the late sixties.
There was another equally skilled exhaust fabricator at TDC, it must be said. Mike's friend, a chap called Len Hartley. He and Randall produced all the top-end and special exhausts at TDC.
They worked closely with race team engineers and designers on their respective projects. The pair of them worked from the designs of Bill Terry, the TDC boss, but often had to incorporate changes on the fly, dictated by packaging concerns or at the request of team engineers/designers.
These days, times are different with technology and computer-aided design and 3D printing to the fore. Of course, we take mild steel replacement pattern exhausts from roadside chains for our daily drivers for granted, as we do, beautiful stainless steel systems for our specialist or race cars.
TDC and therefore post-TDC0, Mike Randall and Len Hartley were using steel but they didn't use mandrel or compression benders to form the required exhaust runs, which often had to be routed over, under and around an engine in a tight-fitting installation.
Take the stunning 'Snake Pit' exhaust created by Randall for the Coventry Climax F1 engine. It could have been Hartley who created that although from what I was told years ago it was definitely Mike who did it. To be honest, Mike himself told me that, but there wasn't a more genuine bloke than him.
Mike followed the sand-filled method for his fabrication technique. An incredibly skilled and time-consuming process I was privileged to watch Mike at work a couple of times.
When I worked at Kit Cars & Specials magazine in the eighties, he did a project car exhaust for us several times. On one occasion I was nominated to drive the car the short distance from our offices to nearby Carshalton Beeches.
He'd literally fill the tubing with sand and begin making it into the required shape. For bends he would hammer the metal until it started to go out of round, showing amazing judgement and technique.
He'd then measure the exact middle of the fledging curve and then chop it in half. He would proceed to hammer the two ends back into the round. They'd be welded back together again, a perfect kink-free bend that once buffed and finished would have an invisible join! Amazing.
Another skill that he could offer but many other exhaust specialists couldn't was his hand-formed manifolds which is another reason he was always in such high demand.
When cars were sold, very often a big selling point in the sales listing was 'exhaust and/or manifold by Mike the Pipe'. I think it is still mentioned in ads even now some 20+ years after Mike fabricated his last exhaust.
Along with Specialised Mouldings and FKS for GRP bodies, Arch Motor for chassis, Mike the Pipe was the go-to man for exhausts, while the kitcar industry heavily depended on him.
Mike retired in 2001, with his son taking over the business, although when he wanted to move on to restore MGs in Wimbledon, the workshop was sold to a concession of Longlife Exhausts which is still located there, today. Sadly, after a long illness, Randall died in 2004.
Sadly, because Longlife only works in stainless steel all of Mike's patterns and jigs (covering cars dating back to thirties cars) were deemed as being surplus to requirements and unceremoniously chucked in a skip awaiting the scrap metal man!
I still smile when I see a 'Why not be exhausted by Mike the Pipe' sticker or advert in an old magazine.
A great guy old Mike.
| | | |
| --- | --- | --- |
| | Print article | This entry was posted by admin on March 15, 2023 at 7:03 pm, and is filed under Uncategorized. Follow any responses to this post through RSS 2.0. Both comments and pings are currently closed. |
Comments are closed.